The Jetbeam Mini-1, a rechargeable flashlight for your keychain, is a first for the high quality flashlight manufacturer.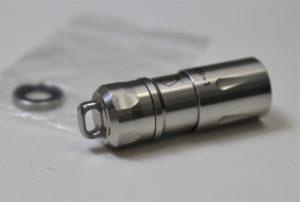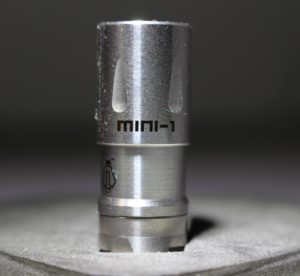 Not Your Ordinary Flashlight Packaging 
The Mini-1 comes presented in something that looks more suitable as a gift for Valentine's Day! Ah, now wouldn't your sweetheart be more than delighted to receive something as nifty as this? As if it's NOT on February 14th… they'll be even MORE surprised!
Once the little red box is opened, you'll be greeted with the Mini-1 resting in a black foam cutout. Removing the light and the cutout, reveals a second layer below.
Here, along with another cutout, is an instruction manual, a teeny-tiny rechargeable battery, a small accessory bag featuring a spare o-ring and a keychain ring. Then underneath the cutout, a rather long attachment chain.
The Particulars
So here's what the Jetbeam Mini-1 is all about.
Size; 1.5″ long, 0.5″ wide
LED; Cree XP-G2
Weight; 19.8 grams with the included battery
Battery; One 10180 3.7v (70mAh) rechargeable Lithium-ion
Modes; Low — 9 lumens; High — 130 lumens
Runtime; 0.6 hrs on high, 6.5 hrs on low
Beam distance; 59 meters (193 feet)
Impact resistant to 1 meter
Waterproof (IPX-8) Submersible
As you can see from the photo above, the flashlight disassembles into three sections. To insert the battery it's really only necessary to remove ONE of them.
100% Rechargeable
Some people confuse the term "rechargeable" when they hear it bantered about in flashlight advertising. Most of the time, the flashlight in question is merely able to operate on a rechargeable battery…as ALL flashlights can. In the case of the Mini-1, a built-in USB port allows the user to charge the included battery inside the tiny light via a micro USB cable.
To access the USB port, the head must be removed. Once you've done that, the port is exposed. Simply plug-in a micro USB cable and a tiny red LED will illuminate! The manual claims a one hour quick charge. They don't specify if that's for a fully depleted battery or not.
From testing the USB connection, I found it charges with 150mA current.
So How Does it Work?
"Easy-peasy"….as they say if you're reading this in 2016!
Just give the tiny head a little twist to the left. Low mode will be first. Keep twisting to the left for high mode. That's it! Nothing flashes or anything like that. Just two steady continuous light modes. Twist to the right…to turn it off. Depending on the size of your hands, and the positioning of the light between your fingers, you might just be able to do all that twisting with JUST one hand!
Pretty bright, for something so small!
Jetbeam Mini-1 Observations
Now, this isn't the type of flashlight you'd typically leave on for any length of time, unless of course you find yourself in a completely unusual situation! If you're stuck in your car during the winter… or a situation when the power goes out… perhaps even in an elevator… the Mini-1 would certainly be useful.
When the Mini-1 IS left on (in high) it gets quite warm after about five minutes.
I left it on (again on high) to see how long the included battery would hold up. After roughly 15 minutes the "high" beam started to dim.
Just to see how long it would take to charge at a higher current, I placed it in my Opus BT-C3100 charger (with the aid of a battery spacer). At 500mA current…and the battery drained to 3.35 volts, it charged to "full" in nineteen minutes.
If by chance the Mini-1 looks familiar…it's because it's the spittin' image of the CooYoo Quantum SS, which I previously reviewed. I actually prefer the Mini-1 beam to that of the CooYoo. Side by side they're equally bright, but the beam on the Mini-1 is whiter and has more of a defined hotspot.
To pick up a Jetbeam Mini-1 for yourself or someone special, visit its page on Amazon!
Please follow Lightsngear and like us: