he SRT 5 from Nitecore is part of the "SmartRing Tactical" family of LED flashlights. Nitecore claims the SRT line are the first to have 3rd generation SSR (smart selector ring) technology! This ring is well designed and extremely smooth, traveling from the ultra-low output, to the highest setting. At just a hair over 6″ (136mm) long, the SRT 5 can fit snugly into most pockets.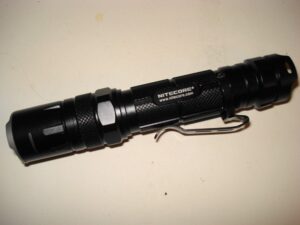 Using the new XM-L2 T6 LED from CREE, it can reach up to 750 lumens…from a staggeringly low 0.1 lumens. With this range of light, obviously it's designed for law enforcement, but also ideal for hunters and sportsmen alike. For batteries, it runs on either a 18650 single cell, two CR123 primaries, or two 16340 rechargeable cells. One thing I've noticed, is that if you have any flat-top 18650 cells, they might cause the light not to work. It's certain that a button-top 18650 cell will definitely work, it's just that the SRT 5 might be sensitive to certain cells known as "flat-tops". The tail cap switch can function tactically (momentary on with a light press) or continuous-on with a firm click.
Looking down the bezel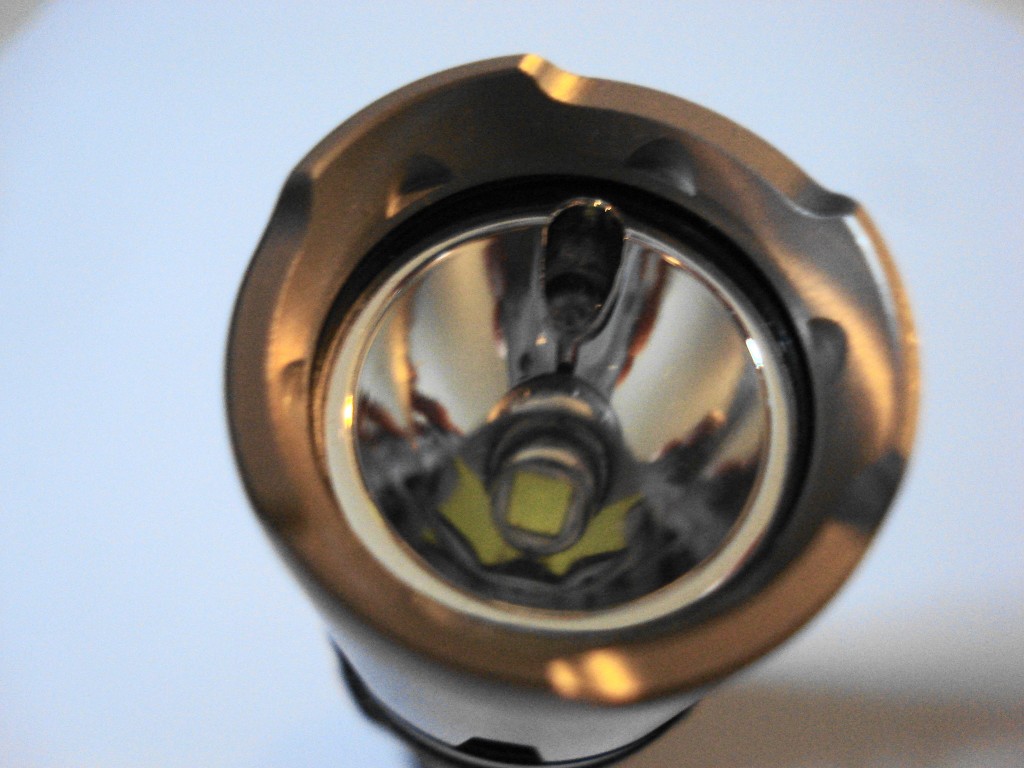 The beam on the light is very uniform, and features a well defined "spot" in the center, and a very nice spill area.
The UN-enhanced shot below (on the highest setting) was taken in pitch darkness, with the farthest lit area at roughly 75 feet. The useable area of the light is obviously quite a bit father. Its rated beam distance is 155 meters! (508 feet)
The smart selector ring on the Nitecore SRT 5 has several different settings. In addition to the low to high range, is a strobe setting. Then with continuing "click's" of the selector ring, you'll come to a RED beam, followed by a BLUE beam, followed by a flashing RED/BLUE strobe beam!! (this is similar to the roof lights of a typical police cruiser)
Following the blue and red beams is an SOS mode, followed by another flashing mode…this time in cool white. It's designated as a "beacon" mode, which I'm sure has its uses.
The included pocket clip is very sturdy, and tail standing isn't a problem for the SRT 5 either.
I can highly recommend the Nitecore SRT 5 as a very durable light with a multitude of features that any flashlight user would appreciate.
To see the SRT 5 product page on Amazon; click here.

Please follow Lightsngear and like us: