Here's a nice, bright, compact light for your consideration. It's the Lumintop SD26, which also happens to be USB rechargeable.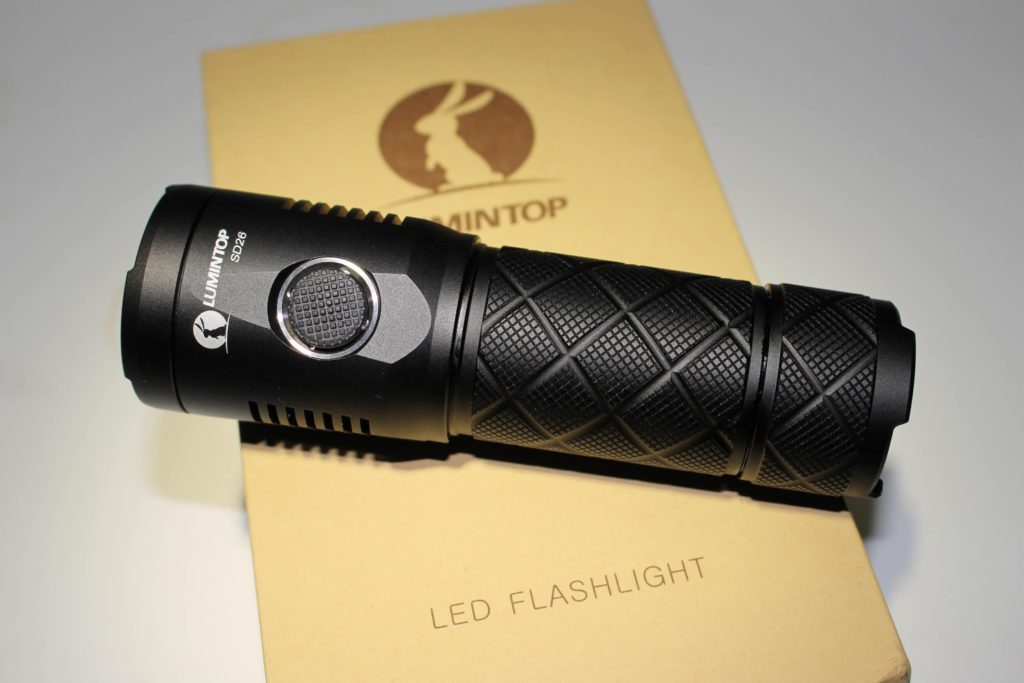 Nice Accessories
Here's what you see in the accompanying photo;
The flashlight
A bright orange adjustable lanyard
A sturdy belt holster
A user manual
A micro USB cable
A little packet w/spare o-rings and an extra USB cover
Specs and Features
With regards to size, the SD26 is 4.7″ long and weighs 7.44oz (with battery). The maximum beam distance is 205 meters. The maximum working voltage is 8.4  It's impact resistant to 1.5 meters and waterproof to 2 meters.
The SD26 runs on one 3.7v 26650 rechargeable lithium battery. No other battery types are accepted in the light.
The LED is a CREE XP-L HD, which I was previously not familiar with. It creates a different sort of beam, with a larger center hot-spot than a typical XP-L HI flashlight does, and because it's wider, the beam throw is somewhat less. It's very nice however, and quite suited for indoor use, as well as shorter-range outdoor recreation.
The beam-image to the right seems to indicate a rectangular shape around the center, but this was how the camera saw it, not how YOU would see it with your naked eye.
Features of interest;
Made from high strength aerospace aluminum alloy with a scratch resistant Type III military grade hard-anodized finish
Double-sided AR coated, tempered glass lens that resists impact and thermal shock
Integrated micro USB charging port is water, dust and impact resistant
It has an advanced temperature regulation system that allows the SD26 to adjust output performance according to its body temperature to ensure stable and safe operation
Mode memory always recalls the last mode used
Modes and Runtime 
Moonlight – 1 Lumen (45 days)
Low – 45 Lumens (60 hours)
Medium – 170 Lumens (18 hours)
High – 530 Lumens (4.5 hours)
Turbo – 1000 Lumens >600 Lumens (3 hours)
Strobe – 1000
SOS – 1000
Location Beacon – 1000
How to Operate Lumintop SD26 
The side-switch controls everything.
Press it once to turn it on. Press and HOLD, to turn it off.
Once it's on, you may click through the rest of the modes. The sequence is moonlight to turbo, which repeats with each click. If turned off in any mode, "memory" will see to it that it returns to that mode the next time.
For strobe, SOS and location beacon, you need to have the light turned OFF. Press and HOLD the switch for several seconds. Strobe will activate first. Each single click thereafter will cycle through SOS and beacon. Each additional click will cycle over and over. Press and HOLD the switch at any time to shut it off.
Beam Pictures
Internal Charging
Pull back the USB port-cover and insert the micro cable connector. As soon as the other end is connected to a power source, a GREEN indicator will illuminate…and FLASH, telling you that charging has begun. When charging is complete, the flashing green will become solid.
Low Battery Indicator 
As the battery voltage weakens, the indicator will flash, until you charge it. If you ignore it for awhile, the speed of the flashing will increase.
Lock Out the Switch
To prevent accidental activation while carrying, you can do one of two things. Either give the tail cap a quarter twist, or, turn the light on in moonlight, then press and HOLD the switch. Obviously doing that will turn it off…but…you need to keep holding for about eight seconds, at which time the beam will flash in turbo mode FIVE times. The side switch is now locked and can't be activated. To UN-lock it, turn the tail cap a quarter turn back and forth! Gee…. I guess you could've done that in the first place!!
So What Do I Think? 
The Lumintop SD26 is a nice flashlight. Having said that, it lacks a couple of features that other lights have. There's no instant access to either moonlight or turbo. If you want it to turn ON in turbo, you need to turn it OFF in turbo. Same with any other mode.
To me, strobe is for emergencies. If you're panicky and feeling threatened, and need to turn it on PRONTO, having to HOLD the switch (from OFF) for five seconds, might NOT be in your best interest! For SOS and beacon mode, that's not such a big deal. But, if strobe is something you imagine using a fair amount, then this light might not be your best choice.
Using a 26650 battery is required. It accepts no other battery types. The good thing about that, is runtime. The large capacity of a 26650, means you'll have plenty of power and be charging far less. Meanwhile, the extra thickness of the tube, means a pocket clip is out of the equation. But… it's STILL a compact flashlight… at just over 4″ long.
The knurling is pretty good, and the button is VERY responsive at changing modes. You can click as fast as you want to cycle through them!
Good flashlight overall.
My Recommendation
The Lumintop SD26 was supplied by GearBest.
Wanna check Amazon's price?? Then click here!
Please follow Lightsngear and like us: