With technical support provided by ThruNite, WOWTAC is producing quality flashlights at a reasonable price. From that, I'm here to tell you about the WOWTAC A4, a USB rechargeable light with an astoundingly long-reaching beam.
Smaller Than You Might Think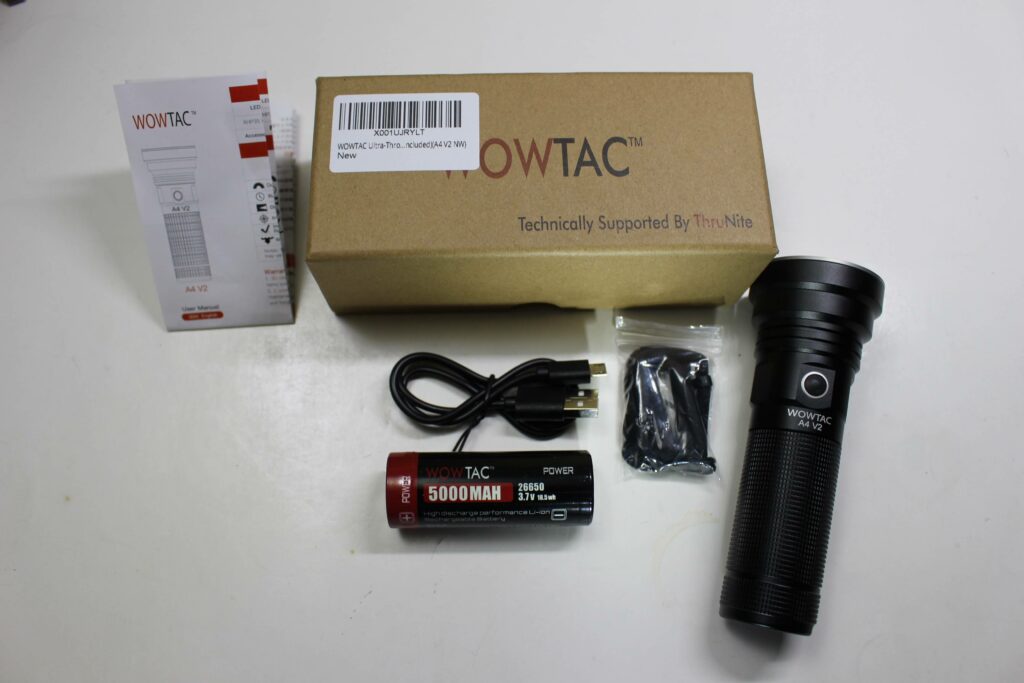 I'll get to the specifications in a minute. However from the first couple of photos, you might've assumed that the A4 is quite large. But in the photo above, notice its size next to the USB charging cable it comes with, and the 5000mAh 26650 battery that's also included.
To the Specs (& features) We Go!
Length; 4.9″
Width; (at head) 1.8″
Weight; (w/battery) 8.29 ounces
LED; CREE XHP 35 HI
Smooth reflector (for max beam throw)
Working voltage; 2.7 – 4.2
Maximum output; 1895 lumens
USB charging circuit
Mode memory
Body; aluminum alloy w/an anodized scratch resistant finish
Beam distance; 565 meters (617 yards)
Impact resistant; 1.5 meters
Waterproof (IPX-8) to 2 meters underwater
Battery, Output, and Runtime
As you've already seen, the WOWTAC A4 comes with (and runs on) a single 26650 rechargeable lithium battery.
The modes, and related output, are as follows;
Firefly; 0.5 lumens (208 days continuous!)
Low; 28 lumens (89 hours)
Medium; 208 lumens (12 hours)
High; 1058 lumens (8 mins? + 150)
Turbo; (3 mins? + 148)
Strobe; 1200 lumens (200 mins)
Operating the WOWTAC A4
A short press to the side switch turns the A4 on and off. As with 90% of all flashlights these days…a holding press advances through the modes. The basic sequence is, low, medium, and high.
For Firefly; a holding press is required while the light is OFF
For Turbo; double-click (from either OFF, or ON)
For Strobe; double-click from Turbo. A second double-click returns to Turbo. A single click turns it off.
While on in any of the three regular modes, the switch is illuminated in BLUE. It turns RED at the sign of a seriously weakening battery.
USB Charging
Once the A4's charging port is connected to a USB source, the switch will correspond in RED. When fully charged, the BLUE illumination will return. If anything goes wrong during the charging process, the switch will flash in PURPLE.
The Beam Pics
Summarizing the WOWTAC A4 V2
This is a cool little flashlight 😀
Basically it's a thrower, so if a long beam reach is what you're after, then it's a worthy contender to some of the other 'throwers' out there. There are several Astrolux lights which also have impressive beam distances, but they're much larger, so if smaller is better…then the A4 would be my pick.
The A4 is also a good "walking light". My recommendation on that is to use it on medium mode, where the side spill is bright enough to see everything around the center spot.
It's a comfortable light to hold and operate, and although the switch is small, I was able to control it even with heavy gloves on.
You might've noticed in the "runtime" section, that 'high' and 'turbo' have two sets of runtime totals. For example on 'high' it says it runs for 8 minutes…(then presumably lowers the output) and runs for an additional 150 minutes. The manual says nothing about lowering output. I ran it for 10 minutes and saw no measurable difference in output. This is why there are "?" marks after each total.
Note that there are two LED tints available. Here, I'm reviewing the "NW" (neutral white) version. The other choice is "cool white".
Recommendation
For the opportunity to snag your own WOWTAC A4 V2, click here to be virtually transported to its page on Amazon Prime! 😎
Please follow Lightsngear and like us: