One of the more recent additions to the KLARUS flashlight family, is the ST2C. This brings us to writing this review of the KLARUS ST2C XM-L2 LED flashlight.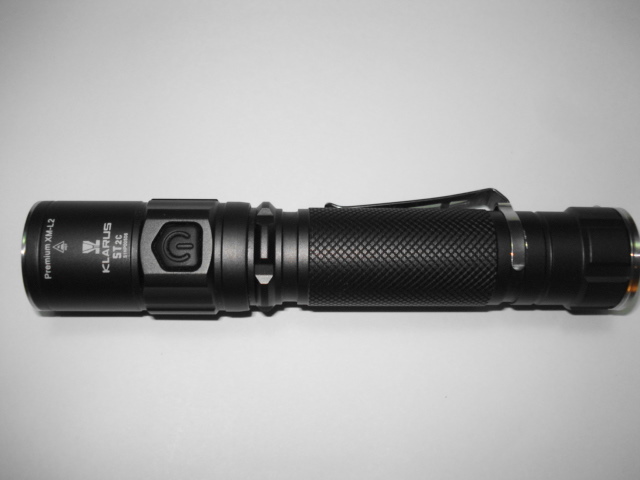 BASICALLY SPEAKING
At just under 5¼" long, the ST2C utilizes a CREE XM-L2 LED to produce up to 820 lumens.
The beam of the ST2C has the largest "hotspot" of any XM-L light I've seen to date! It's also a beautiful white without any dark shading or other unwanted elements.
In outdoor use, you'll get a nice beam exceeding 100 meters. (see the images below)
BATTERIES
The working voltage range of the KLARUS ST2C is 3.0 to 8.4  and operates on lithium-ion batteries only. The preferred cell, is either (1) one 18650, or (2) two (disposable) CR123 batteries. Obviously the "123" rechargeable cousin, 16340 (RCR123) can also be used. It will also accept two 18350 cells.
LIGHTING MODES
The lighting modes of the ST2C are as follows.
High; 820 lumens for about 2.2 hours.
Medium; 240 lumens for just over 6 hours.
Low; 17 lumens for about 100 hours straight.
Then beyond that is moonlight mode at a scant 0.1 lumens.
Although only useful at short range in pitch darkness, the light will run for HUNDREDS of hours on moonlight! In addition to be able to stand upright as a candle, it also features variable strobe, and an SOS mode.
Click each image to see at full-size.
EASY OPERATION
Operation of the light is fairly intuitive. Visually what you notice first is what has become quite standard on many of today's newer lights; a side-switch, in addition to the tail cap button. The ST2C is also tactical. To operate tactically, just give the rear switch a soft press. A hard press will turn the light on in constant mode. It has a memory…so whatever mode it was switched off in, it'll turn back ON in.
Mode switching is accomplished by the side-switch. But what took me a few minutes to figure out, is that to change the modes with the use of this switch, you need to HOLD it for about 1 second. With each HOLDING press, it will advance to the next mode. Unlike some other lights, the modes WILL NOT continually cycle by holding the switch.
To access strobe mode, double-click the side-switch. This can be accomplished from ANY mode you happen to be in! Press again, and your previous mode is restored. SOS is accessible ONLY from strobe mode, and is accessed by a HARD press while in strobe.
Another nice feature of the side-switch, is that it can be used to put the light in standby mode. So…with the light on, just press the side-switch and it'll shut off! To turn it on again, a holding press is required. Alternatively, once clicked on by the tail cap, you could use the side-switch exclusively. This would however increase the risk of the light getting switched on by mistake…if in a pocket or bag. Obviously a FULL click of the tail cap will ensure the light is properly off.
IN CLOSING
By all conclusions, the KLARUS ST2C is a very good light featuring all the functions anyone could ever want. It's very well designed, it's tough, has a good feel to it and isn't too heavy when batteries are installed. The pocket clip is extremely tight to the body, and when attached to your pocket, "it ain't goin' nowhere"!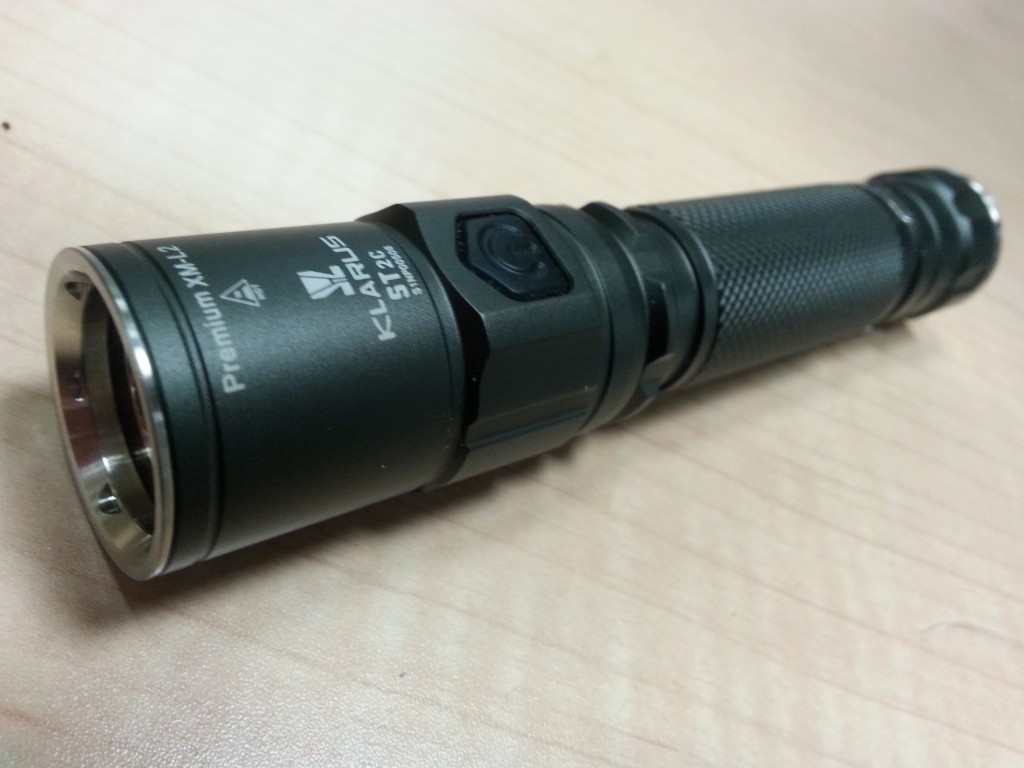 Hopefully you've found this review helpful, and should you have any comments or questions, please let me know!!
If you'd like to read additional reviews with an option to purchase the ST2C — then click here!!
If perhaps the ST2C is not available at the Amazon link, is surely IS at eBay. CLICK HERE for its eBay page.
Please follow Lightsngear and like us: