Bose has long been a quality developer of radios that boasted concert-hall sound for half the size of comparable products. Now with the popularity of Bluetooth devices on the rise, Bose has introduced a new product line; the Soundlink. I'm now delighted to write this Bose Soundlink Mini review and show you what it's all about.
Size and Style
Small profiles and big sound have been a trademark of Bose since their first radios arrived on the market many years ago. Measuring 2″ high and 7.1″ long, the Soundlink Mini is extremely portable. It's a bit heavier than you might expect, weighing in at 1.44 lb or 0.655 kg. It sports a sleek look, almost a throwback to the 1960's, with a smooth metallic finish. The base is fitted with a sturdy rubber slab to ensure a good grip on whatever surface it sits on.
How's The Sound?
In one word…excellent! How do I define excellent? Well let me say that as someone who owns many radios of various sizes (and this by the way is my FIRST Bose unit) the Soundlink produces far more base than any I own. It also maintains the mid-tones very well while not needing to compromise on other audio levels. I'm sure there might be a few audiophiles who will denounce these smaller units as mere wannabes. The great sound of your Pioneer receiver and Kenwood speakers back in the 70's was undeniably good, but were not comparing the Bose to those. This is modern Bluetooth technology, designed as portable, on-the-go audio. And for this size of speaker, I've not heard anything as full and rich as the Bose delivers.
Easy to Operate
The sparseness of controls makes the Bose Soundlink very simplistic. There's no need to adjust tone, so a simple power on/off button, followed by mute, (raised) volume controls, a pairing (blue-tooth) button and an auxiliary button are all you need. Pairing a device is simple, and the unit remembers several devices at once. I had no issue pairing both my Android phone and iPad to the Bose.
Power and Charging
A powerful built-in Lithium battery is what allows the speaker to deliver up to seven hours of continuous use on a full charge. Battery state is given in the form of an icon located above the power button. It's flashes orange when charging and a constant green when charged. If the battery gets too low, it'll flash red. The unit comes with an AC charging bed (pictured) and you can either connect the AC adapter to the bed…or to the speaker directly. When I received my unit it appeared dead. The battery was fully charged though in about three hours. You may use the speaker when connected to AC power as well. You may also use it while it's charging. There's an AC adapter port on the right side of the charging bed, as well as on the speaker itself. Also worth noting; the unit has an auto-shutoff feature. It kicks in after a short period of continuous silence (around 15 minutes) and shuts down to preserve the battery.
Connections
This photo is showing the side and bottom of the unit. The two connectors are for AC and AUX. To the right of the rubber base is the charging port (only used when charging on the bed) and a mini USB port. But don't get excited, this port is ONLY used for software updates! You cannot charge the Soundlink on a computer or use it to charge other devices via USB. For some, this might be a major deal breaker.
Portability
For an additional cost, you might consider picking up the official Soundlink Mini Travel Case. It's a very sturdy pouch with a secure closure and an extra pouch for the AC adapter. The photos below illustrate how snugly the speaker fits into the case! Easy to carry too!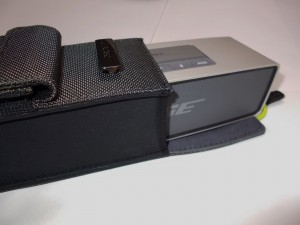 Closing Remarks
This Bose Soundlink Mini review has been derived from my personal experience using the speaker. I grew up listening to transistor radios. Then migrated to "boom-boxes". Of course I've had a few stereo receivers as well. This is the first Bose product I've ever owned. But, needless to say I was (and am) very impressed. I think as Bluetooth units go (and there are a lot of them out there today) you won't be disappointed with any of the Bose speakers should you decide to get one. Other users may have different opinions.
Now that you know what I think about the Soundlink from Bose… here are some other user reviews which I'm sure will be helpful to you.
Your questions and/or comments are appreciated!
Please follow Lightsngear and like us: