Here's an interesting flashlight, which is as powerful as it is small! "DQG" has made a name for themselves by producing lights which are not much larger than the battery type they use. Here, a 26650 battery provides the necessary "umph" that's needed to make the DQG Tiny 26650, one amazing little light! 
As an aside, the light comes in two different LED tints. Neutral-white and cool-white. My version is neutral-white, thus having a slightly warmer color temperature than the cool-white.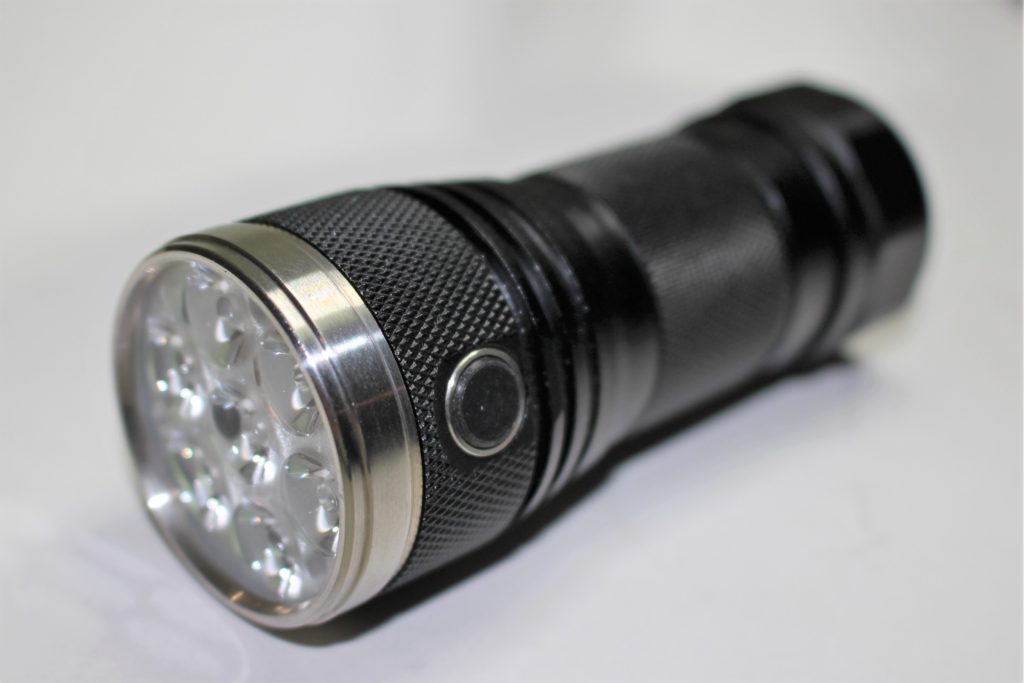 Even the PACKAGE is Tiny!!
DQG flashlights are not expensive. One reason for that, is their minimal packaging, and lack of accessories. The Tiny 26650 is a testament to that, with the light coming in a little brown box, which (other than the flashlight) can fit only two spare 0-rings. And get this — the user manual is printed on a sticker that wraps around the box!
Facts and Figures 
Length; 3.6″ 

Width (head) 1.4″ 

Weight (w/battery) 4.92 ounces

LED(s); (7) CREE XP-G2's!! (either Neutral-White or Cool-White)

Beam Distance; 200 meters

Body; T6061 Aircraft Grade Aluminum

Lens; "PMMA" TIR (total internal reflection) 

Battery; (1) 3.7v 26650 Lithium-ion rechargeable
Power
As noted, (and as would seem obvious) the ONLY acceptable battery to use, is a rechargeable 26650
. My recommendation for a good 26650 charger, is the MiBoxer
.
The DQG Tiny 26650 features four modes of constant illumination. There are no flashing/emergency modes.
Low – 8 lumens for 200 continuous hours

Medium – 250 lumens for 8 hours

High – 8o0 lumens for 2.5 hours

Turbo – 2500 lumens for 90 seconds!*
*Yes, turbo mode has a timed step-down (to high) after ninety seconds. 
Operating the DQG Tiny 26650 
The UI on this light is pretty "UF" (user-friendly  😎 ).
No "holding" presses are required to turn it on or off. Just press the switch once for each. "Medium" is the default, and is what happens with each activation. To advance to high, press and hold. This will also begin cycling through all three modes. Turbo is hidden, and while the light is on, it can only be reached by a "double-click". Another single-click returns to "high". 
The Tiny 26650 is designed so that ANY mode can be activated while the light if OFF. 
For "medium" click the button once

For "low" click it THREE times

For "high" click it TWO times

For "turbo" press and HOLD

From any of these modes, a single click turns it off, and a holding press goes to the next one
After the light is shut off, the LED's display a "green glow" for a few seconds to give your eyes a moment of
adjustment. In actuality, the glow remains in a muted state until switched on again. This can only be seen in complete darkness. 
Low Voltage Indicator
There's a built-in low voltage warning of sorts, within the Tiny 26650. With a protected battery, the light dropped in output once the voltage went below 3.0  It followed that with a "double-flash" about every five seconds… then shut off after a short time. I suspect this would do the same with an IMR battery as well. 
Super Pics!
My Exclusive Opinion
The DQG Tiny 26650 is just what it says. It's a cool little light with a friendly UI, and a lot of power!
Pretty much all you're getting here is the flashlight. That is to say if you buy a light for its accessories then you'll be disappointed. On the flip-side of the switch is a lanyard hole, so if you have one, that's where it attaches. 
The switch has a distinctly different feel to it than the body surrounding it, and resembles soft rubber. It doesn't illuminate in any way, but given that it's 90 degrees from the lanyard, it's easy to find in the dark.
The tail cap is made up of flat "grippers", which when set on a flat surface keeps it from rolling. The light is comfortable to hold and is tapered in the middle for a good grip. 
There are no inner springs… not in the cap or the head. A metal hub in each, make contact with the battery. Fortunately it seems to work fine with either flat-top or button-top 26650's. 
Its LED's, combined with the TIR lens, do nice things with the beam!! It's really gorgeous the way it projects a creamy flood of light without rings or artifacts. 
Are You Ready to Own it?
I'd like to thank GearBest for supplying the DQG Tiny 26650 for review! If you're ready to experience it for yourself, please click here!
Please follow Lightsngear and like us: