I am about to review the Soonfire E07 LED flashlight.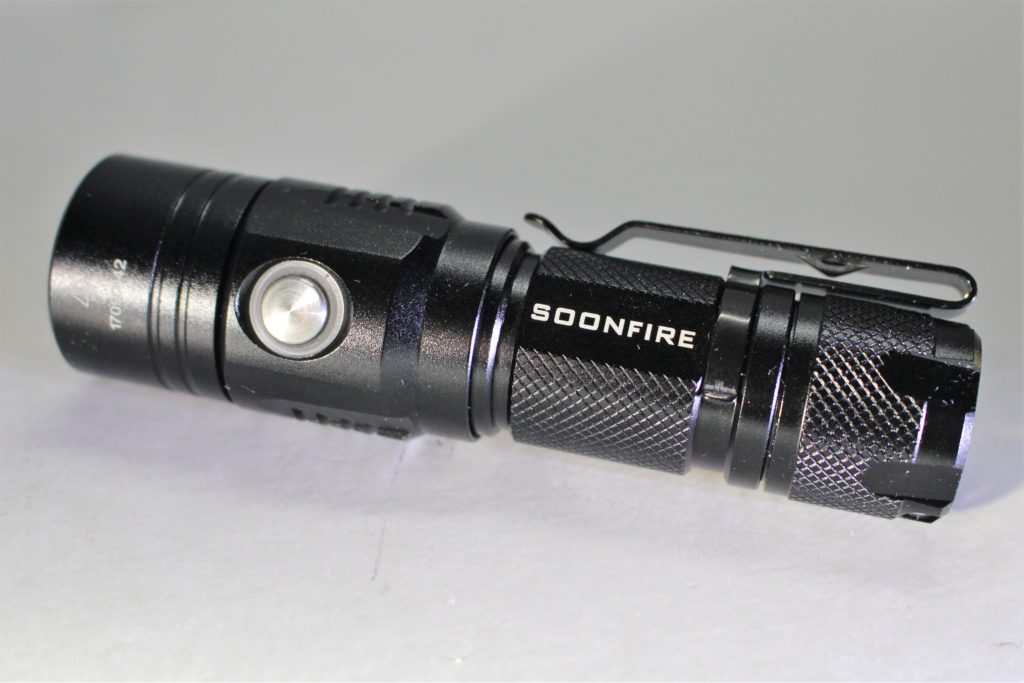 Flashlight "experts" (and I don't use that term loosely) always advise NOT to buy flashlight and battery products which have the word "fire" as part of their name. UNLESS, it's a "Surefire" product. 
The reason, is because low-cost "budget" companies have sprouted over the past few years, to provide cheaper alternatives to Surefire flashlights which sell for upwards of $100. This price is based on high-quality components, and incredible durability, which the budget-priced clone is incapable of matching. The budget companies think that by doing a "play" on the name, it might fool the average buyer into thinking the quality will be the same. Normally it's not.
Now how about this for a similar analogy; you'd like to buy a Lexus but can't afford it. But, would you assume that if you saw a car that looked similar, with "Plexus" across the back, (and was $20,000 cheaper) would you think it was simply a great deal? Or would you just chuckle and move along?

Well, luxury cars and $200 flashlights aside, the Soonfire E07 is up for inspection today. And having just pointed out the possible disappointments from buying "wannabe" products, let's jump into the Soonfire, and see if we end up with a "Trump", or a "Hillary"! 
Pleasing Package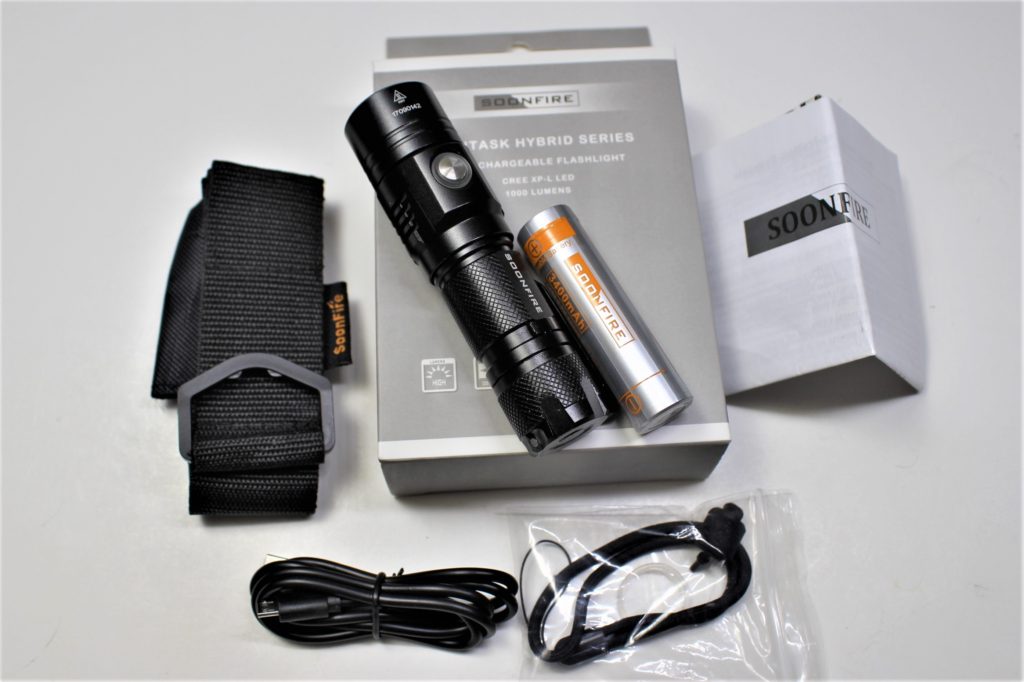 Packaging for the E07 is pretty nice. As you can see, the flashlight is accompanied by a belt holster, a user manual, a USB charging cable, a lanyard, a spare o-ring, a spare USB cover, AND a 3400mAh rechargeable 18650 battery. The ONLY gripe I have, is that the manual covers several other models. The E07 is listed within it, under the "E/Z" heading, and gives only operating instructions. No features or technical data are mentioned.
Soonfire E07 Stats & Features 
Height/Length; 4.4″

Weight (w/battery); 4.92 ounces

LED; CREE XP-L

USB rechargeable

Premium Type III, hard-anodized anti-abrasive finish

Toughened ultra-clear glass lens with anti-reflective coating

Requires (1) rechargeable 18650 battery [included] or a configuration of (2) batteries; either CR123 or 16340

Low voltage battery warning

Internal voltage regulation circuit ensures output stability

Waterproof to IPX-8 — submersible up to 6.5 feet

Mode Memory ensures the last mode used is memorized
Modes and Output
Five regular modes make up the E07; 
Eco; 8 lumens

Low; 80 lumens

Medium; 320

High; 650

Turbo; 1000*

Strobe; 1000

SOS
Turbo stays constant for 2.5 minutes before an automatic stepdown to "high" occurs
How to Make it Work 
Once the cap is tightened onto the battery, the switch illuminates in blue for a few seconds. This isn't a voltage indicator — but merely a confirmation that the tail cap and battery are connected.
The Soonfire's side-switch is the star of the show. Nothing happens until you give it a holding-press, then each quick press afterwards moves to the next mode. 
Strobe and SOS are hidden until the switch is pressed and held, either from OFF, or ON. From "off" I realize this is the same instruction as it is to turn it on, but in this case, you'll just hold it for a second longer. It'll turn on… then switch to strobe. For SOS, apply another short press. 
The aforementioned indicator activates (in blue) when the light is turned on, and stays on until you turn the flashlight off. 
USB Charging 
Connect the USB cable to a power source, and away you go. When connected, the indicator turns red. As charging completes, red becomes blue. Of course, only a single-battery configuration can be charged.
Low Battery Indicator
As the battery weakens, the indicator turns solid red. Further weakening instigates a "flashing" red, along with a substantially lower output. Please charge the battery as soon as possible. 
Let There Be Light
My Thoughts Exactly
In my opinion, Soonfire is not your average "fire" wannabe flashlight. In fact it wouldn't surprise me at all if they were made by one of the larger manufacturers. This would certainly account for the quality that's gone into the light. 
The stainless steel switch is very nice! It's raised a bit, and is completely silent when pressing. And the fact that it illuminates when pressed, makes it impossible NOT to locate it in the dark  😀 
Its charging interface works as well as any other, and the included Soonfire battery is also good quality!! 
I have no grievances with the E07's UI. Switching modes can be as lighting fast as you need, and Strobe is available on demand. There's no instant access to Eco or Turbo, but that's often the case with lower-priced lights. At least 'mode memory' keeps the last mode used, in check. 
The Soonfire E07 is a relatively inexpensive, but high quality EDC flashlight. 
Click to Buy 
If you're now sufficiently juiced about the Soonfire, then here's the link to their Amazon page!
Please follow Lightsngear and like us: