Among the chargers I own, the Opus BT-C3100 is one of my favorites. It then goes without saying that I was thrilled to review the new Opus BT-C100 single-bay charger.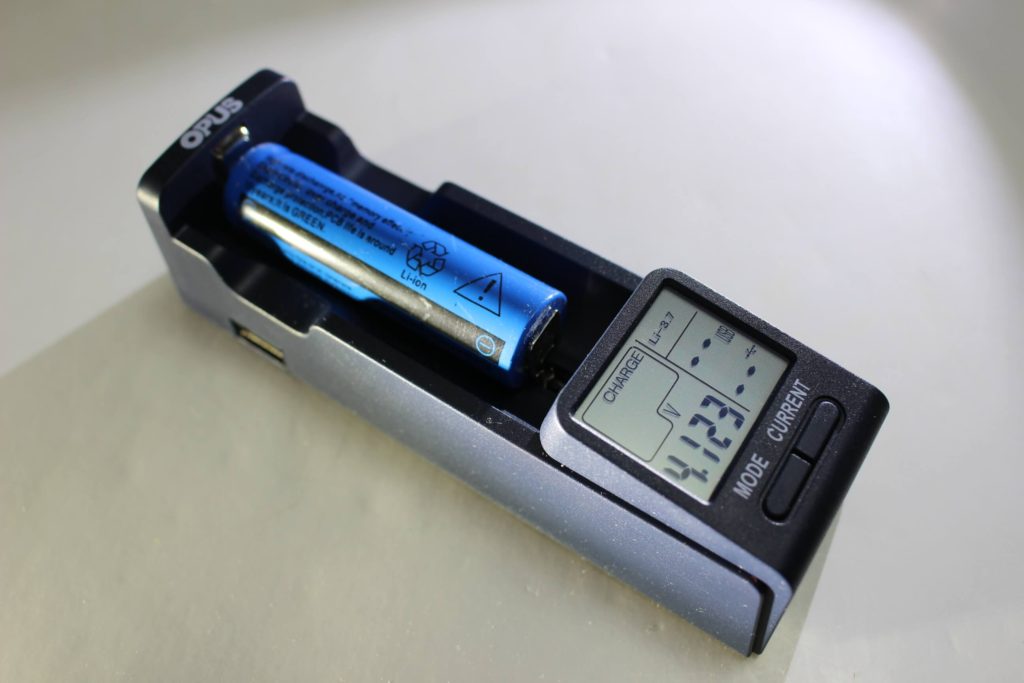 What More Do You Need
Within its good sturdy box you'll find the charger, a 12 volt AC adapter and an extensive user manual.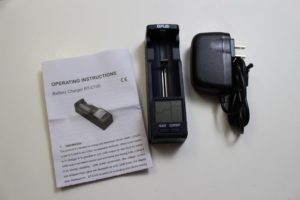 Stats and Connectivity
Size-wise the C100 is only 5.1″ long and weighs a mere 83.5 grams.
Connectivity consists of a 12 volt power adapter, and two 5 volt USB ports. One for out and one for in.
All the Modes You'd Expect
Just like Opus' larger siblings, the C100 can perform several functions.
They are;
Charge
Charge & test
Discharge
Discharge & refresh
Impedance test
Here's What Each Function Does
Charge: 
This will charge a battery with a user defined current anywhere between 200 and 2000mA. The charging increments for Lithium-ion batteries are 0.2, 0.3, 0.5, 0.7, 1.0, 1,300 and 1,600. The increments are initially the same for NiMH batteries, but adds a 2,000mA option. The charging default is set at 1.0A.
Discharge:
You may select a discharge current of between 100 and 1000. Specifically for Lithium-ion they are o.1, 0.2, 0.3, 0.4, 0.5, 0.6 and 0.7 amps. For NiMH it's the same, but adds 1.0 as well.
Charge & Test:
This is basically used to get an accurate reading of battery capacity. A handy feature especially if you've bought "questionable" batteries manufactured by a unknown source. The charger will do a full charge/discharge cycle to determine how much mAh the battery can accept. You will need to set the charge current before hand. The charger will determine the discharge current on its own. One complete, the discharge capacity will be shown.
Discharge & Refresh:
This is to basically "refresh" the battery…something that is not normally required for Lithium-ion cells. Therefore, it's more of an NiMH feature. It will do a full charge/discharge cycle three times. You'll need to select the discharge current before beginning. Then when it's finished, it'll display the discharged capacity.
Impedance Test:
This tests the internal resistance of the battery.
The test only take a few seconds, and displays a reading milliohms. For a healthy battery it will be low… between 20 and 80 is optimal. Resistance increases with battery age and use. Since I talk a lot about "fake" batteries, this is often a good way to determine if some you've recently bought (which had higher than average capacity claims — or not) are actually as "young and virile" as the selling source would have you believe.
Basic Operation 
About 10 seconds after a battery is inserted the unit will begin charging at the default setting. Within that period you may select your own desired current by pressing the "current" button. Toggle through the choices of amperage until the one you want is displayed.
You may change the mode from charging to something else by holding down the mode button until "charge" begins blinking. With each press it will toggle through the modes.
Holding the mode button past the point of mode selection, allows you to choose between different types of batteries.
Turning the USB function on and off is accomplished by holding down the "current" button until you see "on" in the USB display. During USB use, toggling the "current" button will display battery current and AH.
Opus BT-C100 Charging Notes
Even when the unit is unpowered, you may place a battery in the slot and get its current voltage.
Even after you've chosen a function — and a current — and the charger is working on a battery, you may change to a different current and function without removing the battery. The larger C3100 will not allow that.
If the resistance of a tested battery shows higher than 250mR, the C100 will limit current to 1000mA.
My tests when charging with the USB function on, plugged into a 5v, 2.1A USB adapter, indicate that overall charging current is LESS than selected. For example with the default current of 1000, the charger averages about 740mA.
Closing Thoughts
My view of the C100 is that it's fairly good. I trust it to do a satisfactory job of charging whatever type of battery I have placed in it.
It seems to be fairly accurate and its many functions should be usable for a variety of sitautions.
I'm recommending the Opus BT-C100 on the basis of accuracy, convenience and price!
The C100 was furnished for testing and review by GearBest! You may visit them for the purposes of viewing the C100 display page with additional product information, and of course to make a purchase. Prefer Amazon? Then click here!
Please follow Lightsngear and like us: