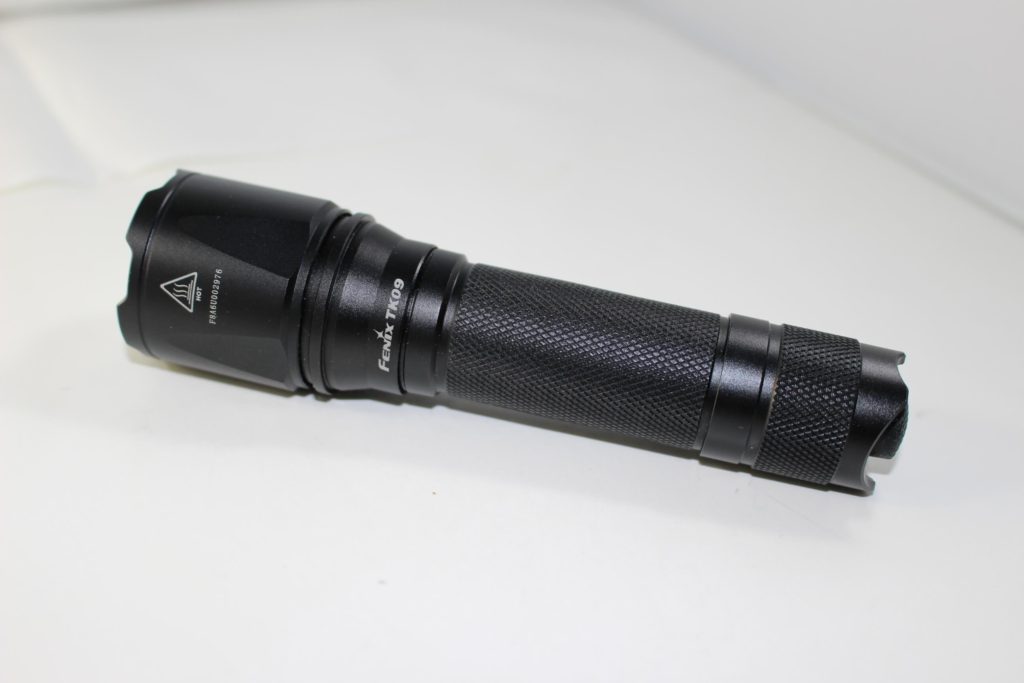 Fenix has been around for some time now.  Since I hadn't tested any of their new flashlights in years…I thought the 2016 version of the Fenix TK09, was a chance to check out their quality once again.
It's been a good two years since the original TK09 was released using a CREE XP-G2 R5 LED and a top output of 450 lumens. Now in 2016, the output as been given a substantial boost to 900 lumens, with the aid of an XP-L HI LED.
Presentation 
It's simple. The flashlight, a user manual, a belt holster, a warranty slip, and a tiny accessory pack which includes a lanyard, 2 spare o-rings and a replacement switch cover.
Quality Features
Length; 5.1″
Width; 1″ (1.3″ at the head)
Weight;
LED; CREE XP-L HI
A toughened ultra-clear glass lens with anti-reflective coating
Made from aircraft-grade aluminum
A scratch-resistant Type III hard anodized finish
A digitally regulated circuit for consistent high output
Reverse polarity protection
A tactical tail switch with momentary-on function
Waterproof to IPX-8 (submersible to 2 meters)
Impact resistant to 1 meter
Batteries and Output
Batteries
So what do you run this thing on? If you answered 'the usual assortment of lithium batteries', you'd be correct!
Either (1) 18650, or (2) CR123's, or (2) 16340's or (2) 18350's. Flat top batteries seem to work just fine as well.
Output
Simplicity seems to be the TK09 philosophy.
Three modes of constant output; low – medium – high and (one flashing mode) Strobe.
Low is 50 lumens. Medium is 450. High is 900. Plain and simple. Runtime on high is estimated by Fenix at 85 minutes; but is only an estimate and depends on the battery.
Simple Operation of Fenix TK09
For those who might get flustered by flashlights whose operation depends on which button you press and HOW you press it, might find the TK09 a refreshing change.
The rear switch stands alone! Although ironically due to the protrusion of said switch, the flashlight does NOT tailstand! But I digress……
For tactical purposes, momentary light can be obtained by lightly pressing the switch while off. With each continued press, if done in succession, is also how you cycle through the modes. When the mode you want is reached, press the button with a firm click, for constant light. When on, nothing more can be done with the switch…other than to give it another firm click and switch it off.
There's NO memory on the TK09. Therefore HIGH is the default, and is where it will always come on at. Strobe is also not hidden, and must be cycled through if you're on medium, and want to get back to high.
When to Charge the Battery
When you operate the TK09 with an 18650 battery, a voltage reader within the light will downshift its output to a lower level. I tried this with it set to high mode and witnessed the drop in output. I left it for awhile and it simply remained at the lower output. The manual says that when set to low, the indicator will cause the light to flash every five minutes. I put it to low and behold! — it did as it claims. As the voltage dropped further, the flashing became more intense and at a quicker interval.
All those Cool Images
Positives and Negatives
Fenix is a quality company, so you know you're getting a long-lasting product. They also offer a "limited" lifetime warranty.
The Fenix TK09 (2016 edition) is a nice pocket-worthy size. The only negative with that (might be) is that there's no pocket clip. At least it has the belt holster.
The user interface is such that just about anyone can "master" the light within a few minutes. However if you require mode memory…you won't get it here.
By lightly pressing the switch, you can cycle through the modes until you get to the one you need. However, HAVING to cycle through strobe at 900 lumens can be a real eye opener when you least suspect it!
Only having three modes can be a positive for some folks. I however, prefer a moonlight mode and feel in this case that 50 lumens (for low) is a tad bright if you need the light in the wee hours of the night.
Ultimately, it's YOUR choice!
The Fenix TK09 for 2016 was supplied for review by GearBest! For a purchase option, please visit their site! Prefer Amazon? Then click here!
If you have any questions or comments relating to this post, please let me know in the comments section below! 🙂
Please follow Lightsngear and like us: