I'm testing out another budget flashlight today, from the folks at Sofirn. I've been pretty pleased with some of their other lights, so let's take a spin with the Sofirn SF36, and see if it's at least on par with the rest of them.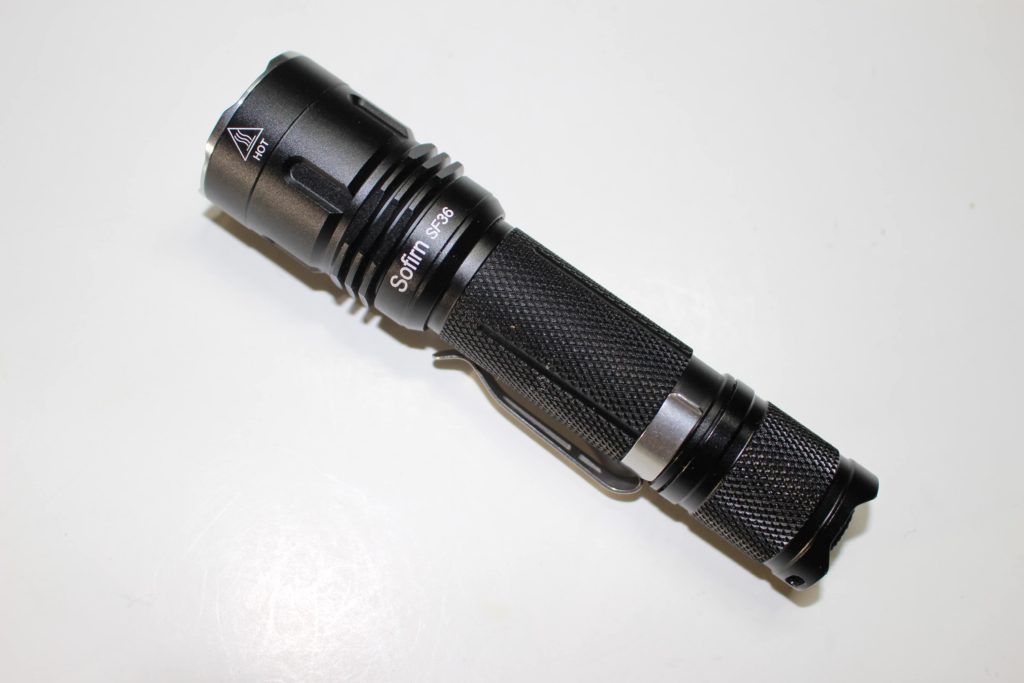 Same Generic Box
I suppose one way Sofirn cuts corners, is to have the same generic uniform-look, to all their flashlight boxes. But, obviously what's inside is more important.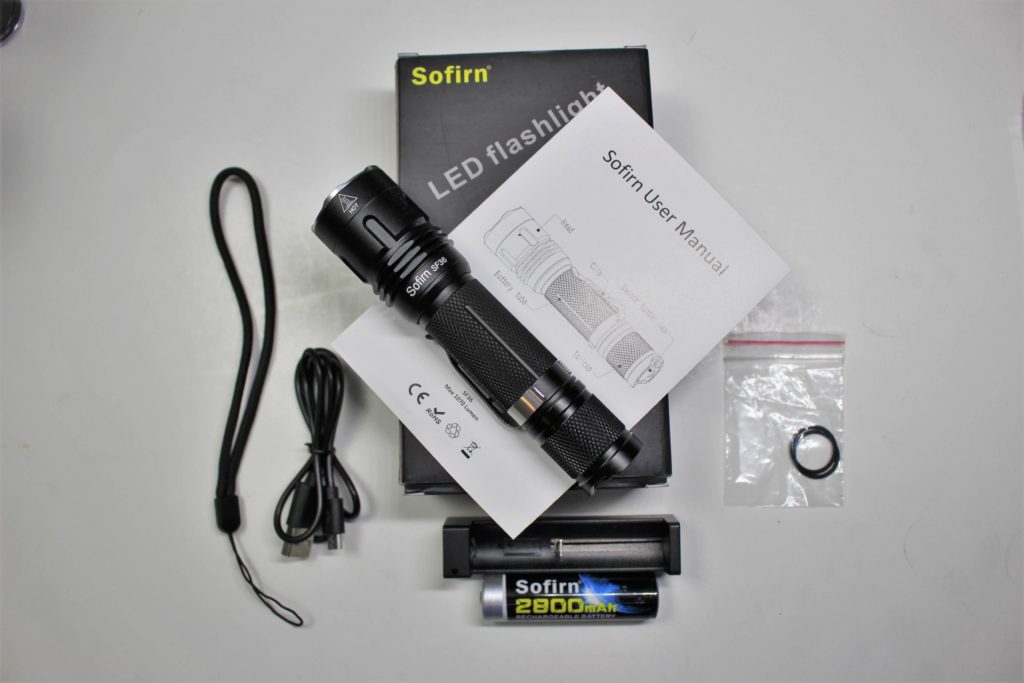 With the SF36, the flashlight is neatly packed with everything you need. This includes a Sofirn 2800mAh 18650 battery… along with a simple single-bay charger, a USB cable (for the charger), a lanyard, two spare o-rings, and a user manual. Not too shabby  🙂
Specifications
Weight; 158.1g (including Sofirn battery)
Length; 5.1″
Head width; 1.2″
LED; Cree XP-L V6
Working voltage max; 4.2
Body material; T6063 aircraft-grade aluminum, with a TypeIII hard-anodized finish
Beam distance; 200 meters
Impact resistant; 1 meter
Waterproof; IPX-8 (submersible to 2 meters)
Features
Four constant output modes, plus strobe
Mode memory
Scratch resistant, toughened glass lens w/AR coating
Low voltage warning
Low voltage protection
Tail stand capability
Modes, Output, and Battery 
There are four regular modes; lower-low, low, medium, high. Plus strobe.
Lower-low is 8 lumens, low is 50, medium 300, and high is 1070 lumens. Strobe is also 1070.
As already pointed out, the Sofirn SF36 comes with a house-branded 18650 battery. Since the working voltage maxes at 4.2, an 18650 battery is the ONLY cell-type the light will accept!
Working It!
The SF36 is operated by a non-tactical rear switch. To get light, fully click it. To turn it off, click it again. To change modes once it's on, apply a soft, half-press. The standard sequence is lowest to highest. Mode memory remembers the last mode used when switched off.
For strobe, "lightly" double-press the switch, while in any of the four modes.
Charging the Battery 
Connect a micro USB cable to the port on the included charger. The units' little indicator with glow "green". Once aa 18650 battery is seated, the green light to change to red… indicating it's charging.. Green will return when the charge is complete. Naturally you're not obligated to use these accessories at all. Any 18650 battery will work in the flashlight.
Behold the Big Beam
Summing Up the Sofirn SF36
This is a simple, straight forward flashlight. At the same time though, it isn't "cheap". It has quality components, but at a budget price. The accessories are also quite good, and many times better than the poor quality garbage included with generic flashlights, which incidentally aren't much lower in cost than the SF36!
The Sofirn's price tag reflects the fact that less "bells and whistles" are present. But again, this is an "every man's flashlight". It's just as good at spotting the neighbor's cat on your property after dark, as it is at lighting up the street on a midnight stroll… or the narrow path that leads down from the mountain summit.
It's bright… it has a nice clean beam, and it's super-easy to operate.
Recommendation
So if the Sofirn SF36 appeals to you as a useful tool, or as a gift for someone… please visit their Amazon product page  😛
Please follow Lightsngear and like us: