With pocket-size flashlights all the rage, the Sunwayman C23C kicks it up a notch, with its built-in USB charging port. Keep reading, and I'll go step by step to show you how it works.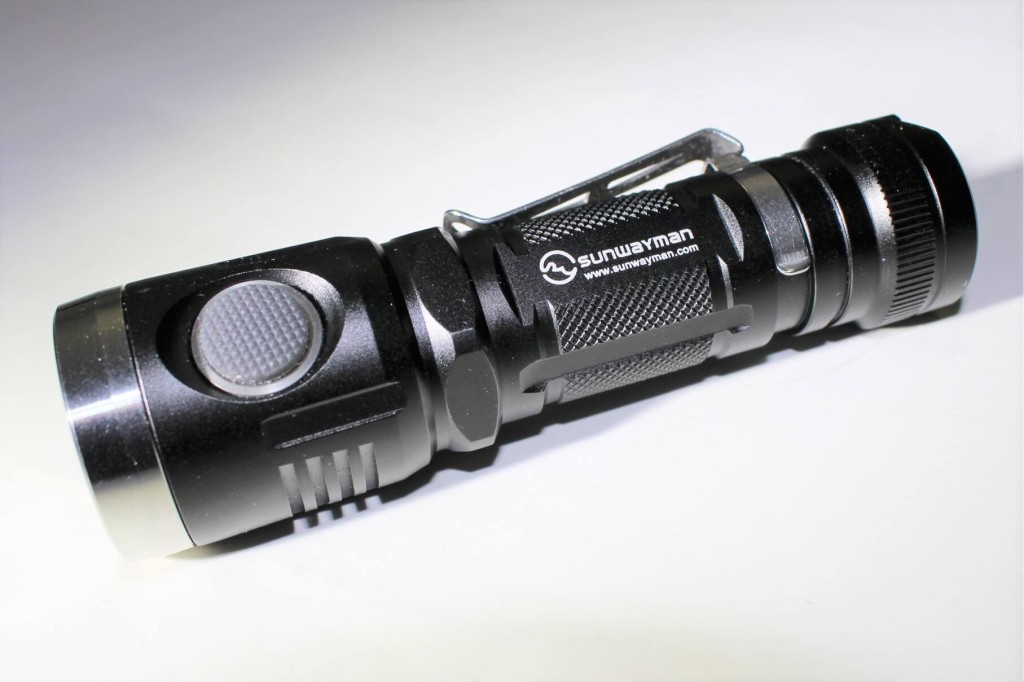 The Package of Your Dreams? 
So within a simple brown double flapped box, (within an outer slip-cover) comes the C23C nestled in a soft foam cut-out. You'll also find an instruction manual and a small accessory pack, which includes a lanyard (wrist-strap) and some spare o-rings. A sturdy pocket clip is already attached to the light.
Specifications
At the heart of the light is a Cree XM-L2 U3 LED. A smooth reflector enables the beam to a maximum throw of 208 meters.
Weight, with an 18650 battery installed is approximately 130 grams. Length is 110mm (4.33 inches). The head diameter is 30mm.
It has a working voltage up to 8.4, which means it'll accept several different battery configurations.
It's made from aerospace-grade aluminum alloy, and features a military Type III hard anodized body.
As with most LED flashlights, the C23C has a memory, and will remember the last mode used.
Output and Acceptable Batteries
So with up to 8.4 volts, you can use the recommended rechargeable 18650 battery, or two 16340 3.7v batteries, or even two rechargeable 18350 batteries. The only thing about those alternate sizes is that you can't charge them using the built in charging feature. Only the "one" 18650 can be charged within the flashlight.
As far as lumen output is concerned, here are the outputs:
1000 on turbo mode
580 on high
130 on medium
35 on low
and (I'm estimating) 1 lumen on moon mode
Look Ma, it Charges!
The internal charging circuitry makes it easy and convenient to plug a micro USB cable into the flashlight. Once connected, you'll know it's charging by the red indicator on the power switch. It almost looks like an eye! When the charge has completed, the indicator will be green. I darkened the photo so the color would look for natural. It looks like a crescent moon doesn't it! The C23C's charging current is about 500mA. This means it'll take a few hours to charge an 18650.
Sunwayman C23C Basic Operation
Insert a battery and give the big button a firm click. You'll be greeted by turbo mode, which is the default when first switched on. If left on for 3 minutes (on turbo) it will bump down to "high" mode. It will also begin to get very warm to the touch if left on for 5 minutes or more on high beam.
Once on, a holding press will advance to the next mode.
For "moon mode", the light must be off. From there, a holding press will activate the mode. Each holding press from there on, will advance predictably.
There are also 3 flashing modes. Strobe, SOS and an aviation signalling mode. Strobe is activated by double-clicking the switch from ANY regular mode. Each holding press from strobe, will advance to the next flashing mode. SOS, followed by aviation signalling. A quick press from any flashing mode will turn the light off.
Visually, there's not a whole lot of difference high and turbo mode. As mentioned, turbo is the default for when first switched on after a battery change, or if you loosen the tail cap once switched off from use. Other than that, I cannot see how turbo is accessed through normal mode switching.
The RED charging indicator light (as shown in the photo above) also serves an additional purpose. As the battery voltage gets close to 3.0 you'll see that very same red glow… indicating it's time for a charge!
Follow That Beam
So, let's see how the Sunwayman C23C does at illumination in typical outdoor circumstances. Click each image for a full-size view. 
Thoughts and Observations
In my opinion, the Sunwayman C23C is very good pocket tool for instant illumination. In style, performance and durability, it's VERY similar to the Nitecore MH20 which I have also reviewed.
It's great that the C23C is rechargeable. This is very handy when you're "on the go". So many consumer products today charge via a micro USB port. So having the ability to pop this into a USB slot wherever you can find one is a big plus!
Although very bright on high mode, it's a bit bizarre that turbo only seems to have access either through a battery change, or a loosening (and retightening) of the tail cap. It also needs to be pointed out that turbo will only remain in use for 3 minutes at a time.
Aside from that, I still recommend the C23C as a useful, compact illumination tool.
Picking one up for yourself is as simple as clicking this link which will transport you to its Amazon page.
Please follow Lightsngear and like us: