As manufacturers continue with more innovative designs on their flashlights, we focus our attention this week, to the new Sunwayman C13R!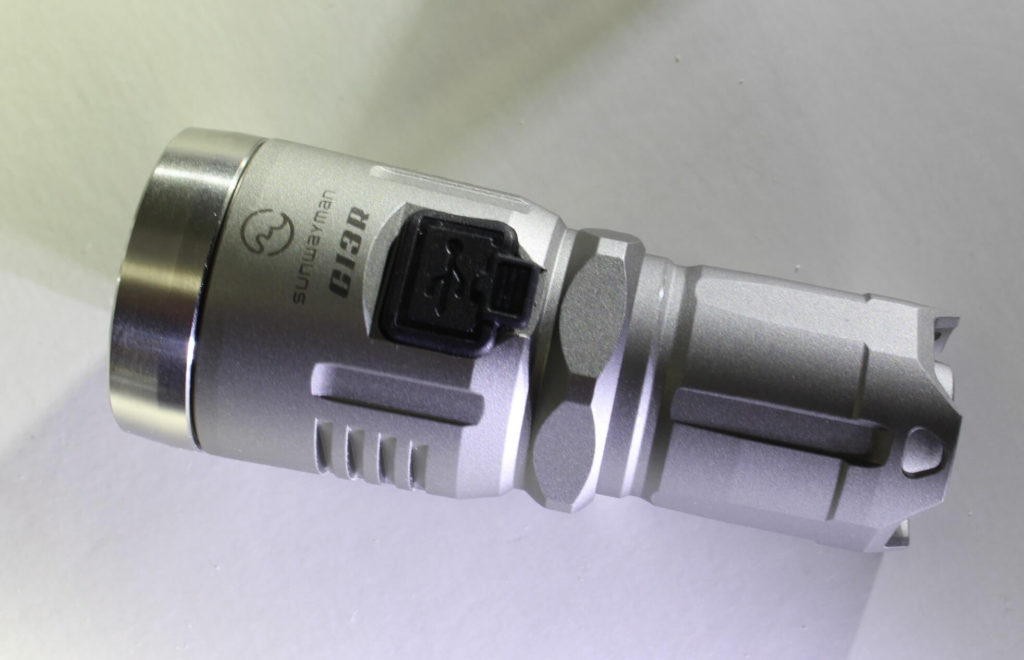 Almost Everything You'll Need
Within a small recycled box, you'll find the C13R flashlight, along with an adjustable lanyard, a selection of spare o-rings, a user manual and a (black) hollow cylinder to accommodate a 18350 battery. This is why I said "almost" because there's no USB charging cable (although most people probably have several anyway) and no pocket clip. I prefer clips to lanyards, so for me, that's the most inconvenient  part.
Stats & Features 
Size; a mere 3″ long, and 1.2″ wide at the head
The C13R comes in two colors; grey and black
Weight; a modest 90.8g including a 16340 battery
LED; Cree XM-L2 U3
Battery; one (disposable) CR123 or (rechargeable) 16340 or (rechargeable) 18350
The lens is toughened glass and the reflector is smooth…allowing for good beam distance
A constant current circuit ensures constant output
Working voltage can handle up to 4.2v
The body features Type III hard-anodizing
It's also waterproof to IPX-8 (submersible) standards
Sunwayman C13R Modes and Runtime
There are 5 regular modes; moonlight, low, medium, high, and turbo… plus 3 flashing modes; strobe, SOS and location beacon.
Moonlight; (unlisted output) less than 1 lumen
Low; 10 lumens – 60 hours
Medium; 50 lumens – 10 hours
High; 180 lumens – 2 hrs
Turbo; 380 lumens – 3 minutes (or until auto drop occurs)
General Operation
The big switch on the head does it all.
One standard "click" turns it on and off. To cycle through the modes, press and HOLD the button while it's on. It will go from low to turbo continuously until you stop at the one you want. For moonlight, you need to press and HOLD the button while the light is OFF. To switch to a higher output from moonlight, just press and hold again. Memory will recall the last mode used, even if you previously only used moonlight.
For strobe, SOS and beacon… a double-click is required, and can be done from any mode… including "off". Once you're in strobe, you need to press and hold the button to advance to SOS, and then repeat for beacon.
Using the USB Charging Feature
Plug a micro USB cable (not included) into the port on the flashlight head. An LED beneath the power switch will light up in red. When the charge completes, the switch turns green. 
Low Battery Indicator
As the battery weakens, the red (switch) indicator will come on. If you ignore it for too long, it will eventually "flash" and shut the light off.
The Main Gallery
User Thoughts
The Sunwayman C13R is a very good flashlight.
Where Sunwayman (in my opinion) has slightly failed in the past, is to never include a "moonlight mode" on their lights. HERE, they've fixed the omission!
The size of the light is great, but I wish they'd figured out a way to include some kind of pocket clip. The bottom of the tail cap is drilled out and threaded to affix to a tripod.
The charging feature works well, but in my in-line current test, it was a tad slow at 350mA. The only saving grace there, is that 16340 batteries are not high capacity… so they won't take multiple hours to charge.
Before I saw the C13R in person, I was concerned that its 380 lumens on turbo seemed a little scant as far as what I'm used to on other similar-size lights. Then after three minutes of continuous use (on turbo) it ramps down to high… which at 180 lumens, is NOT terribly bright for a light of this size! But… having said that, its smooth reflector helps to throw the beam, and the L2 U3 LED has a nice pattern. So… that somehow makes those outputs appear a bit more useful that I had thought possible.
The light is "slightly" brighter on the highest mode when using a 18350 battery instead of a 16340. Here are side by side photos which I hope illustrates that. (the brighter one is with the 18350)
On issue which deserves a REAL gripe, is the user manual. Although it efficiently describes how to operate the light, is says NOTHING about the charging feature! Zero, zip, nada. It also does not mention the low battery indicator. It DOES however, talk about how you can perform a lock-out on the switch, to prevent accidental activation. But to do this, is the SAME function as activating moonlight. Therefore, moonlight activates…but it does not lock the switch out.
My Recommendation
GearBest supplied the Sunwayman C13R for reviewing purposes. You may of course visit them, and choose between the color options of your choice.
If Amazon is your preferred merchant, here is their link to the C13R.
Even with the few little gripes I have with the C13R, I'll still recommend it as a very good EDC light with excellent capabilities.
Please follow Lightsngear and like us: