Solarforce is a budget flashlight manufacturer. They have a number of different lights in their catalog. Recently, I was asked to review the new Solarforce Y2. It's an 850 lumen flashlight featuring a focusing (zooming) lens. Here are my thoughts.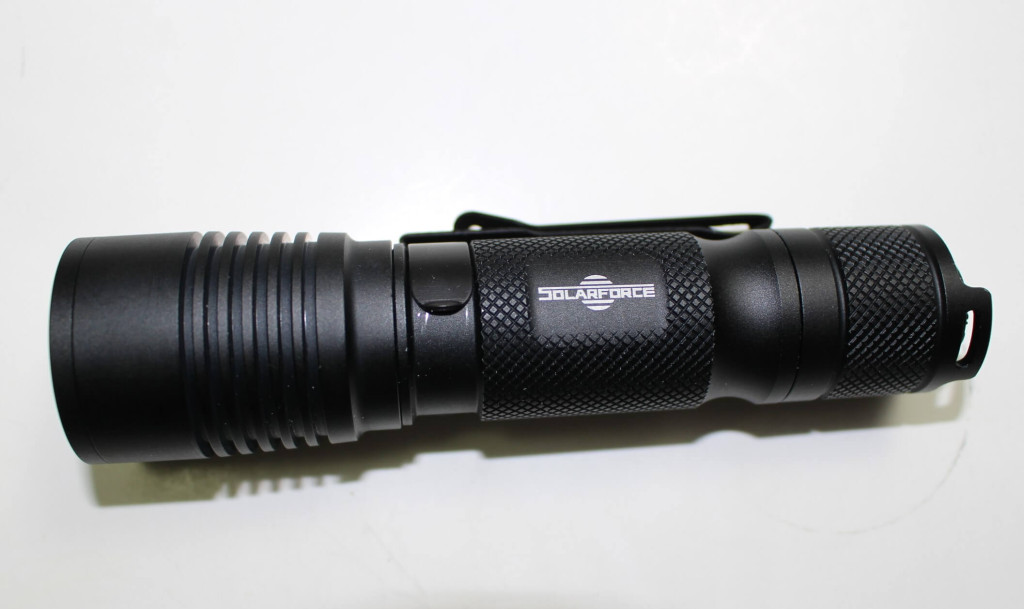 Not Much Packaging
So, when the Y2 arrived, it was presented in a small nondescript paper package with minimal accessories.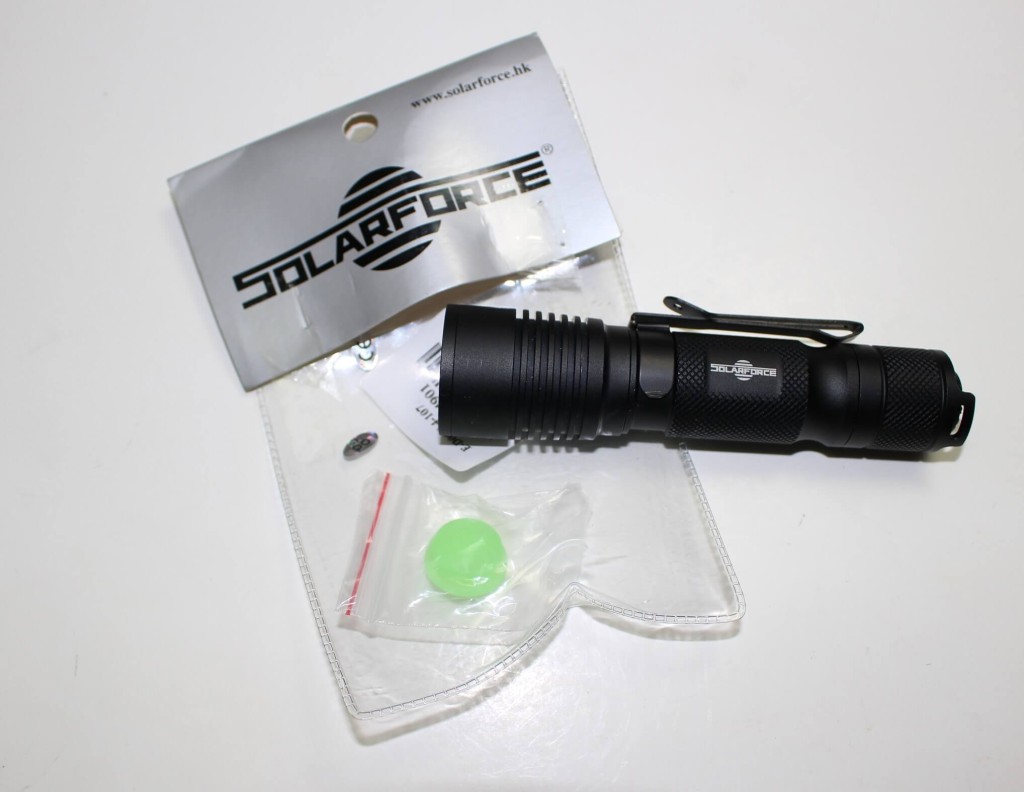 There was no instruction manual, just a small package containing a spare (reflective) tail cap button. As you can see, the light itself already had a pocket clip attached.
Solarforce Y2 Basics 
The Y2 is a simple to operate flashlight. It's 4.86″ (123.5 mm) long (without the head extended) and weighs about 1.35 grams with an 18650 battery installed.
Speaking of batteries, the intended power source is (1) rechargeable 18650. Since the working voltage of the light goes as high as 9 volts, it will also accept either (2) disposable CR123's, or (2) rechargeable 16340's. It is also current regulated, meaning that the internal circuit will keep the light as bright as possible even as the battery voltage drops.
The Y2 features four constant lighting modes. There are no flashing (emergency) modes on the light. Here's what you get;
High mode; 850 lumens (for about 2 hours)
Medium mode; 305 lumens (for 6.5 hours)
Low mode; 30 lumens (for 70 hours)
Moon mode; 2 lumens (for 45 days!!)
I have tested it using both rechargeable types of batteries, and I can report that on high mode, it's a "smidgen" brighter using two 16340's as opposed to one 18650. But…the difference is so slight, that in normal use, the naked eye will see NO difference at all.
To produce its high output, it uses a Cree XP-L LED. The lens is made of strengthened ultra-clear glass, with a two-surface coating for high transparency and light transmittance.
The body is tough; made of T6063 T6 aircraft grade aluminum alloy.
Most flashlights that feature a zooming lens aren't often waterproof. But Solarforce claims the Y2 IS waterproof to IPX-8 standards.
The rear "clickie" switch, is tactical, and allows for momentary-on illumination. It also has a memory, meaning that if turned off and left for more than two seconds, it will turn ON again in the last mode used.
Operationally Speaking
Just click the rear switch (until the"click" is heard) to turn the flashlight on. Once on, you must click it off and on again within two seconds, to advance to the next mode. If you turn it off (and wait more than two seconds), the memory function will keep it at the last mode used until you switch it on again.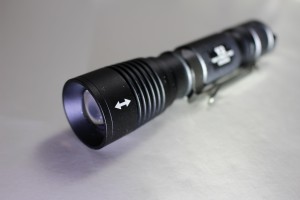 You can also use the switches "momentary" (or tactical) feature to select your mode. With the light turned off, give the rear switch a half press. If the mode that it comes on in is the one you want, click it firmly. If you want a different mode, just release it and half press it again. With each half press, it will advance to the next level. Again, just give it a full press when it gets to the one you want.
The head pulls backwards and pushes forward. This controls the zooming function. The only problem with the light that I received, is that the sliding mechanism is very loose. Not to worry…when you have it in the place you want, it's not going to slide on its own, but if you were to set it down ON the head, it will retreat to the full wide-beam position. It also tail stands without an issue, and will remain in the position you set it at if placed that way on a flat surface.
Let's Look at Some Beam Shots 
Summing it Up
When I first received the Solarforce Y2, I wasn't sure what to think. It didn't have a lot of features, and the focusing head seemed quite loose. Then, as I began to use it more, I could see where it had more quality than some other zooming lights I've tried.
The modes are much better spaced than cheaper-type zooming lights, AND it has a "moon mode" which the others don't have at all.
Choosing the modes tactically before firmly clicking the switch is somewhat unique, AND with memory, it always comes on in the last mode used.
So for a reasonably inexpensive flashlight, I would say the Solarforce Y2 ranks well for simplicity and usefulness.
The Y2 was provided for review by GearBest, where I invite you to visit and enter coupon code SolarforceY2 at checkout for the chance to save a few bucks!
Please follow Lightsngear and like us: