So with their continuing efforts to explore new ideas within flashlights, the "limited edition" Nitecore EC4GT is of a design very unique to their name.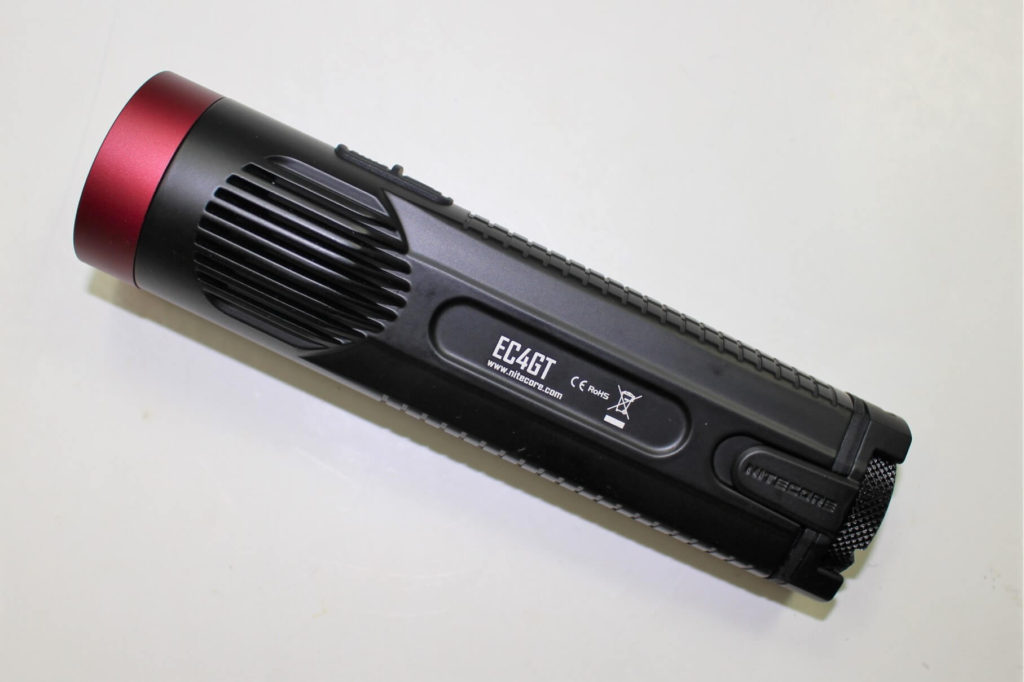 A Good Package, As Always
Talk about a sturdy box! You could attach a lock to it and use it as a safe!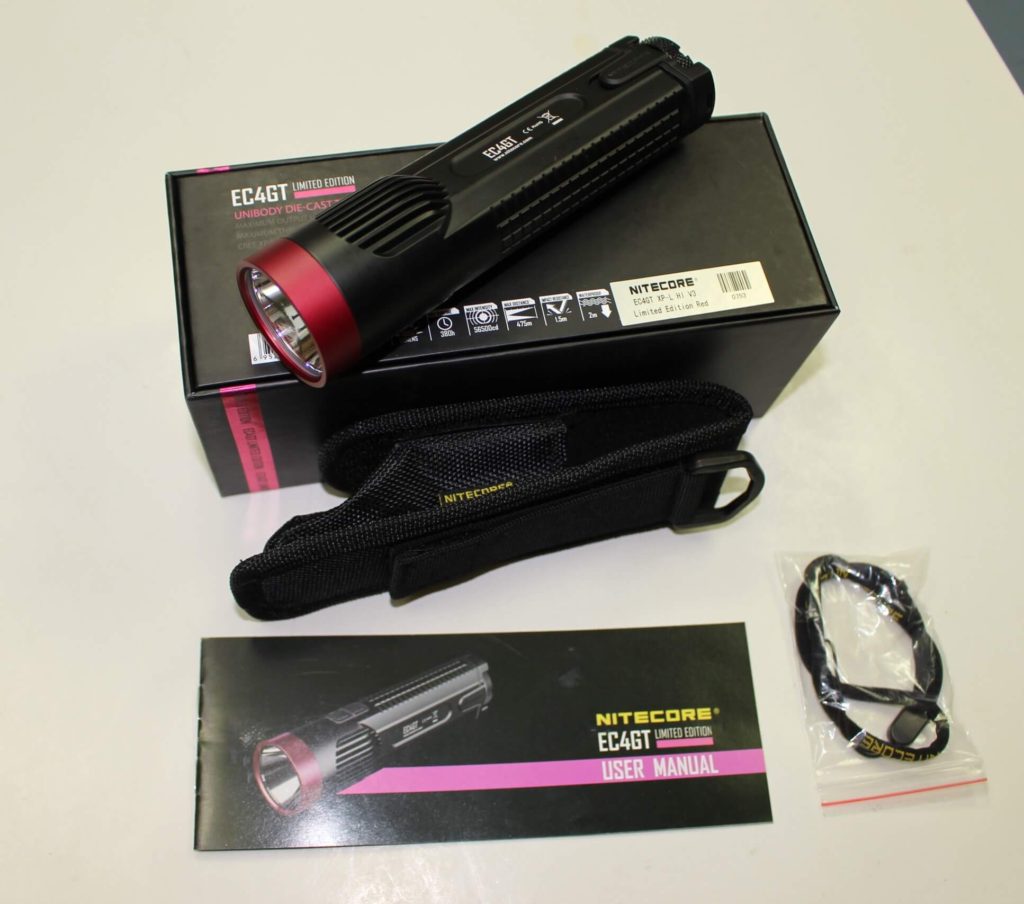 Anyway, inside you get the EC4GT, nestled comfortably in a foam cutout, and beneath that, an accessory package, (including adjustable lanyard) an instruction manual, warranty card and a custom-made belt holster.
Just a Few Things Worth Mentioning
For an LED, the "GT" uses the latest Cree XP-L HI V3 LED. This aids in its top output of 1000 lumens, and its ability to throw the beam to a maximum of 475 meters (that's 1,558 ft!) Not too shabby!
It's impact resistant to 1.5 meters and waterproof (submersible) to 2 meters.
At 6.1″ long, it's not as short as some of their other lights…but is no behemoth either. It has a bit of girth though; 1.58″ for both head and body, so it's of uniform thickness. Without batteries, it weighs 6.3 ounces (171 grams) w/batteries; 9.15 ounces.
Speaking of batteries, which is a slight departure for Nitecore…it uses TWO 3.7v rechargeable 18650's, or FOUR disposable CR123's or 3.7v 16340's. And because Nitecore is a quality company, when their product requires more than one battery, they utilize a safe configuration. This means the cells go in side by side*, not head-to head which is potentially unsafe when using cheap, or unprotected batteries.
* The smaller cells DO go head to head in pairs of two — side by side.
Nitecore EC4GT Output & Runtime
Turbo – 1000 lumens (2 hours)
High – 420 lumens (4 hrs 45 mins)
Medium – 200 lumens (10 hours)
Low – 50 lumens (25 hours)
Ultra low – 1 lumen (380! hours)
Also has Strobe, Location Beacon & SOS
The above stats are when using 2 – 18650 batteries. With the smaller cells, output will be the same, but runtime will be less.
Features Worth Mentioning
The body is reasonably lightweight, made from "unibody die-cast technology". I'm not sure what that means but it sounds impressive.
It has a unique locking thumbscrew tailcap, which can also be used as a tripod connector.
It has an advanced temperature regulation circuit, along with enormous cooling fins that
I've never seen the likes of before!
The lens is (the usual) toughened ultra-clear mineral glass with an anti-reflective coating. And scratch resistant of course.
There's also a power (voltage) indicator built-in to the on/off button. This works with a quick press of the "mode" button (from OFF) and blinks three times when the batteries are above 50%. Two blinks mean they're below 50%. One lonely blink means "CHARGE THE BATTERIES! Soon!
Mode memory remembers the last mode used each time it's switched on.
Flip the Switch!
So, on the head of the Nitecore EC4GT are two buttons; a power switch and a mode switch. Logic would dictate that the power switch turns it off and on, but it also serves as a means of activating "ultra-low" mode even if it's been switched off in a different mode. So to get ultra-low immediately, press and hold the power button.
For general use, once you switch on via the power button, you'll press the mode switch to advance to whatever mode is next. It cycles ultra-low to turbo. Speaking of Turbo, if you want instant access to ONLY that mode, [from OFF] press and hold the "mode" button.
For the flashing/emergency modes, [from ON] press and hold the "mode" button. Strobe will be first. If that's the one you want, fine. If you want Location Beacon, or SOS, you'll need to press and hold again. Each time you do so, the next flashing mode will activate. As long as you continue doing that, they'll keep cycling. To return to the last constant mode you were on, just give the mode button a "short" press.
Strobe can also be activated directly. From OFF, double-click the "mode" button. One short press exits the mode.
If accidental activation worries you, putting the flashlight in "lock-out" mode is easy. To do so, press and hold BOTH buttons for over 1 second. This must be done while the light is ON. You'll know it has worked if the light shuts off right away. To UN-lock, press both buttons again.
Nitecore reports that the EC4GT will remain "ready for use" (when in stand-by") for over 12 months!
You can also set the light so the blue indicator (under the power button) will blink once every three seconds. Why? Well…because you can! Maybe you'll think of a situation when that might be helpful. To do this, [from ON] press and hold the power button. The light will shut off, and the "blinking" will begin.
Let There Be Light
Click each picture to view a full-size image.
Thoughts and Mutterings
The Nitecore EC4GT is a neat flashlight. Unconventional in size and not quite as easily carry-able as their terrific MH20, but offers an extremely long-range pin-pointed beam and a host of handy features.
It tail-stands well. The tail cap fits securely. The light itself fits well in the hand with a good grip. The body isn't completely round, so when you set in down horizontally, the flatter side prevents any unwanted roll. The buttons are a good size, and reasonably easy to locate in the dark. Hey… I thought of a reason to activate the blinking power button!! Are you thinking what I'm thinking?
Using two 18650 batteries gives it a lot more runtime on the mid to lower modes. Runtime on turbo is pretty good too…but nothing spectacular.
Just remember …very important… to always use TWO of the EXACT same batteries!! Never mix battery brands or battery capacities.
Newer Choices?
2022 Update
Whereas you've reached this point of the review, and are primed to buy — it's now my sorrow to say, that the EC4GT has been DISCONTINUED!
BUT, even as that may be a terrible shame, you are still encouraged to click here and visit the Nitecore product page on Amazon. Who knows? You might just find something equally as good!
The Nitecore EC4GT Limited Edition flashlight was supplied by GearBest for test and reviewing purposes.
Please follow Lightsngear and like us: