Sofirn has built quite an extensive catalog of flashlights! (Just check out some of my previous reviews!) Today, however, another one has been added to the collection. This is the Sofirn SC31B…which is not be taken too "lightly" (pun intended) 😆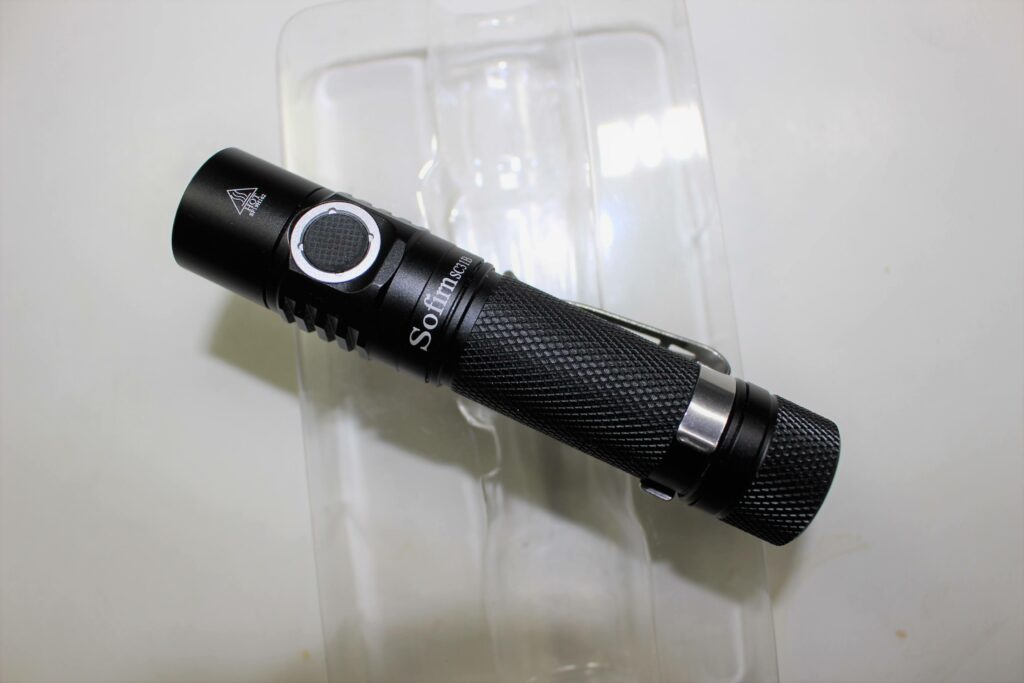 Box and Accessories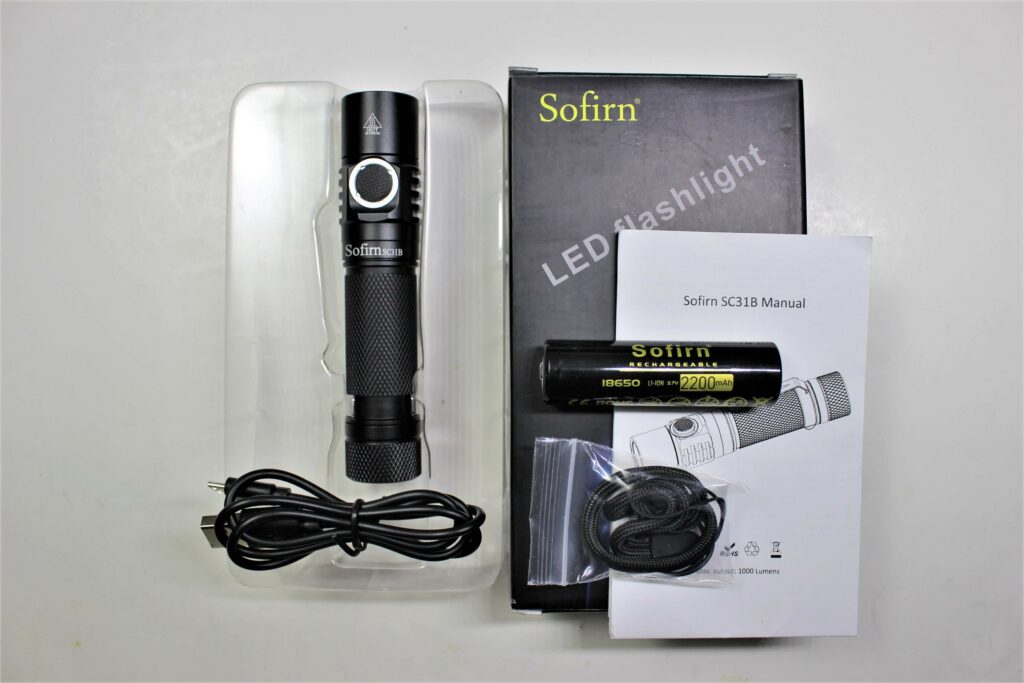 If you've seen other Sofirn lights, the box, and the accessories, will be quite familiar.
Along with the SC31B, is a USB charging cable…a packet with a lanyard and spare o-rings, a user manual, a Sofirn 2200mAh rechargeable 18650 battery, and a removable pocket clip. Not too bad.
Specifications
LED; Luminus SST-20
Length; 4.6″
Weight; 3.94 oz (incl. the Sofirn battery)
Working voltage; 2.8 – 4.2
Max beam distance; 207 meters (226 yards)
Impact resistant; to 1 meter (3.28 ft)
Waterproof; IPX-8 (underwater) to 2 meters (6.56 ft)
Body; hard anodized (type III) scratch-resistant coating
Lens; toughened mineral glass
Features
Mode Memory
USB rechargeable
Single-battery operation
Single-button operation
Battery voltage indicator
Automatic output stepdown
"Breathing" indicator
Battery, Output, and Runtime
The Sofirn SC31B comes equipped with its own 18650 battery. Due to its limited working voltage, this is the ONLY (type of) battery it will accept. DO NOT attempt to operate it with disposable CR123, or (rechargeable) 16340 batteries!!! With a spring at each end of the tube, accepting either button-top or flat-top 18650's is not a problem.
There are four regular lighting modes; (plus strobe)
Eco; 10 lumens (80 hours)
Low; 150 lumens (8 hours)
Medium; 400 lumens (2 hrs & 30 mins)
High; 1000 lumens (1 hr & 20 mins*)
Strobe (variable) 1000 lumens
Operating the Sofirn SC31B
With the textured, reasonably large side switch, the SC31B will accurately perform all operations. It's also illuminated, so each time it's switched on, the indicator will light up in blue for five seconds….to give you a rough idea of the battery status.
One quick press will turn it on. A holding press will advance the modes. If you keep pressing, it'll sequence repeatedly, from lowest to highest. Release the button when the desired output is reached. A quick press turns it off. Mode memory will return it to the last mode used, when turned on the next time.
To activate strobe, (from OFF or ON) double-click the switch. A single click from strobe, either turns it off completely, or (if already on) returns it to the previous regular mode.
Automatic Stepdown
So as not to cause excessive heat, the SC31B will stepdown automatically from "high" to "medium" after running continuously for THREE minutes. I would need to test this with a light meter to know officially… but to the naked eye, you can run it for FIVE minutes and not see much of a noticeable drop in output. What DOES happen after several minutes, is the light will literally become too hot to hold.
USB Charging
With the included cable, any 18650 battery can be charged inside the light. Just connect it to a USB source, and off it goes. The blue indicator beneath the switch will flash during the charging process. It will go steady blue when complete.
I ran a USB milliamp tester for a few minutes during the charge, and was not overly impressed with the amount of current the battery was receiving. During the test, it was just under 500mA 😐 This might vary depending on the battery being charged.
Low Battery Voltage
Each time the light is activated, the blue indicator comes to life for five seconds, indicating a strong battery. As battery voltage weakens, the indicator will flash slowly. When voltage reaches 3.0 it'll flash quickly.
In tandem with the Automatic Stepdown described earlier, output will progressively decline as voltage drops. If below 3.0, you'll get only "ECO" mode out of it. Which makes sense.
Checking Out the SC31B Beam!
Sofirn SC31B in a Nutshell
This SC31B, is a bit different from the previously released Sofirn lights which visually are very similar. The Luminus LED is something different, and the switch is much larger… and easier to find in the dark.
Thanks to the LED and reflector, it has very good beam throw, which should please users who consider that an asset.
The blue illumination is clear and easy to see. It performs as it should when alerting its owner to the battery status, and when charging internally.
Basically, the Sofirn SC31B is an extremely bright, and very easy to use EDC flashlight. Its low price-point means there's nothing fancy about it. But that also adds to its simplicity. There are no extra modes other than strobe, and no instant access to any mode OTHER than strobe.
Now Here's Your Chance
Making the Sofirn SC31B part of your illumination collection, is as easy as clicking here!
Please follow Lightsngear and like us: