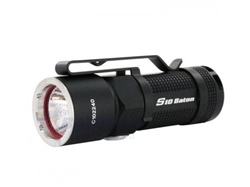 Olight has been making quality lights for several years. From the "S" series, came the S10 Baton, a REALLY nifty and VERY "everyday carry" light with some great features. Here are the stats for the Olight S10 Baton;
Cree XM-L LED
Runs on 1 x (disposable) CR123A or 1 x (rechargeable)RCR123 battery
Moonlight Mode is accessed directly when the flashlight is off
Double click the on/off button to activate strobe mode
Equipped with auto memory function and a side switch
Magnetic tail allows the flashlight to be attached vertically on any magnetic surface
Two-direction invertible pocket clip
Stainless steel head ring
Flat tail cap allows convenient tail standing
High efficiency constant current drive circuit 
To elaborate on a few of these points;
PORTABILITY
The S10 fits snugly and unobtrusively into ANY pocket or purse. The clip is very sturdy, but the light is so small, that even without the clip it just rests nicely in the pocket. The side switch works like a charm and remembers the last setting the light was on.
LIGHTING MODES/OPERATION
The S10 Baton has three regular lighting modes; 5 lumens on low; 70 on medium, and 320 on high.
When the switch is turned on with a HARD (HOLDING) PRESS…it'll go into 'moonlight' mode, at only .05 lumens! Believe it or not, if you need to use the light (indoors) in the middle of the night, THIS is bright enough!! Another press of the switch will advance into the regular modes. With a holding press, it will cycle through each mode individually.
BEAM SHOT GALLERY — please click each photo to view full-size
BATTERIES
The S10 runs on ONE CR123, or its rechargeable cousin, the RCR123 – aka, 16340. In moonlight mode, the light has been tested to run continuously for 15 days! In high mode, expect to get around 90 minutes of continuous runtime. Obviously for the wallet…using a 16340 battery is most cost efficient.
THE LED
The S10 features a Cree XM-L LED. XM-L emitters toss a somewhat 'flood-like' beam.  On high though, you'll get a good 100ft lit up in front of you.
THE SIZE
From the accompanying photo, you can get a real sense of just how tiny the S10 Baton actually is!!
"LOOK MA, IT'S MAGNETIC!"
And the other great feature of the Baton, is the little (removable) magnet in the tail cap. It'll hold on for dear life when placed on a magnetic surface! This is really handy for various situations. Think— working under the hood of your car…for instance.
With an Olight S10 Baton, you'll be conveniently set for many a dark situation. And its tough durable exterior won't ever let you down!
UPDATE: Since this articles' original writing date, the S10 has been upgraded! The newer S10 Baton has increased to 400 lumens!! This is thanks to the new XM-L2 LED.
For a closer look, and/or to purchase an S10 Baton; follow this link!
Please follow Lightsngear and like us: