Olight's "Baton" family continues to grow! Now added to other Baton reviews here at Lightsngear, is this one. So let's commence with our personal look at the Olight S30 Baton.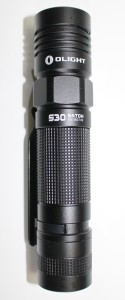 The "Baton" Family Traits
A magnetic tail cap has been standard equipment on the Baton's, and the S30 is no exception.
A fully operable soft-press side-switch is the traditional method of controlling all functions within a Baton family flashlight. Again, the S30 is no exception (see photo below).
A handy pocket clip secures the light for wherever it's attached to.
A CREE XM LED has been featured in all Baton lights. For the S30, this is an L2, within a smooth reflector.
Every member of the Baton family is waterproof, and may be submersed for up to 30 minutes! The S30 can be taken to a depth of 2 meters.
Packaging & Accessories
Olight's packaging usually consists of a see-through plastic box with the light well secured within two plastic "blocks".
The accessories that come with the S30 are modest. A user manual, a battery magazine (tube) and a little pack containing some spare o-rings.
S30 Stats
5 lighting modes, moonlight; low; medium; high; turbo; + strobe
Beam reach on turbo; 160 meters (525 ft)
Less that 5″ long
Waterproof to IPX-8 standards
Impact resistant 1.5 meters
Uses (1) 18650 battery, or (2) CR123, or (2) 16340, or (2) 18350
Glow in the dark bezel o-ring locates light if dropped
Made from scratch resistant Type-III hard anodizing
Low voltage indicator within side-switch; Glows red when battery is low
Memory feature remembers last mode used
5 year Olight warranty
Just Your Basic Operation
The low profile side-switch handles all operations of the S30.
Lumen levels are as follows;
1 – moonlight
20 – low
100 – medium
600 – high
1000 – turbo
For instant access to moonlight, press and hold the side-switch for about 2 seconds. Cycling through all modes (except moonlight, turbo and strobe) is accomplished by a continuous press of the switch. The cycle will go from low to high in a continuous loop as long as you're holding the switch.
In ANY mode, strobe can be accessed by clicking the switch THREE times.
Turbo can ONLY be accessed by clicking the switch TWICE from either OFF or while in any lighting mode. Turbo WILL be remembered however, when the S30 is shut off.
Although the rated difference between high mode and turbo is 400 lumens, to the eye, that boost is pretty modest. You'll notice it… but not to the degree that you might anticipate.
There's also a lockout feature. With the light OFF, press and hold the switch. It'll light up briefly in moonlight mode, then shut off. Press and hold again to unlock.
Hot Stuff!
When in turbo mode, the S30 will begin to get warm…fast. Its built-in thermal management safety program will adjust to the extra heat by stepping the output down to about 60% of overall output, after roughly five minutes.
Naturally if you NEED the extra boost in output, you can turn it right back on again in turbo mode, for an additional five minutes. While you might feel you're beating the system by doing this, it's not recommended more than a couple of times in a row. As the light continues to operate in a higher temperature, it's putting extra strain (and wear) on the LED and the electronics.
The Beam-Shot Gallery (click each image to view full size)
……..and just one more. This time we're shining into the tree-tops at probably just over 200 ft.
It's Quite Conclusive
Like the others I've tested from the Baton family, the S30 (in my humble opinion) is another winner!
For you, the flashlight researcher, and potential shopper, I hope this overview of the Olight S30 Baton has been both informative and helpful. You can confirm this within the comment section if you like.
Your link to the Olight S30 (now in a rechargeable version) can be found here!
Please follow Lightsngear and like us: