Olight's family of "Baton" flashlights have proven to be quite reliable and popular. Lightsngear has already reviewed the Baton S10 and S25. Now in this Olight S15 Review (which happens to be the titanium edition) I'll be spotlighting its features and usefulness in everyday situations.
A Very Classy Package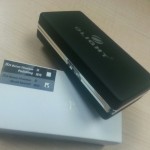 When I received the S15, I was very surprised at how the packaging was quite a variation of how the other Baton's were presented. Although this MIGHT be unique to the titanium edition, I was delighted none the less.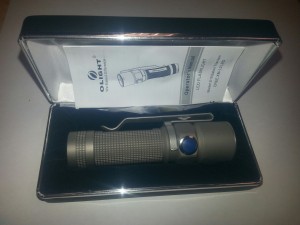 Similar to that of a jewelry box, the light is cradled within a velvet-like bed, complete with an instruction manual, and a small packet of replacement parts.
I also received a tube extender, packed separately. I'll get to that in due coarse.
Stats and Specs
Waterproof up to 2 meters (IPX-8)
Impact resistant to 2 meters
Beam Distance – to 81 meters
Size
From the photo above, the S15 Baton might appear larger than life, but in reality it's LESS than 3½ inches long!
With the optional (or sometimes included) tube extender, the light is just under 5½" long. (see photo below)
Weight
1.62 oz / 46g… without battery or extender.
Construction
Its solid construction features anti-scratch type III hard anodizing, along with a coat of titanium alloy. Its aggressive knurling will ensure lasting durability and a stable grip. The finish on this edition is known as "bead blasted". It's also available in a "polished" version.
LED
The LED in the S15 is a "neutral white" XM-L2. Its smooth reflector provides a good amount of "flood" light with a medium throw.
As stated, the LED in the S15 TITANIUM edition ONLY, is a neutral white XM-L2. To illustrate the tint of the neutral white against a standard COOL WHITE LED, the photo displays them side by side. In this case, both beams are on medium mode, and the cool white is courtesy of the Olight ST25 Baton.
Lighting Modes
Regular lighting modes on the S15 are low, medium and high. The two "hidden" modes are moonlight and strobe. There are however differences between types of batteries used, and LED's used. More on both those, in a bit.
Tail-Cap
As with other Baton's, the tail cap is magnetized. The internal magnet is removable. If not removed, the light will cling either vertically or horizontally to any magnetic surface.
Pocket Clip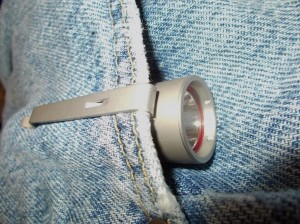 It's a reversible "deep pocket" clip. I personally think the Baton's have one of the best clips being utilized today…when compared to other popular brands.
The light comes with the clip attached as shown – bezel up. But it can be attached bezel down if you prefer.
Batteries
Here's where things get interesting!!
The Olight S15 is essentially a AA battery flashlight. By way of a tube extender, the S15 can be transformed from a single AA light, into a DOUBLE, AA light!
You also have the option of purchasing a SECOND extender! This would increase the length to almost 7½", but allow you to use (3) AA batteries!! Obviously with that configuration, the runtime would be substantially increased. It is unknown if it would also increase lumen output. If it did, it wouldn't be by much.
So, the S15 Baton can operate on either (1) AA battery [alkaline or NiMH rechargeable] or (1) Lithium-ion 14500 rechargeable.
With the extender attached, it can accommodate (2) AA batteries [alkaline or NiMH]. Because its maximum operating voltage is 5.0, it WILL NOT accept (2) 14500 batteries. These are 3.7 volts each, and would seriously overload the circuit.
Lumens (Brightness)
Using (1) AA or NiMH rechargeable.
Moonlight; 0.5 lumens  /  Low; 2 lumens  /  High; 116 lumens
Using (1) 14500 Lithium-ion rechargeable.
Moonlight; 0.5 lumens  /  Low; 2 lumens  /  Medium; 70 lumens  /  High; 260 lumens
Using (2) NiMH or alkaline batteries
From the information above, please note that medium mode is unavailable when using (1) alkaline or (1) NiMH battery.
All modes are available when using either (1) 14500 battery or (2) alkaline or NIMH rechargeables.

Please Note: The standard "cool white" edition of the S15, can perform ALL modes even when using (1) alkaline or NiMH rechargeable.
Beamshot Gallery
Each image can be made full-size by clicking on it.
Images were taken using ONE 14500 battery

General Operating Procedure
The Olight S15 Baton, whether cool white or titanium, can only be switched on by clicking the "blue" side button.
To turn on in "moonlight mode", press and hold the button (from off)
To turn on in "high mode", double-click the button (from off)
To activate "strobe", double-click from ANY lighting mode
The memory function will recall the last mode used.
For general lighting; give the button one quick press. To sequence through the modes, press and hold the button. It will cycle through "low-medium-high" continuously as long as the button is held. Moonlight and strobe are described above.
My Recommendation
For general lighting needs, including everyday carry, the Olight S15 Baton is a great little flashlight! Whether you seek out the limited edition titanium model, with a neutral-white LED, or settle on the standard cool-white LED version, is entirely up to you.
Remember, the titanium edition is available in either the Bead Blasted matte coating (which I've reviewed here) or a shinier Polished version.
The linked texts above will transport you to the correct product pages for each.
I'd also love to hear from you if you have any questions or comments!
For a demonstration, check out this video review!
Please follow Lightsngear and like us: