For hikers, the best hiking footwear is paramount for having a great time on the trail. Footwear that isn't meant for the trail you're hiking can cause stability issues and ruin the enjoyment of the hike. For example, if you're on rocky uneven terrain and wearing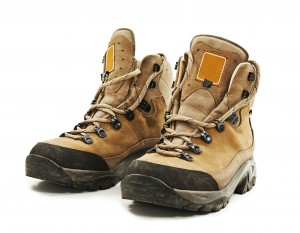 boots that don't have good ankle support, you could run into many problems. You also don't want to be wearing a pair of boots that do not fit your feet. A loose pair of boots that don't conform to your foot can make for a very uncomfortable hike, and if you have a pair that's too tight, you risk lack of circulation to your feet.
Questions You Should Answer
Preparation before a hike is very necessary and selecting the correct hiking footwear is #1 on the list. There are however, some questions you should answer before selecting your boots:
What is the terrain of the trail?
Is the ground going to be wet or dry?
Do you have feet or back problems?
Is the hike going to be an intense climb or a laid-back walk?
Are you hiking off trail?
The best hiking footwear is available in many different styles, and choosing the right pair is not a "grab `em off the shelf `n go" type of thing. You should also come up with some relative questions for yourself. Everyone has different shaped feet and you should take that into consideration when coming up with the right questions to ask yourself.
How to Shop for the Best Hiking Footwear

After answering all of your questions you should be ready to begin shopping for your boots. This should not be a quick and easy process. You should invest plenty of time so you can go through several different styles and sizes. A boot can make or break a hike, depending on the fit. You should test the potential purchase as much as possible and walk continuously with the boot for at least ten minutes.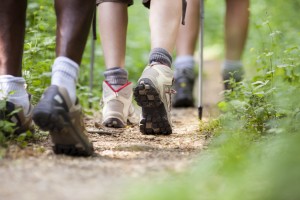 While you're trying boots on you should be taking mental notes about each pair.
Does my ankle move up and down while I walk?
Do my feet slide back and forth?
Does the boot have a consistent fit around my entire foot?
Does the boot cause my socks to bunch up?
Does the boot pinch any parts of my foot?
Avoiding blisters is a priority when you're spending hours on your feet climbing terrain. Taking a shortcut on your hiking footwear is an easy way to overload your feet. Having uncomfortable feet can and will lead to your entire body being out of balance.
Great Hikes Begin with Great Shoes/Boots

 Hiking Shoes – Hiking Shoes resemble running shoes but are a bit more burly to accommodate some of the terrain and distances you may see on a hike. They are, in most cases low-cut and are flexible to give them a more athletic fit.
Columbia Woodburn Atmosphere Hiking Shoe
Voyageur Hiking Shoes – Women's
 Hiking Boots – Boot-style hiking footwear are generally designed for long day or weekend hikes with light loads. They have little break-in time and feature more ankle support and durability than the more athletic hiking shoes
Timberland White Ledge Hiking Boot
Nevados Boomerang II Mid Hiking Boot – Women's
 Backpacking Boots – These boots are built and designed for stability and durability. They are for trips deep into the back-country and feature stiff mid-soles for the utmost support. They are built to help support the ankles as well as supporting heavier loads.
Salomon Quest 4D Backpacking Boot
Oboz Wind River II Backpacking Boot
Salomon Conquest Titanium Backpacking Boot – Women's
Choosing the best hiking footwear isn't as daunting a task as you might imagine. Simply follow the guidelines as described in this post, and you'll be ready to hit the trail before you know it!
Please follow Lightsngear and like us: