Winter is one of the best and least used seasons of the year to go hiking. It's a shame, too, because not only is the beauty of your surroundings incredible, but the silence is profoundly moving at times.  People go to art galleries every day to find meaning in paintings, and ignore the most fundamental and exquisite significance of life itself, in the simple act of hiking in winter time.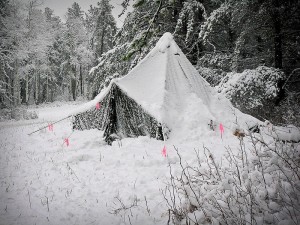 One reason for people's hesitation is that they are unsure of their hiking needs. Winter backpacking gear is different from other, warmer seasons. So here are a few winter hiking tips to get you started:
1.)    Make sure the weather conditions are favorable, pack as if they won't be, and go with other people. Depending on where you decide to hike, weather can change from amazingly beautiful to death threatening in a matter of hours; sometimes minutes. Mountain hiking is often the most changeable, so always, even when you go with others, tell someone at home your itinerary and your route, and then don't deviate from it.  Know your route. I can't say this enough. Make sure others know it as well.
2.)    Choose a backpack tailored for winter use, if you are going to be out more than a day, or intend to take up backpacking on a regular basis. You want a capacity that suits what your intended time out is—so for a moderate hike, say just a few hours to perhaps spending a night or even two nights out, look for a backpacking or expedition pack of anywhere from 55 to 100 L. capacity. The lesser being, of course, the short hike, and the greater being a couple of nights out in the winter wonderland you have chosen to hike in. As handy as an external frame backpack is, I would go with an internal frame backpack. They sit lower on the back for better balance and because the items are packed inside less can get hung up on low-hanging branches and the like.
3.)    Invest in a set of crampons for the type of hiking you intend to do. These strap-on workhorses keep you from slipping and sliding on icy areas. Once created only for mountaineering, crampons have evolved into a whole series of strap-on and step-in helpmates for all kinds and levels of hiking.
4.)    Make sure your backpack has a crampon pocket. Crampon pockets are not only conveniently located on a backpack, they are the safest place to store them when you're not wearing them. They're designed to keep the crampon points away from you so that if you slip you won't do serious damage to yourself.
5.)    Make sure you're well insulated against the cold by layering your clothing.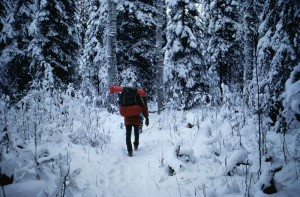 6.)    Consider several of these necessary items:
Map
Compass
Sunscreen, lip balm and sunglasses
First-aid kit
Waterproof matches and fire-starter
Multi-tool like a Swiss army knife
Duct tape
Supply of food one day more than you intend to be out
Water bottle
Emergency shelter such as an emergency bivvy or tarp
Following these six tips can make your first hiking trip enjoyable and safe. Don't forget the hot chocolate, keep your camera handy and your first hiking trip will be the first of many, many more.
Your comments to this post are welcomed! Please leave them in the spaces provided.
This post of exclusive content was supplied by www.campingandhikingideas.com, a website dedicated to improving your outdoor life with information and ideas for the campsite, along with tips on hiking and wilderness survival.
For all the gear you'll need to hike and set up a campsite, regardless of season, look here!
Please follow Lightsngear and like us: