Hikers know that whatever the season, their next hike can be a real adventure! Even as the days are getting longer and the weather warmer, night hiking becomes just as popular. This is where a good source of extra light becomes another tag-along necessity. In this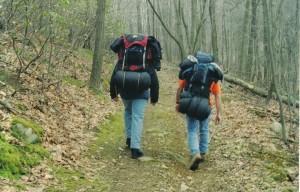 article, I'll explore what the best hiking flashlight might be for your next adventure.
Preparing For The Unexpected
It goes almost without saying that all the preparations you can make, may not include elements of unintended surprise! A simple slip on an unfamiliar path; an unexpected burst of bad weather; a wrong turn without an updated trail map…can all lead to a day hike, that MIGHT turn to night, unexpectedly. This is where an extra source of dependable light becomes a life saver!
Your Personal Lighting Needs
Here is where you need to decide what type of flashlight might be more useful to you. This depends on the conditions you think you might run into, or those that you're already familiar with.
When I say "type of light" I'm referring to both battery configuration and the type of LED the light has. You can read about the various types of LED's here. Some hikers don't like taking anything to chance, and will pack two flashlights…just in case. If you do this, it's recommended that they both operate on the same battery type.
One of the features I would highly recommend having on a hiking flashlight, is emergency signalling. This comes in the form of either SOS or 'beacon'. Some lights features both, and just about all of the recommendations below will have one form of it or another.
Batteries: Your light can operate on ANY of these battery types;
AA alkaline 1.5 volt (single or double)
AA lithium primary 1.5 volt (disposable)
CR123 lithium primary 3.0 volt (disposable)
You may familiarize yourself with lithium batteries here.
Your decision about which batteries to use depends on a few things.
Is weight a factor in your backpack?
If so, lithium batteries (primary and rechargeable) are much lighter than alkaline and NiMH. If not, then perhaps standard alkaline cells might be best. At least with those, bringing extras is probably not an issue. (Except you'll need to carry the "dead" ones home with you.)
Will you have access to electricity?
If so, rechargeable batteries can be charged up when needed. If not, then it will be necessary to take several extras with you for when the charge runs down.
Do you want to take the brightest flashlight available?
Only flashlights that operate on rechargeable lithium batteries are capable of producing light that will scare the pants off someone or something in excess of 200 feet away! As of this writing, the very brightest 2-AA flashlight on the market can deliver up to 500 lumens. The majority are between 200 & 300. A single AA light will go up to 200 lumens. Read here on the dangers of buying no-name flashlights with exaggerated specifications.
How far do you need to see?
Different types of LED's have different beam patterns. They can produce light that either floods your area with a wide beam and shallow distance, or less of a flood and a beam that can illuminate up to 100 yards and beyond! In brief, an XM-L LED will produce more flood and less depth. Meanwhile, an XP-G LED will be much greater in "throw". The XM-L LED's, which include L2 or U2 in the LED name, have a bit more of a flood to throw balance…producing more throw than the first XM-L lights from two years ago. Those that go the limit, are the new XP-L LED's. They usually have "HI" as one of types, followed by a "version" number, such as V3, V5 or V6. Beam throw on these lights far exceeds anything produced earlier. Up to 500 meters is NOT uncommon!
The average 2-AA light is 6″ long and about an inch thick. The average 2-CR123 or 18650 light is about 4 to 5 inches long and 1½" thick. There are 1 cell-CR123 lights that are only 3″ long and often just as powerful as those twice as long! Whatever the size, they're sure to snuggle comfortably in a corner of your pack, or if equipped with a pocket clip, will cling nicely to your pocket or the inside of a jacket.
Most flashlights are waterproof to IPX-8 standards. This usually indicates that they're submersible in depths up to 2 meters for 30 minutes.
Recommendations
Okay, now that we've established what sort of light might qualify as your best hiking flashlight, let's get down to the makes and models that hikers have voiced approvals for! Arranged by battery type.
Nitecore EA11.  Uses an XM-L2 U2 LED. Features SOS & beacon mode along with a "red" LED signalling beacon. Up to 900 lumens… with the use of a lithium 14500 battery. Has the same features as their EC11 & EC21.
JetBeam Jet 1 MK. Uses an XP-G2 LED. It will run on either a single AA, NiMH (rechargeable) or 14500 (rechargeable) lithium battery.  Please note: Its advertised 480 lumens are only accomplished with a lithium battery. 
JetBeam E10R. Has an XP-L HI LED with up to 650 lumens. A 3.7v 14500 battery is required to achieve full output.
Nitecore MT2A. Uses an XP-G2 R5 LED for up to 345 lumens. Includes SOS.
Nitecore EC11. Uses an XM-L2 U2 for 900 lumens. With SOS. Voltage/battery strength indicator. Red location/signalling light. Super small – only 3″ long!
Astrolux S42. Uses an 18350 battery, and features FOUR XP-G3 LED's. It can achieve up to 2000 lumens!
FiTorch ER16. Using either 1 – 16340 or 18350 battery, this tiny light can reach up to 1000 lumens! It's also USB rechargeable.
Jetbeam Jet 3M Pro. Uses an XP-L LED for over 1000 lumens! Features strobe and an exclusive user-defined mode. CR123 batteries included! Waterproof.
Soonfire E07.  With a CREE XP-L, and 1000 lumens. USB rechargeable.
Nitecore MH20GT. Using an XP-L HI V3 LED, this light can output up to 1000 lumens. It's also USB rechargeable, and features a "pulsing" night-light. Exquisite flashlight!
Klarus XT-11S. With an XP-L HI V3 LED, it can output up to 1100 lumens and throws its beam over 300 meters! It's USB rechargeable, and has 3 separate programmable switches. One can be used exclusively for strobe mode!
The End Result
These are just a sample of the types of flashlights that other hikers have found effective on the trail. Your experiences may vary. The variety of LED lights has exploded in recent years so it would be impossible to provide a larger list. Since the list includes lights from all battery configurations, this is a great start! Just know that whichever one you choose, will provide lasting quality and reliability.
What did you think about this article? If you're an avid hiker, do you have a favorite light that's not represented here? If you already have one of the listed lights, let me know how it's been working for you. Please leave a comment or question below 🙂
Please follow Lightsngear and like us: