At last– camping season is among us! It's a time for family, or an outing with friends, or a majestic excursion into masculinity. Whichever your reason, there's a whole laundry-list (no pun intended) of possible items to include. So here it is… your camping checklist!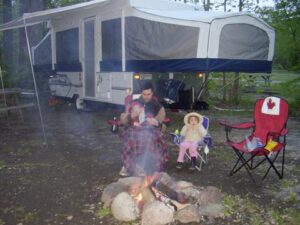 Let's start with clothes:  (Usually a no-brainer here)
T-shirts
Shorts
Jeans
Hat or Cap
Sweater ?
Rain gear
Swim suit
Laundry bag
I'm sure there may be a few extra things depending on the age of the campers, time of year, and terrain of the area where you're headed.
Shelter and Bedding:
Tent
Tent lantern
Sleeping bags
Pillow
Headrest
Toiletries:
ALL the essentials, including perhaps some nail clippers. And don't forget the toilet paper!
Towel & wash cloth
Razor (unless you WANT to look like a back woodsman)
Soap and shampoo
First Aid: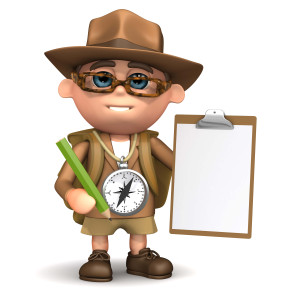 Burn ointment
Band-aids
Aspirin/Tylenol etc.
Sterile gauze
Hydrogen peroxide
Sun lotion
Scissors/tweezers
Snake bite kit
Sanitary napkins
Medical tape
Prescriptions
Antibiotic cream
Antiseptic wipes
Kitchen Apparel:

Pot scrubber
Dish pan
Detergent
Dish rags
Of course food, and things to eat with, and on, are absolutely essential; including
Salt & Pepper
Herbs/Spices
Cooking oil
Cutting board
Napkins
Paper towels
Trash bags
Paper cups
Knives, Forks & Spoons
Tongs and Spatula
Pot holder
Measuring cup
Aluminum foil/Plastic wrap
Frying pan
Can opener
Thermos
…. and don't forget the camping 'snacks', like trail mix, peanut butter, popcorn, and stuff that 'travels' well. 
Lighting/Campfire:
Gas lantern
Spare lantern
Waterproof matches
Spare lantern fuel
Firewood and/or newspaper
Now, the miscellaneous items can be anything you think might make your journey a bit more comfortable…unless you and your gang are planning a complete Daniel Boone experience, or are the new age Lewis & Clark.
Compass
Binoculars
Whistle
Travel clock
Swiss army knife
Deck of cards
Radio
Walking stick
Duct tape
Camera
I'm always available for questions, should you have any. If so, please let me know in the spaces below. 
Please follow Lightsngear and like us: