When planning a backpacking adventure, your first step is to compile an equipment checklist.
As checklists are essential for a lot of different activities we do, a backpacking checklist should be prepared as meticulously as one prepares for anything that involves getting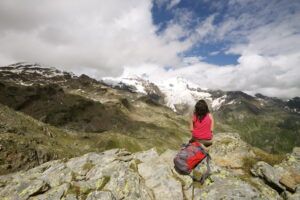 closer to nature.
Knowing the duration of your journey is key. A day hike is altogether different than one that includes an overnight or two. For obvious reasons a pack lighter in weight will not only allow for a longer hike, but be more comfortable in the long run.
An Overnight Stay
For backpacking overnight, your equipment checklist needs to have the following;
A sleeping bag and pad
Shelter for changing weather conditions
Waterproof clothing, including sturdy footwear
A variety of foods and something to cook on
A device to receive National Weather Service updates
Since many experienced backpackers have discovered that lighter is better, equipment manufacturers have responded by using much lighter plastics and aluminum's for their most popular products. Even backpacks themselves have been put on a diet, resulting in a lighter product with greater flexibility. Some users have taken the lighter weight concept to the extreme, resulting in a phenomenon referred to as 'ultralight' backpacking.
Food and water is as essential to the backpacker, as is any other piece of equipment. The concern here, is that water adds weight. Water can be brought in a variety of ways, and sometimes is acquired from the trailhead. Depending on conditions and time of year, the average backpacker may require up to 2 gallons (or 8 liters) of water per day. Often when acquired from rivers or streams, the water may need to be boiled before consumption. Local springs can be another source, and is ultimately safer to drink.
Your Portable Kitchen
When putting food among the items required for your backpacking checklist, once again, weight is a factor. Removing water content from food items has become a priority. What the backpacker has found, is that the dry food will have water added to it when prepared. This water is often obtained from nearby sources…or even from freshly melted snow. In other scenarios, the hiker will simply eat the food dry, having previously had copious amounts of water. Therefore their body has already been sufficiently hydrated. Freeze dried food is very popular and is widely available. There are many backpackers though, who rely on standard household foods with naturally low water content. These items include;
Cold cereal
Powdered milk
Crackers
Bread
Cheese
Sausage and/or salami
Peanut Butter
Raisins
Rice or pasta
Dried fruit
Packing snack food items is not much different than packing a lunch for school or work. Standard fare such as trail mix, nuts, nutrition bars, and forms of chocolate or candy are good forms of quick energy. Popcorn is another popular tag-along item, as is coffee and tea. The zippered plastic bag will become another necessary accessory. If you don't mind investing a few dollars into your activity, then you might seek out a commercial food dehydrator. This will remove the bulk of moisture from raw foods, including precooked meals. It can also be used to make your own dried fruit or jerky snacks. Most backpackers will avoid canned foods due to added weight, and in most cases, having to leave with the empty cans.
Traditional methods of cooking while backpacking has been through the use of either Dutch ovens, small liquid-fuel camp-stoves (as pictured) or ultralight cooking pots made of aluminum or titanium. These are particularly handy when encountering areas that restrict using wood and building fires.
Whether your backpacking journey takes you only a few miles, or if a longer excursion is planned including an overnight or two, make certain you're as prepared as you can be. This takes into account sudden changes in the weather and or topography.
Just plan as much as you can, and use your backpacking equipment checklist as the official Bible of reference.
An Additional Resource
For more information on backpacking preparedness, please visit this page at campgrasp.com!
Please follow Lightsngear and like us: