I've been pretty pleased with the recent variety of FiTorch products I've reviewed. Today's flashlight has some unique features that I've not seen on previous lights. This is the FiTorch MR15.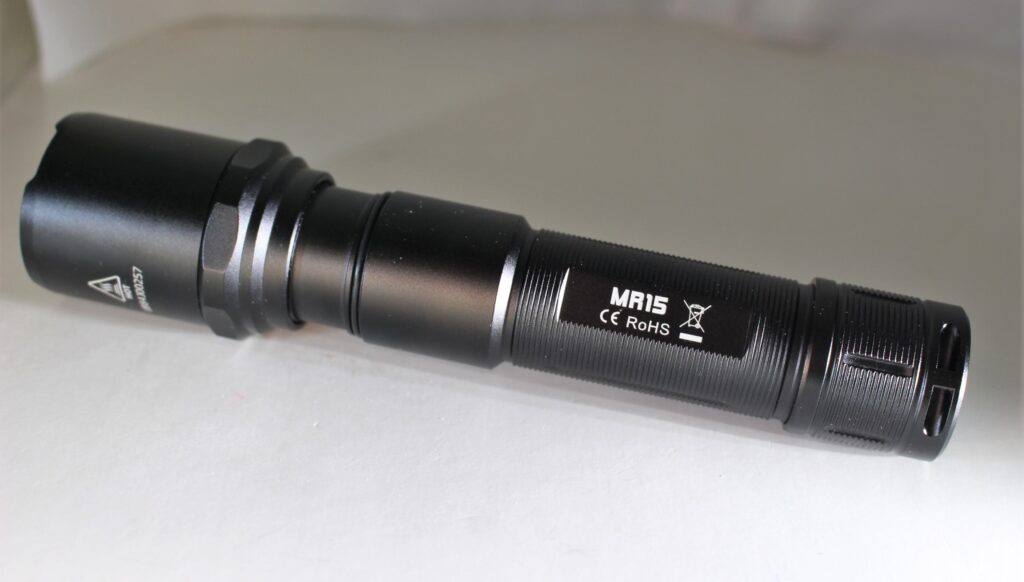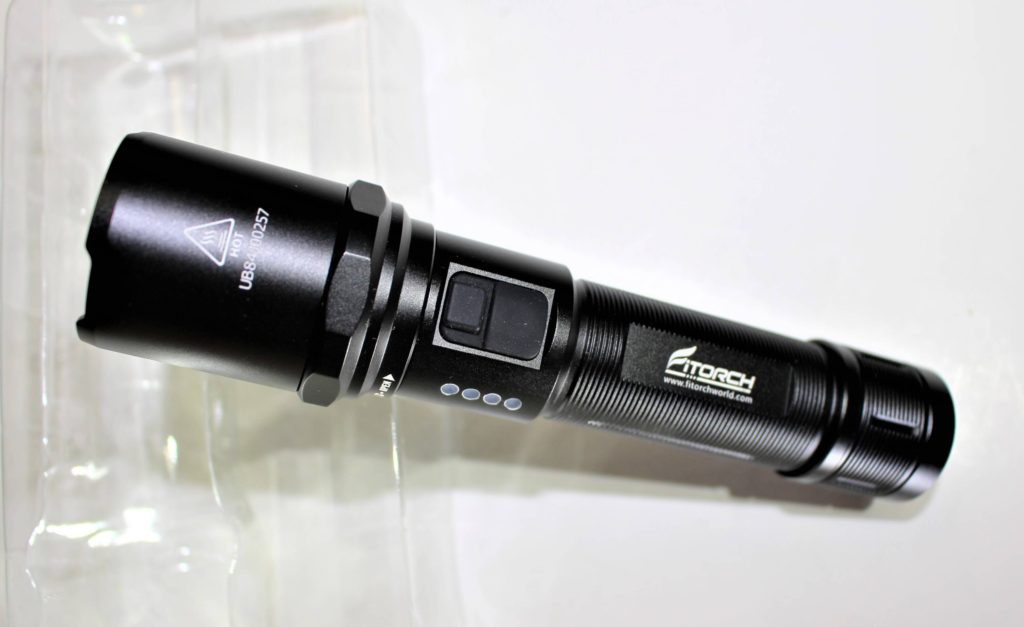 Useful Accessories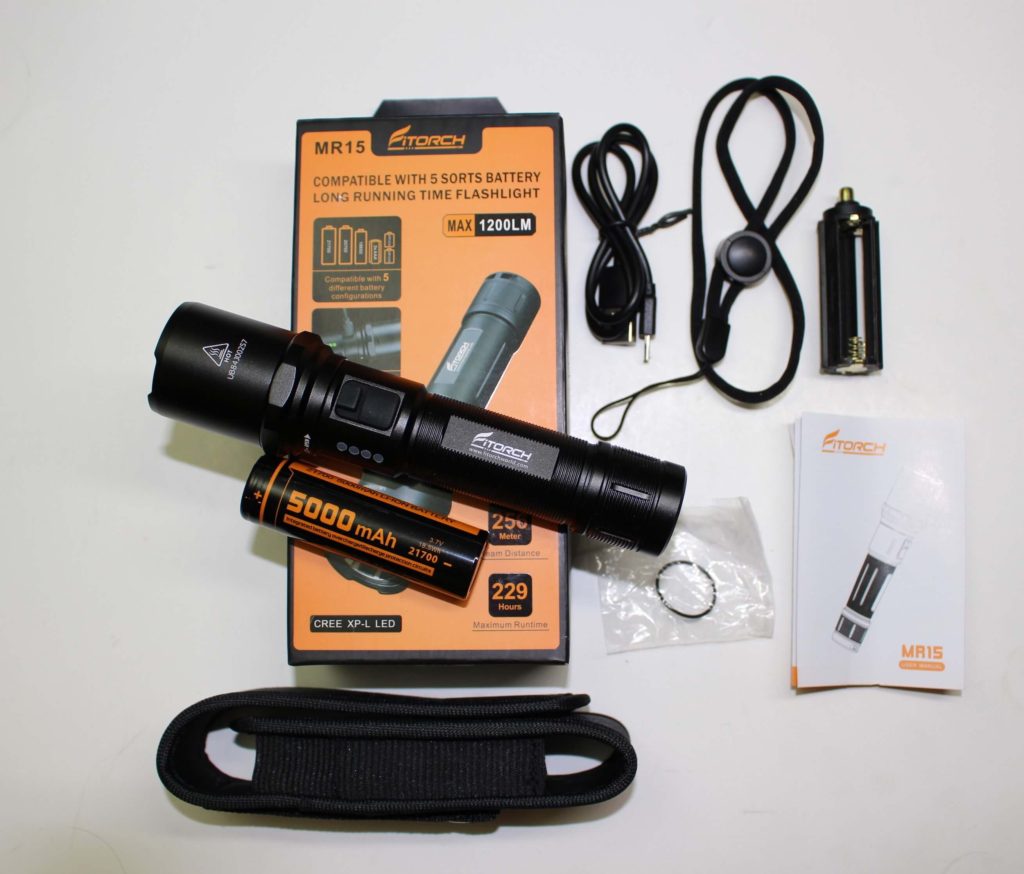 The MR15 comes in a nicely arranged package. There's a belt holster, spare o-ring, micro USB cable, a battery adapter, a user manual, a lanyard, and a 5000mAh rechargeable 21700 3.7v battery 

Specifications
Length; 6″
Weight; 7.08 oz
LED; Cree XP-L
Light Output; 1200 lumens max.
Body; TypeIII hard anodized aluminum alloy
Operating Voltage; 2.75-6.00
Beam Distance; 256 meters
Impact Resistant; 1 meter
Waterproof; IPX-8
Features 
USB Rechargeable
Mode Memory
Tactical Operation
Two Side-Mounted Power Buttons
Tactical Strobe
Tactical Turbo
Battery Strength Indicator
Charging Status Indicator
Compatible with different battery types
Lock-out function
Batteries, Output & Runtime
Batteries, are one area where the FiTorch MR15 differs from other flashlights I've reviewed until now.
As mentioned in the accessory section, it comes with a 3.7v rechargeable 21700 lithium battery. Other acceptable battery types include;
1 (3.7v) 18650
1 (3.7v) 20700
2 (3.0v) CR123
3 (1.2/1.5v) NiMH-AAA/disposable AAA
Because the operating voltage is maxed-out at 6, the MR15 CANNOT use 16340 or 18350 3.7v rechargeable batteries. In configurations of two, this exceeds the voltage limit, and can damage the flashlight.
*Output is as follows;
Low; 6 lumens for 229 hours
Medium; 100 lumens for 25 hours
High; 345 lumens for 7 hours
Turbo; 1200 lumens for 2.5 hours
* The values above were measured with the included 21700 battery. If using any other lithium battery, the only variation will be in runtime, with output remaining the same. Where both output AND runtime are effected, is when using AAA batteries… either disposable alkaline or rechargeable NiMH. With THOSE types of batteries, both output and runtime are significantly less.
Operating the FiTorch MR15
As the power source for the MR15 is different, so is the method for which it's turned on and off. FiTorch has demonstrated a new type of ingenuity here.
While there are countless tactical flashlights that have two switches, this is the first I've seen where BOTH of them are on the SIDE of the light! This to me is a great idea, since many lights with rear switches don't tail stand too well.
Examining the switches, you'll notice they're both in the same spot. The top one is a smaller raised rectangle. This is used for changing the modes. The one underneath is larger and completely flat. This is essentially the ON/OFF button. So, click that one first, then the top one to change modes. Mode switching is continuous, going from lowest to highest, then reversing….highest to lowest. For example; low>medium>high>turbo === turbo>high>medium>low.
Strobe is reached in a couple of different ways. With the light off; you can get MOMENTARY strobe for TWO seconds at a time by pressing and releasing the smaller button. For CONTINUOUS strobe, press and HOLD the small button for THREE seconds. The other method of activating strobe, is while the light is on. For that, you still press the small switch, but it's MOMENTARY ONLY.
To activate tactical TURBO, press and HOLD the large button while the light is off, but only HALF WAY. In other words, don't fully click it. Turbo will come on, but is only momentary. Releasing the button will turn it off. If you click it while in turbo, mode memory will kick in, and you'll get the last mode it was on, before activating turbo.
Big Bursts of Light!
please click on any of the smaller images to open as a larger image
USB Charging
The USB port is hidden…until you loosen the head in the direction of the arrow. Once connected to a USB power source, the (green) power indicators will let you know the current state of charge. The charge is complete when all four indicators are lit.
Internal charging of the MR15 can be used for all single types of acceptable rechargeable batteries. Charging does NOT work with NiMH AAA's, or disposable AAA's and CR123's.
Battery Voltage Indicator 
Each time the FiTorch MR15 is switched on, the indicators show battery power for a few seconds. You can check battery power in other ways as well. When the light is on, press & hold the mode switch. You'll not only get tactical strobe, but the indicators will illuminate battery power. Here's what they mean;
4 lit; 100%
3 lit; 75%
2 lit; 50%
1 lit; less than 25%
Separate from testing the battery, the light will also let you know when the installed cell is getting low. When less than 3.4 volts is detected, the indicators will blink slowly. When 3 volts is reached, the indicators will blink faster. Flashlight output will also drop to a lower level, which helps to prevent the battery from discharging too far.
FiTorch MR15 Thoughts & Ramblings
There are several nice things about the MR15 which I appreciate. One of them is the switching control. It's very convenient having them in one place, and it allows the light to tail stand without issues.
The battery indicator seems to work as promised, and gives fair warning well in advance of a depleted cell.
Having the ability to accept several battery sizes is quite unique, and can prove very useful. The two best types are of course the 21700 which it comes with, and the popular 18650. AAA's can be used in a pinch, but I wouldn't favor them by any means. The longest runtime is found with the 21700. The poorest…with AAA's and NiMH batteries. NiMH runtime on turbo, is about fifteen minutes!!
The XP-L LED and smooth reflector provide a well focused beam, with a sharply defined center and ample spill. Mode separation is quite good, and with a lithium battery, there's a clear jump in output between "high" and "turbo".
Placing the USB port beneath part of the body is welcomed. This omits the need to pull back a section of "skin" which has the potential of breaking off if not handled carefully.
It's a bit large for pocket-carry, and has no clip. But for keeping in a car, boat, emergency kit, bug-out bag, backpack etc, it's a welcome accessory.
Recommendation
If you'd like to have a FiTorch MR15, I suggest you follow this link to Banggood.com   😉
Please follow Lightsngear and like us: