"Keep Innovating" is the current slogan at Nitecore. In the past few months they've introduced a few new flashlight models. Today, I'll be talking about the Nitecore E4K, next generation light, with up to 4400 lumens.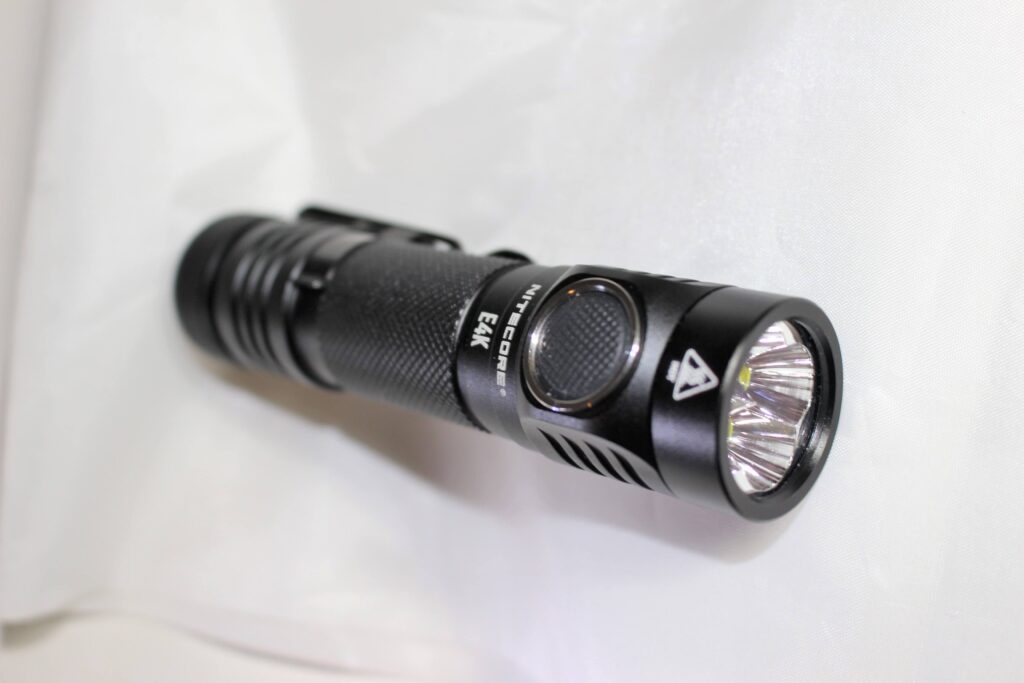 Quality Presentation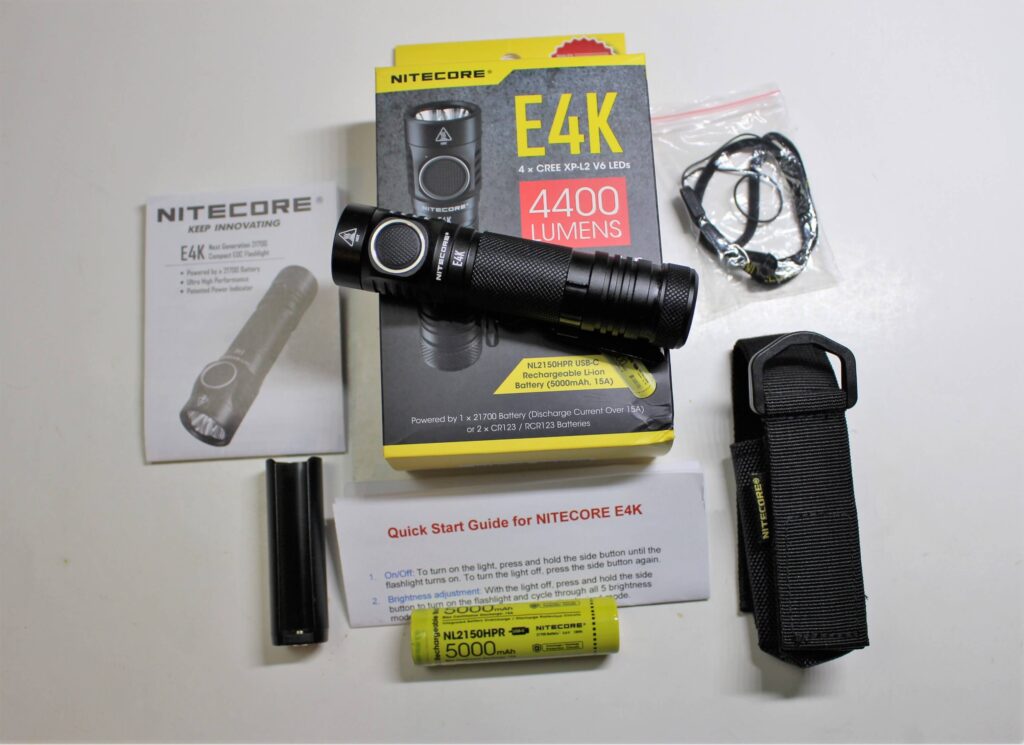 Nitecore always presents an impressive amount of accessories. Here, along with the E4K, is a user manual, quick start guide, 2-way pocket clip, USB-C charging cable, lanyard, spare O-rings, CR123/16340 battery adapter, and a (USB rechargeable) 5000mAh 21700 lithium battery. The battery ITSELF has a USB port. There is no option to charge the battery inside the light.
Specifications
Length; 4.6″
Weight (w/battery); 5.66 oz
LED's (4) CREE XP-L2 V6
Max beam distance; 211 meters
Impact resistant; to 1 meter
Waterproof; IPX-8, to 2 meters underwater
Features of the Nitecore E4K
An optics system with "precision digital optics technology"
Each lens is treated with a double-sided scratch resistant coating
A highly efficient constant current circuit
Mode memory
Side power switch equipped with a battery voltage indicator
Body made from aero grade aluminum alloy
Features a Type III hard anodized finish
Equipped with Advanced Temperature Regulation
Two operating user interfaces
Direct access to lowest and highest output
The Power Source
Your E4K comes with a USB rechargeable, 5000mAh 21700 battery…which is the longest I've ever seen!
Other battery options include either two (2) CR123 disposable cells, two (2) rechargeable 16340's, or two (2) 18350 cells. These are placed into the magazine-adapter before going into the flashlight tube. Nitecore does not recommend the use of a single 18650! Although if it's long enough to make contact, (I.E. most button-tops) it'll work.
Modes, Output, and Runtime
There are five regular modes, and three "special" (emergency) modes.
Ultra-low; 2 lumens — 700 hours!
Low; 50 lumens — 45 hours
Medium; 320 lumens — 7.5 hours
High; 1050 lumens — 3.25 hours
Turbo; 4400 lumens — 30 mins*
Strobe; 440o lumens
SOS; 4400 lumens
Beacon; 4400 lumens
* Turbo is not available when using a two battery configuration.
Two Operating Interfaces
The Nitecore E4K has two different operating interfaces, Daily Mode & Tactical Mode. The only thing that sets them apart, are the special modes. "Daily" allows the use of turbo on demand. "Tactical" allows strobe on demand. Consequently, strobe, SOS, and beacon are ONLY available in the tactical setting. Turbo is available when set to "tactical" but only in regular sequencing.
Out of the box, I believe "daily" is the default. To switch from one UI to the other, take hold of the tail cap. Now press and HOLD the main switch. Basically you're going to press and hold, while simultaneously loosening the tail a quarter turn. KEEP PRESSING, while tightening the cap. If done correctly, the light will "flash" to confirm the change. ONE flash is for "daily" and TWO flashes for "tactical".
Basic Operation (regardless of interface)
The E4K activates by a HOLDING press of the switch. A quick press turns it off.
Now here's where it differs from most other lights.
If you release the switch after it turns on, your ONLY other option is to turn it off… UNLESS you want tactical operation of either turbo or strobe. So, depending on which interface you're in, a second HOLDING press (while on) activates either turbo or strobe. Releasing the switch returns to where it was previously. From "off" selecting a different mode from whatever mode it turns ON in, is done by a continuing holding press. In other words, press and HOLD to activate. Continue holding, and it will cycle all five modes until you release at the one you want.
While changing modes once it's already on, may sound sluggish…it's not. You can actually do it quite quickly by clicking twice, and HOLDING the second click. It'll turn off for a second, and reactivate by advancing the modes.
Ultra-low on demand. Double-click from "off". A single click turns it off.
Turbo or Strobe (depending on UI) on demand. Triple-click from "off". A single click from either, turns it off.
For either "SOS" or "beacon", it has to be on strobe first. A HOLDING press sequences to SOS. Hold again for beacon. If you keep releasing and holding, the sequence will repeat. A single press turns it off from any of the modes.
Voltage Indicator
A patented indicator on the lower portion of the switch, blinks the battery voltage each time the cap is loosened and tightened…and after a battery change. In either case, it'll blink up to four times to indicate "4 volts". If there are any "10th's" it'll pause before blinking them. You can check volts anytime by clicking once while it's off. But checking it THIS way, yields a different result. Three blinks indicates over 50%. Two blinks, between 10 and 50%. One blink…below 10%.
The indicator also works when using two smaller batteries, but it blinks the "average" voltage between the two.
Charging the Battery
The included Nitecore 21700 cell is the longest I've ever seen! It's several centimeters longer than all my other 21700's. This is no doubt due to the USB port. So to the charge the battery, just connect the included cable (or any other USB-C) to the battery. A red indicator near the port will light up. It'll turn green when charged.
If you want to charge the battery in an external charger, you're about to be disappointed. It's too long and won't fit most chargers. The ONLY unit I own that it fits in is this Xtar fast charger.
Check Out the Nitecore E4K Beam!
Nitecore E4K Thoughts and Observations
Nitecore always puts out nice products. That being said, there are still a few "quirks" with the E4K.
Flashlight size is good, and I DO like the inclusion of the 21700 battery. I just wish they'd made the proprietary battery at little shorter. This means none of my other 21700's will operate it 😥
Regarding the other types; they say not to use a 18650, but I think the reason is because they suggest the drain be above 15A. That's not a problem if you're using a 30Q…but that cell is WAY too short and won't work! I tried a couple of standard button-top 18650's in it, and all five modes worked fine. Obviously runtime will suffer using a 18650…and will be severely less when running on turbo.
Smaller size 16340's and 18350's also work, and it's okay if they protrude a bit from the end of the magazine. Runtime will be less, and the voltage indicator will give only an average of the two batteries combined.
The large switch is easy to use, but the UI might take some time getting used to. Here's the issue; if you don't remember which mode it was on when last turned off…you'll have to refresh your memory by turning it on, but remember, unless you do a holding press, you can't cycle through the other modes. If you're inside, I would start it on ultra-low, rather than surprising yourself on high or turbo! Unfortunately changing modes after you've activated it, is a huge inconvenience! And it you need strobe for self-defense or an emergency, you'll HAVE to have it set to "tactical" at all times.
The four LED's produce a really nice beam pattern, and turbo is "yowza" when describing how bright it is! Naturally it starts to heat up pretty quick on turbo.
Recommendation
If you're a Nitecore fan, you'll probably like the E4K. I just truly wish they'd made the UI a little more "traditional".
Looking to get one from Amazon Prime?? Click Here!
Please follow Lightsngear and like us: