Astrolux has a passion for larger style lights with high intensity LED's. Since today's light is no exception to that trend, lets dive into the Astrolux FT02.
Big Box of Light
Accessories inside the FT02 box consist of a user manual, a lanyard, two O-rings, and a battery adapter.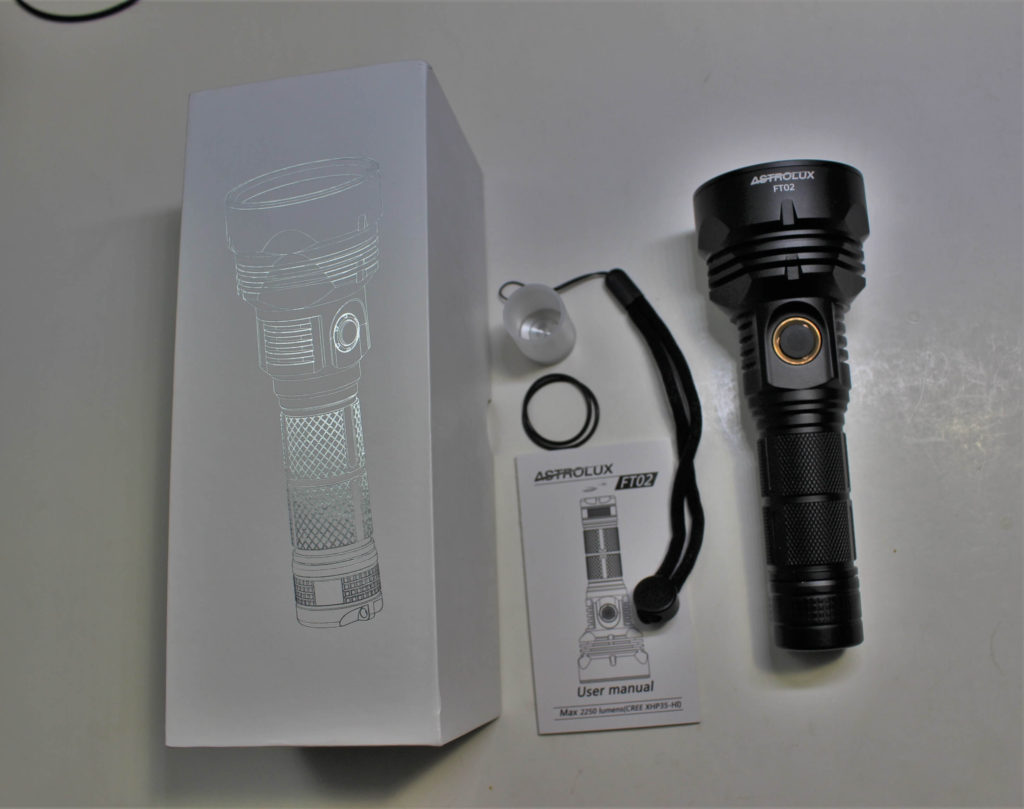 Specifications
LED; XHP35 HI
Max output 2250 lumens
Lens; Tempered scratch-resistant glass
Beam distance; 800 meters
Length; 6.1″
Width; 2.3″ (head) 1.4″ (switch) 1.1″ (tube)
Weight; 11.52 ounces (with 21700 battery)
Impact resistant; 2 meters
Waterproof; IPX-7
Aerospace-grade aluminum alloy body
Flashlight Features 
Mode memory
USB rechargeable
Stepless dimming (10-2250 lumens)
Constant current circuit
Over-discharge (charge) protection
Battery voltage indicator
Battery, Output, Runtime
The Astrolux FT02 is built for a 21700 rechargeable lithium battery, but comes with a "tail-cap" adapter to use a 18650 instead. The only (possible) noticeable difference between the two batteries, is runtime. If a larger capacity 21700 is used, it'll probably run longer than it will with a 18650. Runtime on the brightest setting is approximately 80 minutes.
Astrolux recommends than an unprotected (IMR) battery be used, regardless of which battery size is chosen.
Since the FT02 features "stepless" dimming, output can be selected anywhere from "low" at about 10 lumens… all the way to "turbo" at 2250 lumens.
Basic Operation 
When using a 18650 battery, insert it (negative end down) into the little adapter "cup". Insert everything into the FT02 tube, positive end first. Once the flashlight tail cap is screwed on, it will make contact with the base of the adapter cup, and the light will function correctly. You'll know everything has been done properly, when the side switch indicator "blinks" twice.
Turning on the FT02 is as simple as clicking the side switch. Press and hold it to raise and lower the output. Mode memory will always restore it to last output level used. Single click again, to turn it off.
Other Operations
Other functions are also available depending on how the side switch is used.
Turbo on Demand
Double-click the switch (whether off or on) If turned off on turbo, mode memory will cause it to reactivate on turbo for the next use.
Low on Demand
While the light is off…. press and HOLD the switch. If turned off in low, that's where it will start the next time.
Strobe on Demand
This might seem like a "rerun" but it's not  😉  Double-click to activate turbo…then double-click again for strobe.
Battery Check 
Click the switch "quickly" three times. The illuminating ring will blink the approximate voltage.
… up to 20% – one blink
… up to 40% – two blinks
… up to 60% – three blinks
… up to 80% – four blinks
… up to 100% – five blinks
Lock Out Function
Click the switch four times fast. It'll confirm by "blinking" four times. It's now locked. To unlock, repeat the process.
For Momentary Use
Click the switch five times fast. This will enable the light to work ONLY on turbo, and ONLY while the switch is in a holding press. To return to normal operation, loosen, then tighten the tail cap.
Charging the Astrolux FT02 
Easy-peasy! Connect a standard USB charging cable to any USB source, and the illuminated switch will flash in green. When the charge has finished, the green ring will be steady.
The "Spotted" Beam
The End Result
The Astrolux FT02 isn't unique in what it does, because other lights do the same thing. Its XHP35 beam is more of a tightly focused spotlight, which is obviously designed for throw over anything else. In my opinion this kind of performance isn't terribly useful indoors or at short distances.
User interface-wise, it's comfortable to operate and the various settings as described above are nice to have. As also mentioned earlier the heavily focused beam is more usable at a distance. The stepless dimming works smooth and flawlessly.
21700 based flashlights seem to be on the increase. I can't say whether that's good or not, but at least those that include adapters for 18650 batteries are worth taking a look at. The only potential difference a 21700 will make is longer runtime.
Its charging circuit appears to work as it should, and the green indicator keeps flashing until the charge is complete. When testing the charging current, using an IMR 18650 battery, it registered over 900mA, which is pretty fast.
There's nothing I expressly dislike about the Astrolux FT02. If you need to shine a beam at a great distance, and don't mind carrying a slightly larger light, it should serve you well.
Recommendation
Banggood.com supplied the FT02 for review, and if you'd like to pick one up, I invite you do visit their product page. And, to save 30%…. enter coupon code "BGLF2" at checkout  🙂
Please follow Lightsngear and like us: