The Nitecore Intellicharger I4, is one of the more versatile battery chargers to hit the market in the last few years.
Sysmax, the company behind the Nitecore name, has been manufacturing LED flashlights for the past several years as well. They know their products, and how each of them compliment each other. From flashlights, to batteries, to battery chargers…they all work well together.
Simplistic design
This I4 charger is the big brother to the two-bay version…the I2. Its simplistic, yet functional design features four completely separate charging bays.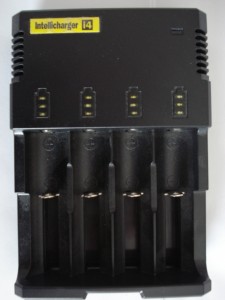 Each bay is spring-loaded and features a three-part orange-tinted LED display above each of the bays.
As each battery is inserted, depending upon the current state of charge, the LED display will correspond. From bottom to top, the lights in the status area will begin blinking. Each bay is COMPLETELY independent from each of the others. Any combination or number of batteries can be charged at the same time.
The bottom LED flashing alone indicates a battery with little to no charge left.
With the bottom indicator light steady, and the middle LED blinking, the battery is one quarter t0 half full.
With the first two indicator lights steady, and the top LED blinking, you'll know the charging is almost complete.
Charging is complete when all THREE of the vertical LED's above the battery bay, are constant and have ceased to flash. The LED's DO NOT shut-off until the battery is removed.
The I4 uses the three preferred charging cycles; Constant Current – Constant Voltage – Trickle Charge.
So Many Batteries
The advantage of the Intellicharger I4, is the wide variety of rechargeable batteries that it's able to work with.
The I4 can charge both Lithium-ion and NiMH cells … at the same time!! The list of compatible lithium battery types is impressive: 26650, 22650, 18650, 17670, 18490, 17500, 17335, 16340 (RCR), 14500, 10440.
Current Variations
In my personal use of the I4, I have found that charging times appear slightly longer than on other chargers I own. Since there are four bays…it's probably more typical for someone to charge as many as three cells at one time. The more cells that are inserted, the longer the overall charge will be.
When charging four batteries at once, the until will charge at 350mAh.
When charging TWO batteries at once, the charge is at 750mAh.
The fastest charge for two batteries is in slots 1&2 or 2&3. Charging in slots 1&3 or 2&4 will take longer because the unit alternately sends a separate current to each battery at 1 second intervals. Logically, charging times in slots 3&4 should also be a tad quicker.
To see the Nitecore Intellicharger I4 in action; click the YouTube video!
Picking up an I4 for yourself is as easy as clicking here!
Looking for the newer D4 version? Click Here!
Your comments, and/or experiences with the I4 charger are welcomed below!
Please follow Lightsngear and like us: