Although Acebeam isn't exactly a new player in the world of flashlights, the Acebeam UC15, is new to me, and happens to be the first Acebeam light I'm reviewing.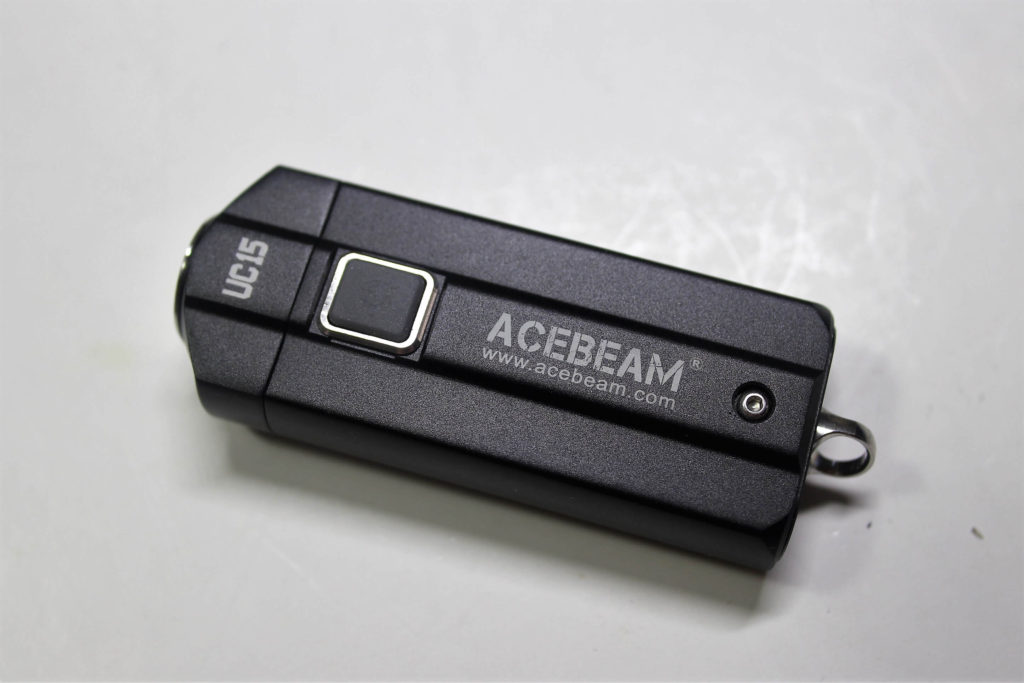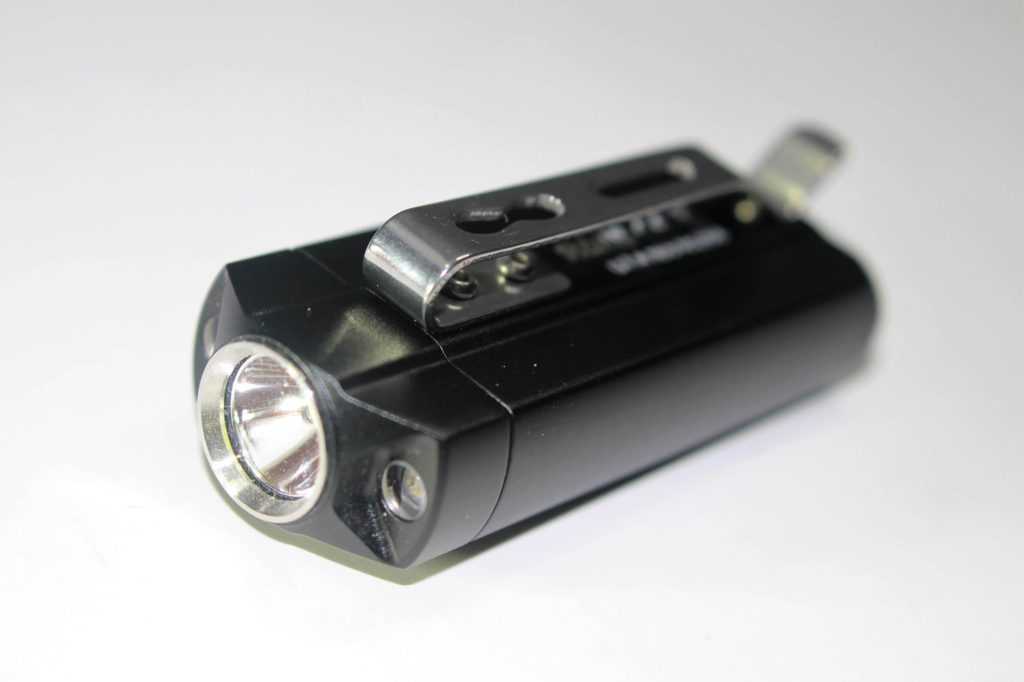 In Keychain form, it's obviously pretty small, but provides flexibility unlike others I've seen.
Cool Little Package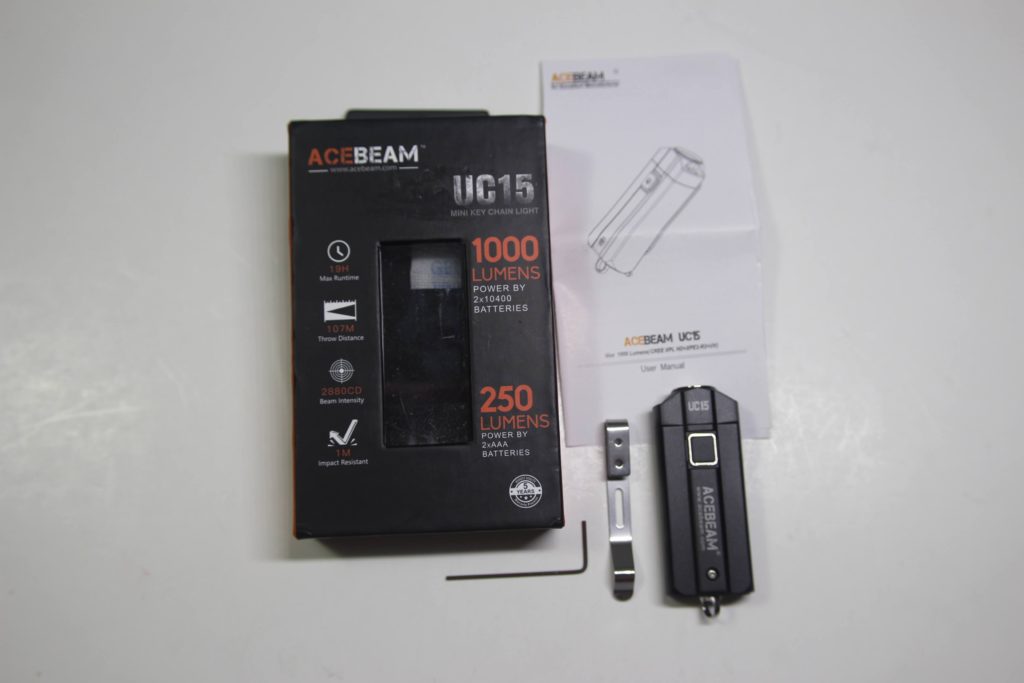 Within the UC15's little package is a nicely padded foam insert, which houses not only the flashlight, but a user manual, a pocket/belt clip and a hex screw.
Specifications
Length; 2.6
Weight; 1.95 oz
LED's; (main) Cree XP-L HD / (red) XP-E2 R2 / (ultra-violet) Nichia
Working voltage; 0.9 to 4.2 volts
Beam Distance; 107 meters
Acebeam UC15 Features 
Mode Memory
Three distinctive and completely separate LED's
Impact Resistant to 1 meter
Waterproof to IPX-54 (splashes of water)
Made from aircraft grade aluminum
Hard anodized with a premium Type III finish
Ultra-clear tempered glass lens
Intelligent temp controlled light output
Batteries, Output, and Run time
First things first. There are five output levels; moonlight, low, medium, high, turbo… plus strobe. Moonlight, turbo, and strobe are hidden. I'll explain how to activate those in a minute.
The Acebeam UC15 runs on two AAA batteries, either alkaline, or rechargeable NiMH. Obviously alkaline are the easiest to find and can be used in a pinch. They aren't however the recommended batteries… which will get you the advertised output of 1000 lumens! This is only accomplished with 10440 (AAA) 3.7v RECHARGEABLE Lithium-ion batteries*.
*Please don't confuse these with store bought lithium AAA's, usually "Energizer Ultimate", which are 1.5v each. They TOO will work, but the output they provide, is identical to alkaline AAA's. 
So, here's the breakdown, per battery type.
Using 2 AAA's or NiMH;
Moonlight; 5 lumens (37 hours)
Low; 30 lumens (7.5 hours)
Medium; 60 lumens (4 hours)
High; 105 lumens (2 hours)
Turbo; 250 lumens (1 hour)
Strobe; 250 lumens
Using 2 10440 Rechargeable lithium; (recommended)
Moonlight; 5 lumens (46 hours)
Low; 140 lumens (2 hours)
Medium; 330 lumens (1 hour)
High; 600 lumens  (4 mins) ∼ 200 lumens (30 mins)*
Turbo; 1000 lumens (1 min) ∼ 200 lumens (46 mins)*
Strobe; 1000 lumens
* Please note that "high" only remains at 600 lumens for 4 minutes at a time, before down shifting to 200 lumens.
* Please note that "turbo" works only for 1 minute at a time, before down shifting to 200 lumens. 
Operation of the Acebeam UC15
Looking upon the operating schematic, as seen in the manual… if you're tired or have been enjoying cocktails, you're liable to think it's a map of the New York subway system! My suggestion… do it with a fresh head!
This is not to mean it's confusing, but at first glance it CAN be a tad intimidating. Not to worry though, I'll explain it as plainly as possible.
First of all, there are TWO groups; "white light" and "color". Within EACH group, the button can be used as a simple on/off switch. When in the "white" group, mode memory recalls the last mode used. The color group consists of "red mode" and "ultraviolet mode".
The White Group
When turning it on for the first time, it'll be in the "white" group. You'll also notice the "GREEN" illumination beneath the switch. To advance the modes — low to high — press and hold the button. The regular sequence is low, medium, high. A standard click turns it off.
For moonlight mode; begin with the UC15 turned off. Press and HOLD the button for about two seconds. If you turn it OFF from moonlight… it will NOT be memorized, meaning that the next standard click will activate the last regular mode used. From moonlight, you can press and hold to advance the modes.
Turbo can only be activated by a double-click, whether off, or already on. Turbo is NOT part of the cycling sequence.
Strobe can only be activated by a TRIPLE-click, again, whether off or on.
The Color Group
To activate the color group, the UC15 must be OFF. Press and hold until "moonlight" appears… then disappears. The "red" LED will appear next. If you don't change it, the "red" will continue after every on/off click. To switch to ultraviolet, press and hold. Then the same applies to that one as well. To return to the "white group", double-click.
Beam Gallery
Power Indicator
A green indicator beneath the switch stays lit as long as the light is on. As the batteries weaken, it turns red… and if left long enough, will flash, which leads to the light shutting off.
Lock it Out
To keep it from activating (accidentally) in your pocket, hold the switch (while off) for 5 seconds. A blink will indicate that it's now locked. Repeat the procedure to UN-lock it.
Closing Thoughts
The Acebeam UC15 is perhaps the coolest key chain light I've seen yet! I'm very fond of its functionality and the UI. It's great that it comes with a pocket clip, and the owners option of using it or not. And even though most users probably won't have TOO much use for the specialty modes, it's nice to have them as a cool "show and tell" feature 🙂
One element of the UC15 that's a bit unfortunate, is that turbo mode cannot be used once the battery voltage dips below 3.9v. Now even when it IS working, it's timed at a mere sixty seconds per use, before ramping down to "high". Then "high" stays on for FOUR minutes, before ramping to a level close to "medium". This is all mainly so the light doesn't become too hot during use.
The final recommendation rests with the power source. The UC15 is only remarkable when Lithium-ion batteries are used. With alkaline or even NiMH cells, it's very much less than remarkable. At least the others are an option if a charger isn't handy, but in order to make full use of what the UC15 is capable of, 10440 batteries are the required choice.
Say Yes and it's Yours!
Does the Acebeam UC15 meet your particular standards as a key chain flashlight? If so, I invite you to check it out at Amazon Prime!
Please follow Lightsngear and like us: