Every so often, a new idea comes from Nitecore. And in their continuing effort to be on the cutting edge of flashlight technology, a new "series" comes out once a year or so. Today, I'm looking at the latest in the "multi-task" series. This is the Nitecore MT22C
.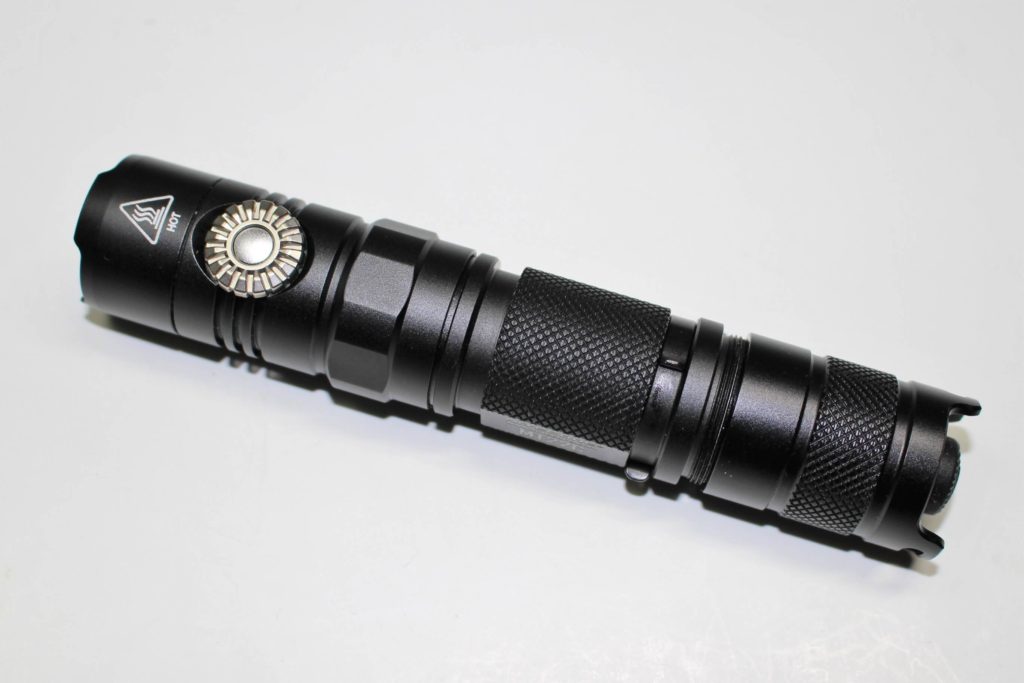 Familiar Packaging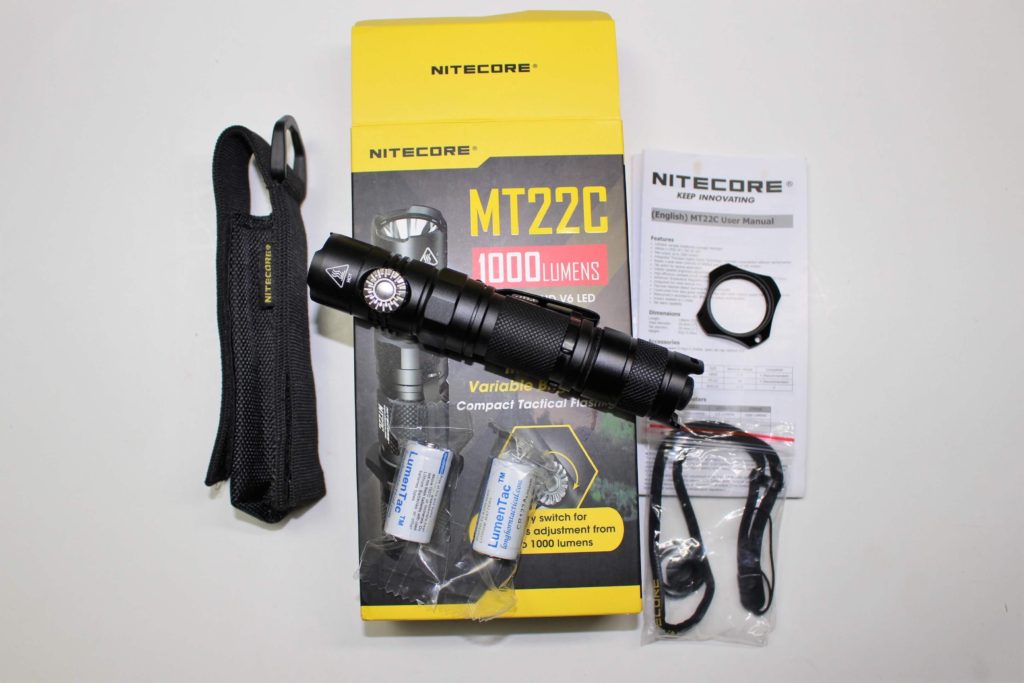 In their very familiar black & yellow box, comes the MT22C. Accessories with the flashlight consist of a user manual, a (removable) tactical ring, a (removable/reversible) stainless steel pocket clip, a belt sheath, and an package containing a lanyard, two spare o-rings, and a replacement switch cover. My particular package also included two CR123 lithium batteries.
Nitecore MT22C Specs 
Length; 5.3″
Weight; 4.86 ounces (including 18650 battery)
LED; Cree XP-L HD V6
Maximum Output; 1000 lumens
Beam Distance; (turbo) 185 meters (ultra low) 4 meters
Impact Resistant to 1 meter
Waterproof to 2 meters underwater (IPX-8)
Flashlight Features
Magnetic Control Dial, offering infinitely variable brightness
Unwavering output courtesy of a constant current electronic circuit
Momentary tactical operation
Removable tactical ring for precise operation
Advanced Temperature Regulation Module
Made from aero-grade aluminum alloy with a TypeIII hard anodized finish
Battery Configuration and Output
By using the variable switch control, flashlight output ranges from 0.5 to 1000 lumens. Strobe is the sole emergency mode.
In the package that I've linked to on this page, two CR123 batteries are included. As for rechargeable cells, the MT22C can run on all the popular sizes;
1 – 18650
2 – 16340
2 – 18350
ONE thing to make a special notation of… this flashlight WILL NOT WORK with FLAT-TOP 18650 batteries!
Operation is Incredibly Simple! 
A child of 3 could operate this light! And given how today's kids adapt to electronic gadgets… probably younger! Fully click the tail switch, then turn the variable control switch counter-clockwise. As you turn, the output will increase. You'll know you've reached "turbo" when you hear a 'click' and STROBE appears. At any point, even in strobe, you can click the tail and turn it off… knowing with certainty that when it's switched on again, it'll be in the same place. Even on strobe if that's where you want it.
A light press of the tail produces tactical (momentary) light. This can also be set on strobe, for emergency (on demand) use.
The MT22C does not have a low battery indicator. So other than using a protected cell and just having it shut off due to low voltage, you won't be given much of a heads-up when power is dwindling.
Ah Those Coveted Beam Shots!
Lightsngear's Opinion 
When I first opened the MT22C box, slipped in a battery, and clicked the tail…. I wasn't overwhelmed. Granted, with the number of flashlights I've tested, it takes a lot to impress me. In other words…YOUR initial impression might be quite different.
So when I first saw the beam, it looked almost square! I test all my new lights at close range, on a white wall. I'm not sure where the LED gets its partially 'squared' beam-pattern from. It's an XP-L, and they're all the same shape. I was also not overwhelmed at the output. By flashlight standards… it's bright. But perhaps I was expecting brighter. Again… perhaps my senses have become slightly numb, from all the bright LED lights I've tried out.  😐  Now, in an outdoor setting at a reasonable distance, (as proven in the images above) the shape of the beam won't become an issue.
My OTHER first impression, was when it went to adjust the variable ring, it seemed incredibly stiff. It almost felt uncomfortable to adjust  with one hand. Now, maybe its limbered a bit… because as I began using it, the initial stiffness seems to have mellowed a bit. While still retaining good tension, so as not to move from its position in a pocket or pack, it now adjusts using only the thumb of my right hand reasonably well. With practice, you'll get a feeling for how far to turn the ring, in order to achieve maximum output. At first, you'll likely do as I did, and continue turning it until strobe appears. It comes fast, with medium leading to turbo in a split second. You'll probably activate strobe many times before mastering the ring.
Flashlight length is good. The knurling ensures a comfortable grip, and if you're into tactical rings, then I think you'll like how it holds.
Do I Recommend the Nitecore MT22C?
Yes, because above all else, it IS a Nitecore flashlight, and comes equipped with the quality you'd expect.
So, to get one for yourself, click here, and visit its Amazon-Prime product page. Once there, you'll see the other buying options, which include getting it with a Nitecore 18650 battery, and even a charger if you wish.
Please follow Lightsngear and like us: