With all the Nitecore products I've reviewed, I think it's safe to say that I find the majority of them worth owning. Within the new "Smart-Ring Tactical" series, is the light I'm about to review. THIS, is the Nitecore SRT9.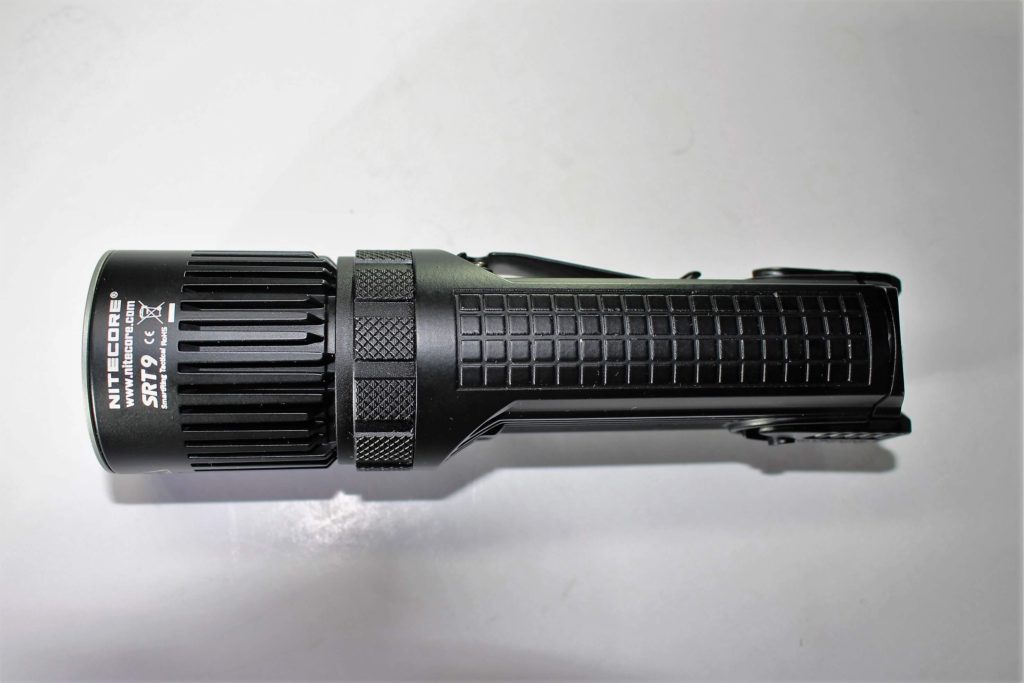 The SRT9 is nothing short of, inventive. Featuring a magnetic control ring, along with multicolored LED's… it has many uses. How does it all come together in one flashlight? I'll explain.
The Nitecore SRT9 Package
We took a departure from Nitecore as we know it, when the Concept 1 was recently reviewed. Here, we're back to familiar territory. 
So within a standard Nitecore-type box, we have the SRT9, a manual, a lanyard, a belt holster, a pocket clip (pre-attached), and a spare tail cap button. 
Weighty Dimensions 
The SRT9 needs a BIG pocket to play in! 
Body length; 5.8″
Body width; 1.5″
Weight (including 18650 batteries); 10.89 ounces
Batteries, Modes & Runtime — oh my!
So to operate the Nitecore SRT9, you'll need TWO 18650 batteries. Alternatively, it also accepts configurations of "four" when using the following battery types; CR123, (disposable) 16340 and 18350 (rechargeable). 
The "main" LED is a CREE XHP50 (cool white). But, the SRT9 gets interesting with the addition of FOUR smaller LED's, set deep within the reflector. These secondary LED's produce the following; UV light; red; green; and blue. There's also a combination red/blue flash! (think police cruiser)
There are two emergency modes; strobe and beacon.
The actual modes are as follows; (w/18650 batteries*)
Turbo; 2150 lumens (1 hour)
Ultra Low; 0.1 lumen (250 hours)
Any output you desire between the highest and lowest
Red; 13 lumens (50 hours)
Green; 19 lumens (48 hours)
Blue; 48 lumens (48 hours)
UV (48 hours)
*Runtimes are cut in half using a 4-battery configuration
Stats 
Beam Distance; (main LED) 246 meters (269 yards)
Impact Resistant to 1.5 meters
IPX-8 waterproof — submersible up to 2 meters
Features
A die-cast aluminum body (Unibody)
Made from aero-grade aluminum alloy
Multi-functional magnetic control ring (0.1 to 2150 lumens)
A micro-textured reflector for wide angle illumination
Stainless steel titanium-plated pocket clip
Stainless steel retaining ring to protect the components
A toughened ultra-clear glass lens
A Power indicator to display low battery voltage/stand-by mode
It has tail-standing capabilities
Using the "Smart-Ring" Control
A single click of the tail cap turns the light on.
The ring is built into the body and circles it as a series of knurled "panels"…and turns in both directions. If the ring is turned all the way to the left, then I'll describe what you see after it's switched on.
The first setting in this case is "beacon flash" mode. Turning the ring clockwise reveals the next mode; "blue/red strobe". Next is solid blue, followed by solid green, then solid red. UV is next, followed by "stand by" mode, where the small indicator light below the ring, flashes blue. Next, is constant illumination… from ultra-low, to turbo. The last mode to follow, is "regular" strobe. It's also tactical, where momentary light is available anytime by pressing the tail button half-way.
Stand-by Mode (explained) 
The small indicator below the ring on the opposite side of the clip, acts as a low battery warning, and a "locator" when the ring is positioned in "stand-by". 
In stand-by, (when light is off) it blinks (blue) once every two seconds. It does the same thing when the light is ON, but only when batteries have reach near the 50% point. As voltage drops further, the indicator's blink will increase to a rapid flash. 
Those Glorious Beamshots!
Nitecore SRT9 – The Main Deal
One of the great things about the SRT9 (and the magnetic ring) is that while of course it can be turned off in ANY mode… it can also be activated again in any mode! So if you want strobe, or the blue LED… just make sure it's IN that mode when you shut it off. 
The only negative comment I have regarding the ring, is when it's set to the main LED. When turning it low, to what's considered "ultra-low"… the output often cuts out before reaching 0.1 lumens. It gets close, but doesn't always reach what I consider "moonlight mode". It's not a HUGE deal… but noticeable none the less. I've seen this happen in other lights which use a magnetic ring. I would only have thought that the technology would've improved (by now) to the point where that wouldn't happen. 
This is definitely a professional flashlight. The colored LED's might not find much use with the "average" user, but for those who require special tints, perhaps for photography, they just might BE quite useful. 
On some lights, secondary LED's can often create artifacts within the main beam. That's not the case here.
However the beam patterns of the colored LED's aren't as perfect as the main beam… which is typical. To display a "perfect" colored beam, you'd need to use a special lens filter. The "UV" mode works well, and would certainly be useful for someone needing the light for "investigative" purposes. 
Mode switching on the SRT9 is quick and efficient. It can easily be done with one hand. One of the things you'll need to master however, is remembering WHERE on the dial, the modes you use the most, are located. There are NO markings on the ring whatsoever.
Even with its somewhat large rear end, it CAN tailstand… but needs a moment of patience when doing so and a relatively flat surface. 
The one OTHER semi-annoying aspect of the light, is how the tail cap is designed. To remove the cap for battery installation, you need to press the two buttons (simultaneously) that are on either side of the cap. An arm clamp on each side wraps around the buttons and "snaps" shut. Once the buttons are pushed in, the cap needs to be pulled off. The problem is, if your fingers are weak… you'll NEVER get it off!! In my opinion, the previous type of cap they used on their EC4GT was far easier to put on and remove. 
Recommendation
I'm recommending the Nitecore SRT9 for its professional usefulness. 
GearBest was kind enough to supply the SRT9 for review. If you'd like to get one either for yourself, or as a VERY thoughtful gift… please follow this link! And …. for a limited time (until 8/31/17) you can enter coupon code "N9deal" at checkout, and receive a special discounted price! 
I'd also appreciate any comments or questions you might have regarding this review!!!
Please follow Lightsngear and like us: