I just got another flashlight made by the folks at On the Road. The ones I got previously were "Olight" clones. This one does not appear to be a clone… that I'm familiar with anyway. THIS is the On the Road U16. It's a very small (but bright) USB rechargeable light. What does it do? Read on………..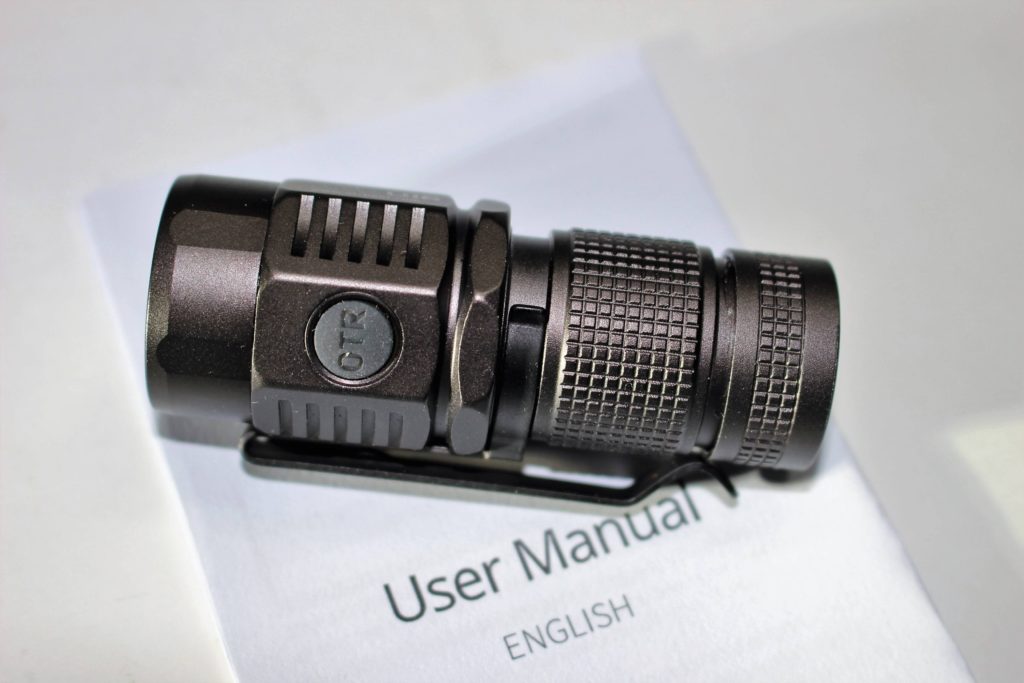 Plain (yet impressive) Brown Package
From the photo, you can see that "OTR" is fairly generous with their "goodies". Opening up one of their products is almost as good as a trick or treat bag! 
The flashlight is packed in a soft padded drawstring pouch. I've never seen anything like this with any other brand. Then there's a USB charging cable, an adjustable lanyard, two spare o-rings, a 16340 rechargeable lithium battery, and a user manual. A strong (removable) pocket clip is pre-attached. Very nice!  😀 
Specifications 
Length – 2.8″
Width (head) – 1.1″
Weight (including battery) – 2.62 ounces
LED – (this version) XM- L2 U3 (also available) XP-L V6
Body – T6061 Aircraft Aluminum
Impact resistant to 2 meters
Water resistant to IPX-6
Beam distance – 140 meters (153 yards)
Magnetic tail cap
Mode memory
Two LED Choices
The light I have here, is a"warm-white" version, which as noted above uses an XM-L2 U3 LED. If you prefer "cool-white" you can get that too… using an XP-L V6 LED. 
Battery, Output and Runtime 
The package includes an OTR branded 3.7v 16340 battery. Other acceptable types would be a disposable CR123. 
In many flashlights, a warm tinted LED usually means a lower output than if it had a cool LED. The U16 manual lists the output as identical for both tints. Since I can't verify the truthfulness to that, I'll just go with what it says.
Ultra-low — 2 lumens (140 hrs)
Low — 150 lumens (2 hrs 30 mins)
Medium — 360 lumens (1 hour)
High — 720 lumens (35 mins)
Turbo — 1020 lumens (not noted)
Strobe
Location Beacon
SOS
Turning On the U16
The side-button is it. From OFF, press and hold to turn it on. If you've just inserted the battery, it'll start on ultra-low. A single press advances the modes. A HOLDING press turns it off. Memory recalls the last mode used. 
Turbo and the emergency modes are hidden. For turbo, you need a double-press… while on or off. Strobe is seen by a TRIPLE-click… either on or off. 
Low Battery Indicator
There's an LED beneath the switch. When the battery voltage gets low, you'll see a solid RED glow. If you ignore it, it'll start flashing after awhile. 
On the Road U16 Beamshots
Time to Charge the Battery 
As with any USB rechargeable flashlight, you'll connect either the included micro charging cable, or one of your own. Just peel back the USB cover and a way you go. You'll know it's connected when the red (switch) LED comes on. It turns blue when the charge is complete. 
A "Tight" Alternative 
The interior of the battery tube is a tad smaller than most single-16340 lights I own. Their included battery, although of good quality, is not protected. If you substitute your own battery with the OTR cell, there's a chance it might be a tight fit! I tried two or three other popular (protected) brands, and they were either REALLY tight, or didn't fit at all! 
Just A Couple of Things
This On the Road U16 is a compact, capable, well made flashlight. For around 35 bucks it has good value! Among its useful features is the magnetic tail cap.
Where it falls short… in my opinion, is minor, but worth mentioning. In output, they've made the jump between ultra-low and low a bit too large. Somewhere in between would've been more useful. Regarding turbo… the manual says next to nothing about it… except that it's there. Unless the battery is almost fully charged, you won't see any difference from high to turbo. Fortunately, "high" is bright enough for most uses anyway.
It's a good thing they supply the battery. The interior dimensions of the tube make it difficult for most 16340 cells to fit. I have several different brands, and only one or two are usable. Any CR123 will fit… but they aren't economical to use.
Overall, using a letter-grade scale, I'd give this On the Road U16 a 'B plus'.
Recommendation
GearBest supplied the U16 for review. If you're considering one, please visit their site.
Please follow Lightsngear and like us: