Niteye is part of Jetbeam..and in this review, we'll examine the Niteye EC-R26 flashlight.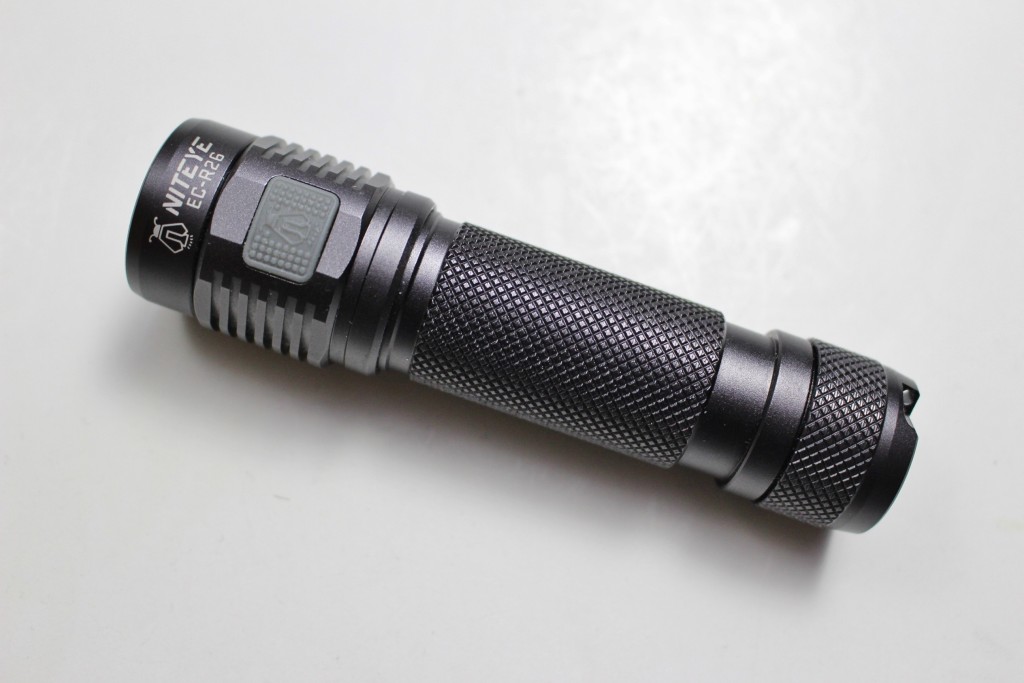 Package
For accessories, the EC-R26 is a little stingier than most. Along with the light, is a very "short" USB cable. (You might find this handy because the flashlight can charge the battery internally. This is what is known as a "rechargeable flashlight".) There's a spare cover for the USB port, a couple of spare o-rings, and an instruction manual.
What you will NOT find, is a pocket clip, belt sheath, or lanyard.
Since I own many other flashlights, including an older similar-size Jetbeam, I was able to steal the pocket clip off that one and use it on the R-26.
If you're accustomed to having a clip on your light, it might be a big inconvenience to use this without one. Since the flashlight is just a hair under 4″ long, carrying it in a pocket (even without a clip) isn't a major problem.
Nuts and Bolts

The root of any flashlight is the LED. In the case of the Niteye-R26, it's a CREE XP-L. With this LED, the beam has a somewhat tight center-spot, with good spill.
Output is an impressive 1080 lumens. But that depends on the battery used…which I'll  get to in a moment.
Okay, so here are the other settings and their corresponding outputs.
Low, 2
Medium,  75
High, 240
Turbo, (read the next paragraph)
So if you use a rechargeable 18650 3.7v battery in the light, you'll get 950 lumens. Using two 3.0v disposable CR123 batteries, or two 3.7v rechargeable batteries will produce an output closer to the rated 1080…in turbo mode. Truthfully, you won't see much difference with the two types of batteries. And the internal charging will ONLY work with an 18650.
The only "flashing" mode, is strobe.
Size, as I mentioned above, is just 3.9″. Weight, is only 100 grams… and that's even WITH a battery installed.
Other notable bits of information include;
Beam distance: 155 meters
Tough, anodized aircraft-grade aluminum body
Waterproof to IPX-6
Impact resistant to 1.5 meters
An ultra-clear mineral glass lens with anti reflective coating
Buttons and Switches
As with many of today's newer flashlights, the Niteye has one-button operation.
The handy side-mounted switch turns the light on and off, and changes modes too. One holding press will turn the light on, then a quick release press will advance the modes one by one. Strobe is accessed by double-clicking the switch while in turbo. While in any regular mode, a double click will activate turbo mode.
There is no instant access to low…unless you turn the light off in that mode. The memory function will remember the last mode used…except strobe.
Within the switch is also a battery voltage indicator. It's a blue light that makes a slow "blink" once the battery voltage drops to 50%. If left uncharged, the speed of the blink quickens when voltage reaches 10%.
Rechargeable
The built-in charging port is  accessed by peeling back the USB cover, located on the opposite side of the head from the on/off switch.
With an 18650 battery installed, plug a micro USB cable (or the one provided) into tiny port. A blue glow under the power button will light, and remain lit until the battery is charged. Remember, only a 18650 can be charged. Charge time will depend on the capacity of the battery and the voltage at the time of the charge.
Safety Precautions
Power on turbo mode drops to 65% of total output after a few minutes. And of course reverse polity protection keeps things safe in case the batteries are inserted backwards.
Check Out the Beam
In Closing
The Niteye EC-R26 is an effective, easy to carry, easy to operate everyday carry flashlight. Its ability to charge the battery with a USB connection is a big plus.
That fact that it doesn't come with a pocket clip might be a deal-breaker for some. I personally prefer one, and had to steal one from another Jetbeam light in my collection. I cannot predict how much of an issue NOT having one would be to your own user experience.
The switch works well. It's responsive, and with each press, the light has a "dimming effect" as it lowers to the next level.
Even without the clip as a means of pocket carry, I would recommend it as a small, easy to use, rechargeable flashlight.
With this link, you can make an easy purchase of the Niteye EC-R26.
Please follow Lightsngear and like us: