Olight has had great success with their Baton series of flashlights. Since their inception, they've released models of varying sizes and battery configuration. Here's the latest addition to the family; the Olight S30R Baton III.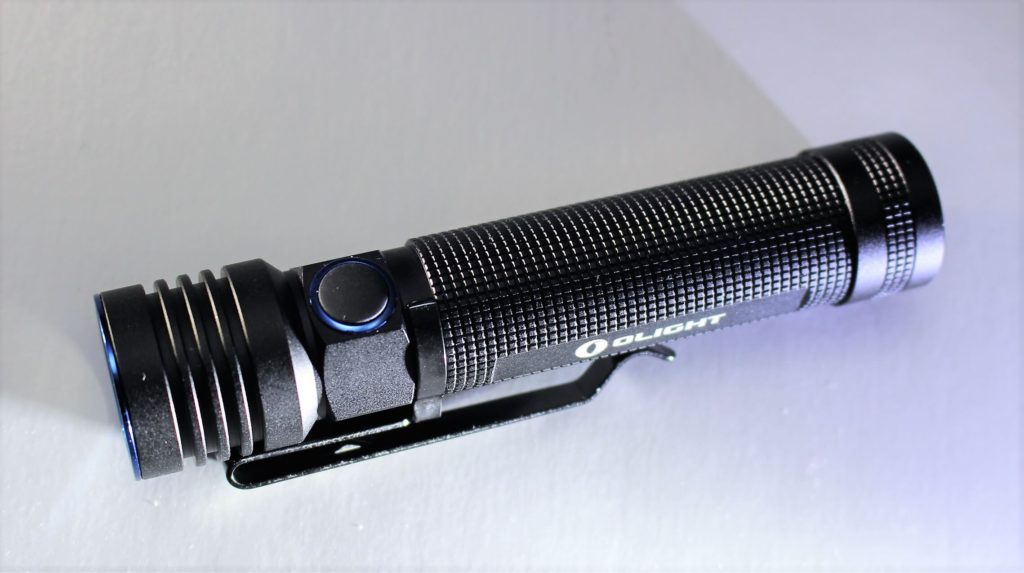 A Well Accessorized Package of Essentials
From the picture, you should be able to make out the following items.
THE FLASHLIGHT! Followed by an instruction manual. A micro USB cable. An adjustable lanyard. Pocket clip (attached). A charging base, and (inside the flashlight) an Olight 3.6v 3500mAh 18650 rechargeable battery [which of course is removable].
Specifications and Features
It's 4.5″ long. It weighs 103.3 grams…including the "included" Olight battery. Waterproof to 2 meters (IPX-8) and impact resistant to 1.5 meters.
The LED is a Cree XM-L2. Its beam distance is rated at 188 meters.
It operates on one 18650 battery, which is included. Whether or not it also accepts CR123 batteries is irrelevant. I'm not sure of the working voltage, and the included charging base
will only work with an 18650 cell.
The S30R has five regular lighting modes, plus strobe.
Moonlight — 0.5 lumens for 100 days continuously
Low — 12 lumens for 130 hours
Medium — 120 lumens for 15 hours
High — 500 lumens for 210 minutes
Turbo — 1050 lumens (for 2 minute bursts)*
*You'll notice that turbo mode is limited to two minutes of continuous runtime per use. Many flashlights with an extremely high turbo output, limit its use to just a few minutes at a time. This is to prevent excessive heat buildup. During the course of a one minute period following the two minute burst, the S30R will slowly ramp down to high mode.
Low Voltage Battery Indicator 
Beneath the power switch lurks a red LED. When battery voltage reaches close to 3.0 it will illuminate in a steady red glow.
Built-in Timer
As a convenience, (now whether you think it is or not… is up to you) the S30R comes equipped with an internal timer system. This allows you to preset the light to shut off after one of two predefined intervals. Either a nine minute or three minute shut off is selected by double-clicking and HOLDING the switch while the light is on. A single blink will indicate the three minute timer has been activated. A double blink, means it will shut off after nine minutes.
Lock-Out Mode
Preventing the S30R from turning on in your pocket is a simple procedure.
From OFF, press and hold the switch. Moonlight will activate for a second, and then turn off. From here, it's locked.
To unlock, press and hold until moonlight comes on… then release.
The Charging Base
The little charging base is pretty cool!
Whereby the majority of rechargeable flashlights have a USB port on the light itself, the S30R places it on the little base. To begin the charging process connect the included micro USB cable to the port on the base, and the other end to a USB source. The light is placed onto the base, and a small LED lights up in red. When the charge is complete, it turns green. It appears to also have a relatively fast charging current. When I hooked it to an inline current tester, it was feeding just above 800mA into the battery  😉 Just know that if you use it until the red light glows on the flashlight, it'll probably take around seven hours to charge.
The base has suction cups on the bottom, and clings well when placed on most surfaces. The magnetic tail cap on the light holds well to the base. Once charging, the whole unit is very sturdy and cannot be knocked over easily.
Simple User Interface
Insert the battery into the flashlight positive end DOWN, and secure the cap.
A short press of the switch turns the light on and off. The first mode will be low. The sequence goes from low to high. Each holding press once it's on, will advance to the next mode. The S30R's memory function will recall the last mode used. It will however, ONLY remember low, medium and high.
For moonlight mode; from OFF, a HOLDING press of the switch will activate it.
For turbo mode; DOUBLE-CLICK from any mode, including while OFF. Turbo will activate and stay on for two minutes, at which time it does a gradual ramp, down to high.
For strobe; TRIPLE-CLICK either from OFF, or from any mode. Once in strobe, a HOLDING press will return to medium. A short press will shut it off.
Olight S30R III Beam Shot Gallery
Wandering Thoughts for the Olight S30R Baton III
Those who are familiar with Olight, and the Baton series, might not be overly excited about the concept of another "Baton" flashlight. After all, this is not the only version of the S30R they've released. They had a version II before this one! The basic difference here is an XM-L2 LED instead of an "L2 U3" from the previous version, and thirty extra lumens, 1050, instead of 1020.
All I'm saying, is that the version III might not seem "new and improved" enough to those who have an earlier version. To me, it is, because this is my first S30R.
I like the all-around nice clean white beam pattern and the brightness and throw are more than ample enough for general flashlight use. The switch is responsive and glows red when the battery gets low. The only negative I've found is the switch is a bit hard to find in the dark. It doesn't protrude much so you might need to "feel around" to locate it.
Bottom line, I can certainly recommend the Olight S30R Baton III for someone to either give as a gift, or use themselves if they don't already own any of the earlier versions of the light.
To pick one up, you can do so by clicking here! Or, stop by the OFFICIAL "Olightstore" today!
Questions or comments about the Olight S30R Baton III??? If so I'd love to hear from you!
Please follow Lightsngear and like us: