This article discusses the Antennas Direct DB4E HDTV antenna. It is advertised as an extended range unit. Its advertised range is 75+ miles for UHF.
ME AND MY LOCATION
My location is far from being "fringe". I don't have an abundance of local channels, nor am I between different major or regional markets. The terrain has hills and valleys, but isn't particularly challenging. The majority of local signals originate from just less than 15 miles away. Under these conditions most ANY antenna (including indoor only models) will pick up the majority of stations. The only challenge my region brings, is the fact that out of those available, FOUR of them are on VHF. This includes the irascible channel 6! It wasn't so much for these stations, but a couple of longer-range UHF channels, including an analog station that I thought the DB4E would be an interesting choice.
EASY ASSEMBLY
The antenna is 90% pre-assembled in a wide flat box. It's only 2 sections. The back reflectors are one piece, and the bow-tie antennas are the other. All they do is connect together at the top and bottom with the supplied hardware. This literally, takes all of five minutes. The dimensions of the this particular model are reasonably good for placing either in an attic space, or on a roof. It's 10″ in depth, 22.7″ wide and 37″ tall. If you're mounting it on a roof with a J-mount as I did….(pictured with the antenna below)…. you'll need one that's at least 30″ tall. 40″ is the ideal length since at 30″, the antenna clamps will be at the top of the mount, with the bottom of the antenna just clearing the curved portion of the leg. In truth, a standard 5 ft mast would work a heck of a lot better!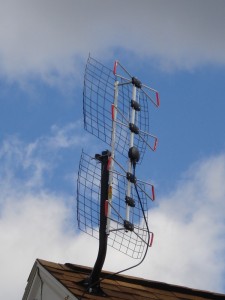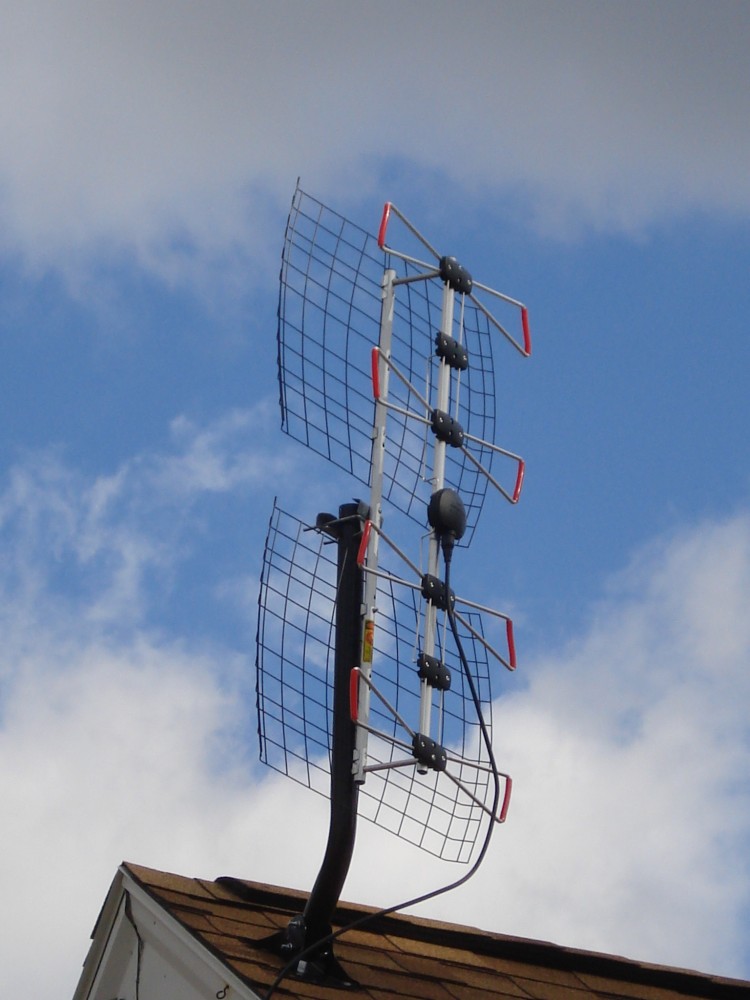 Reception for the DB4E (at least at my location) isn't remarkable, but is in fact, average to above average. Grade level B. Let me elaborate.
THE RECEPTION OF MY DREAMS? NOT!
Several months ago, I reviewed the Antennas Direct ClearStream 2. With roughly the same antenna gain, but an entirely different design, these two antennas work virtually the same at my location. This I found odd since the CS-2 is rated at 50 miles, and the DB4E at 65. Regardless, both of these antennas, although designed for UHF, are capable of delivering my VHF channels without issue. Including channel 6… which the manufacturer will not guarantee. Again, please remember I am LESS than 15 miles from the transmitters. They advertise "short-range" reception on the HIGH VHF band, which is 7-13. I imagine, if you're 25 miles or more away from a VHF signal, this antenna may NOT deliver the goods.
On UHF, the DB4E should deliver. However, it was the stations I was aiming for, perhaps a tad on the long-distance side, which have proved disappointing. The analog station I mentioned, is just under 30 miles away. Radiating a fairly weak signal, and traveling over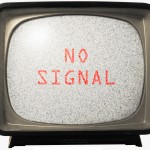 a mountainous region, its image is VERY fuzzy. In the direct path of the antenna is a very large tree. It's probably as close as 200 feet. This may be hindering the weak signal even further. Reception of this channel is identical to how the previous antenna received it. This surprised me since I had anticipated it might be two or three times better.
I wish I were able to report more impressive catches with the DB4E. I've been searching for the Holy Grail in HDTV antennas ever since the big switch. I haven't found it yet. Bear in mind though, my location isn't very challenging. By that I mean, 95% of available channels, are in fact local. Aside from the fuzzy analog signal, the farthest being received is 20 miles…and actually those channels are in the opposite direction! The next closest market of any reasonable size is 72 miles away. The TV Fool website, puts that into the extreme category for my address.
Use this information for how it best suits your needs. All situations are variable. Terrain and weather conditions affect reception greatly. It's my experience that no two setups will be identical, even if the same equipment is used.
You may read other reviews, and get more information about the Antennas Direct DB4E  by Clicking Here.
Do you have any questions or comments on the DB4E? I'm here to help and will respond to all 🙂
Please follow Lightsngear and like us: