At this writing, Folomov is rising in visibility with regards to LED flashlights. It's with this popularity that I bring you my review of the new Folomov 26650S. This is a very very bright, compact light with two operational modes and a USB rechargeable battery.
Packaging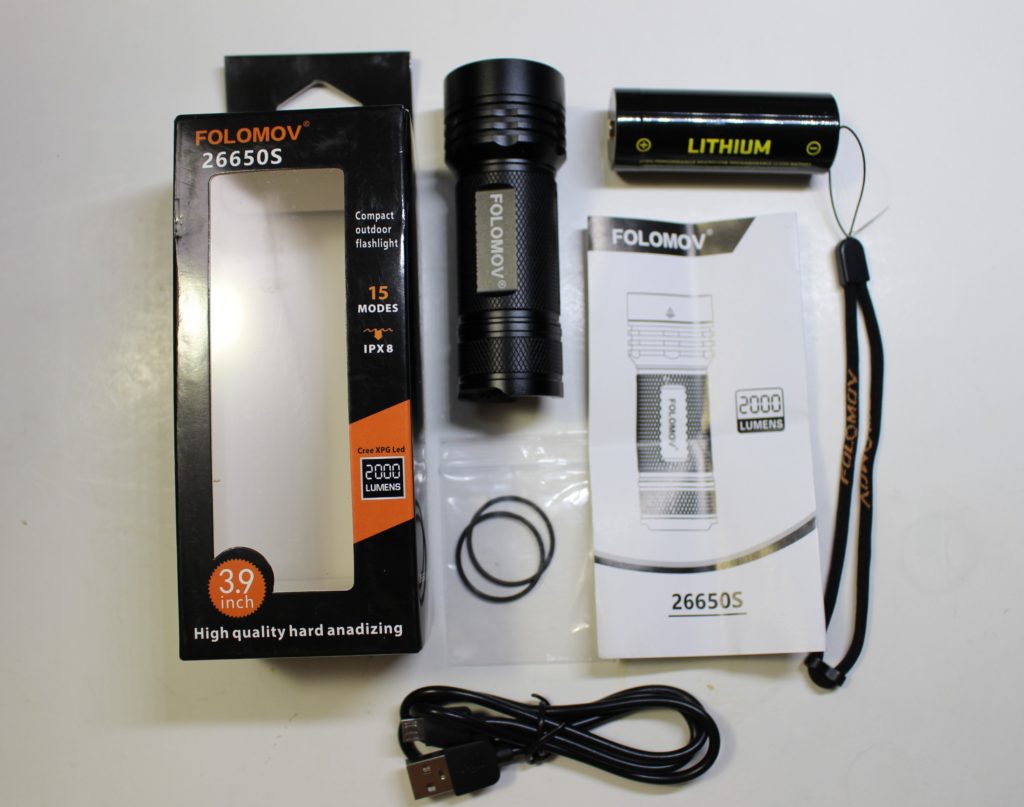 This is pretty typical. The 26650S package includes a user manual, two spare O-rings, a USB charging cable, a 5000mAh 26650 battery, and a lanyard.
Specifications
Weight; 6.88oz w/the battery
Length; 3.9″
LED; 5 CREE XP-G2's
Beam distance; 216 meters
Waterproof; IPX-8
Impact resistant; 1 meter
Folomov 26650S Features
Two operating modes
Multi-functional electronic tail switch
Tail switch lockout
Automatic shut-off timer
Hard-anodized tempered aeronautical aluminum body
Mode memory
Modes, Output, and Battery
There are five regular modes plus those designed for emergencies.
Lowest; 80 lumens
Low; 180 lumens
Medium; 400 lumens
High; 800 lumens
Turbo; 2000 lumens
Strobe; 2000 lumens
SOS; 2000 lumens
Beacon; 180 lumens
Operating Modes
Tactical
Illumination (default)
The flashlight uses a 26650 lithium battery, and comes equipped with a 5000mAh USB rechargeable cell.
Operating the Folomov 26650S
It features a single, rear, button switch. But depending on which operating mode it's set to, the button performs different functions.
When set to "tactical";
You can perform a "quick" press of the button to activate Turbo mode.
If you want "tactical" Turbo, press and hold the button for 1 second. In this setting, you'll only get Turbo for as long as your finger is holding the button (release, and it turns off).
Click the switch twice, and you'll get instant Strobe. Click again to turn it off.
When set to "illumination";
This is the default setting, and it's what you'll see the very FIRST time you turn on the light.
A quick (short) press activates the light. Each additional click advances the modes. The sequence is from brightest to lowest….then back to Turbo again. Mode memory recalls the last mode used. Strangely, the manual states that the sequence goes in both directions. NOT TRUE!
A holding press activates Turbo. A short press thereafter continues the sequence. A holding press from Turbo shuts it off.
To switch from one operating mode to the other…the 26650S must be turned off. Click the button seven times FAST. If you've done it right, the change will be confirmed with SIX flashes. To reverse it, perform the same action again.
Emergency Modes
For emergencies, the 26650S offers Strobe, SOS and Beacon flash. To engage them, regardless of operating setting, double-click the switch. Strobe appears first. A second double-click turns on SOS. For Beacon, double-click a third time. A single click from any of these modes returns to the previous  mode. A holding press turns it off.
Battery Charging
A 5000mAh 26650 battery is included with the Folomov. The light itself does not have a USB charging port, but the battery does. Options are to remove the battery, and either connect it to the USB cable, or charge it in a dedicated charger.
Activation Lock Out
In my opinion, the possibility of the light turning on unexpectedly is pretty remote, but if it worries you, there's a lock out feature. To engage it, click the button three times while it's off. It'll then blink three times to confirm. Reverse the procedure to unlock.
Countdown (auto shut off) Timer
So if you want the light to turn itself off after a timed period, you can set the timer for three minute intervals. To set it, turn it on, and click the button three times. This sets the timer for three minutes. If you need it increased to six minutes, click another three times. You can keep doing this up to a max of half an hour. Keep it mind it will remain on the same output throughout, and any standard click of the switch at any time will cancel the timer.
The Beam Pics
Summary
I have no major complaints about the Folomov 26650S, except for a couple of things I wish were different. I really wish it had instant access to the "lowest-low" mode. It's very strange that it doesn't. And I'm not a fan of the reverse sequencing. Sometimes trying to find the lowest mode is a bit of a pain, especially if it turns on in "medium".
Other than that, it's a very functional flashlight with plenty of flexibility. Mode spacing seems very even, and as you might imagine, the biggest jump comes from High to Turbo. The beam is very uniform, and is pleasant to see with. This is primarily a "flood" flashlight, making beam "throw" very conservative. Everything within a relatively short distance will receive excellent illumination. It's not built for distance.
Its size works well in the hand, but is too thick for a pocket clip.
The included battery is a button-top. Most of the 26650's I own are flat-tops, and shorter than the included cell. None of the FT's that I tried in the Folomov made enough of a connection to work. They're just too short.
One thing of note… it gets VERY warm (to hot) on Turbo… very quickly, and I don't see that it steps down to high from excessive heat, so keep that in mind.
Ready to Buy?
If you're sold on the Folomov 26650S, or just want to see what other users have to say about it, visit its page at Amazon Prime!
Please follow Lightsngear and like us: