The original Neutron 2C from a few years ago, when Thrunite was first introduced, had some issues. Now, it's been through a complete overhaul and this Thrunite Neutron 2C V2 review will describe its virtues for 2014 and beyond.
A Nice Package
From the photo, you can see the Neutron 2C arrives in a sturdy cardboard box, along with a belt holster, a few replacements parts tucked inside it, an extension tube, an instruction manual and a very nice little flashlight!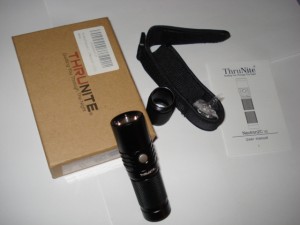 Specifications
CREE XM-L2(U2) LED
118mm long; 25.4mm thick; weight w/o a battery, only 70 grams.
Voltage Range; 2.7 to 8.4
Electronic soft-press side-switch
Battery Acceptance: Lithium only. (1) 18650 (1) 16340/CR123A* (1) 18350 –OR– (2) 16340/CR123A (2) 18350
Maximum beam distance of 212 meters
Let's Talk Batteries! (and power) 
Okay, one of the plus's of the 2C Version 2, is that it comes with an extension tube. This
will transform the light into a two battery configuration….or one battery, if you'd prefer to use a 18650.
In its non extended form, you may use 1 of any of the smaller batteries noted above. This would be either a disposable CR123A or a rechargeable 16340, or the slightly thicker, rechargeable 18350.
The photo here shows the 2C with its
extension attached, and a 18650 along side.
Before I get into the details of the different battery configurations, let me state that after trying them all, my recommendation is to use either (1) 18650, [with extender] or (1) IMR-18350 [without extender].
So, diving in head-first, here's what you can expect when using a 18650.
Moonlight Mode: 0.1 lumens for 90 days of continuous use!
Low Mode: 14 lumens for 3 days
Medium Mode: 215 lumens for 5 hours
High Mode: 630 lumens for 95 minutes
Turbo Mode: 1000 lumens for 90 minutes
Here's what you might expect from powering with one CR123A: (*not recommended)
Moonlight: 0.1 lumens
Low: 14 lumens
Medium: 140 lumens
High: 140 lumens
Turbo: no change!!
So….what's up with that poor performance?? The Neutron 2C doesn't fully support the use of (1) CR123A. The 3 volts that this battery provides, isn't enough to supply the power that the light requires. Now, if you use TWO CR123A's, you'll get much different results!
Moonlight: 0.1 lumens
Low: 14 lumens
Medium: 220 lumens
High: 600 lumens
Turbo: 920 lumens
With TWO rechargeable 16340's, the output will be identical to those listed above for the CR123's.
However, if you'd like to use a 18350 rechargeable cell (which I do) here are those results. These are fairly uniform…but using only ONE small battery instead of two.
Moonlight: 0.1 lumens
Low: 14 lumens
Medium: 220 lumens
High: 600 lumens
Turbo: 930 lumens
From that, you can see that using ONE 18350 battery, will give you much the same results as with two CR123's. But, what about ONE rechargeable 16340? Well, that would be identical to using the 18350, except for Turbo Mode. In this case, it puts out about 750 lumens, then DROPS to around 600 lumens after about 5 minutes.
Without trying to confuse you…the difference is between using a standard Lithium-ion battery, versus an "IMR" (lithium) battery. The IMR chemistry has the ability to provide increased power, but often for a shorter amount of time.
Now if you were to use TWO (IMR) 18350 batteries…you would again get much the same result as when you used ONE (IMR) 18350, EXCEPT that Turbo Mode would be a smidgen higher.
Low Voltage? No Worries!
Finally, regarding batteries. For the 2014 2C, Thrunite has included a handy low voltage indicator! So far, with every battery configuration I've used, the 2C will start "blinking" in 10 second intervals when the installed battery is near depletion. This even includes UNPROTECTED 18350's! Should you ignore the warning, it'll just shut off after a few minutes.
Okay, now that we've depleted our discussion on batteries, let's find out….
How To Operate the Neutron 2C V2
Today's electronic switches are modern marvels. And the one on the Neutron 2C is quite nice. It doesn't protrude as much as those on similar lights. This means there's less chance of the light activating in your pocket, but it also means that you might need to "feel around" for the button a bit more as well.
A short quick press of the button will get you instant light. A double-press (from on or off)
to take you to turbo mode! A long holding press (from off) will access moonlight mode. Unlike a few other lights, there's no lockout mode via the button. But if you give the bezel a short turn, it'll be locked out.
Once you're in a general lighting mode, it'll remember where you were next time. Moonlight and turbo are NOT remembered.
Pressing and holding the switch while on, will advance to the next mode. It will then sequence from low to high, then from high to low…as long as you continue to hold your press.
The Beam Shot Gallery
 

Thrunite's Neutron 2C with its XM-L2 LED produces a very white, uniform beam. The "white-wall shot" from just a few feet away illustrates that quite well.
For the following images; click to view them full-size.
Summary
I know in most of my reviews you have to look carefully to find any negative comments. This isn't intentional. I truly find the majority of products I review to be of high quality and usually free of defects or serious user inconveniences.
With regards to the Thrunite 2C V2, again, I'm truly pleased with its performance and operation. This light has become my favorite of recently reviewed products. The switching is smooth and click-free. You can quickly become accustomed to the side-switch without feeling "naked" by not having a tail cap button as well.
The beam has excellent range while maintaining a good hot-spot and peripheral spill. Moonlight mode is ALWAYS appreciated for those especially dark times when only a few feet need to be illuminated in front of you.
In case you haven't noticed, the 2C is "clipless" (unless Thrunite decides to provide one down the road). Although not having a clip might be a game-changer to some, it's not the end of the world. It certainly fits into any pocket or purse whether the extension is attached or not. In extension-less form, it might actually get lost at the bottom of a backpack or handbag! But no worries…it shouldn't activate down there anyway.
Your questions or comments concerning the Thrunite Neutron 2C V2 are most welcome!
Please follow Lightsngear and like us: