To flashaholics everywhere, the ThruNite TN12 is no stranger. This year however, it's been released again! The 2014 version has a new user interface and a higher lumen count. So let's take a closer look, in this ThruNite TN12 2014 review.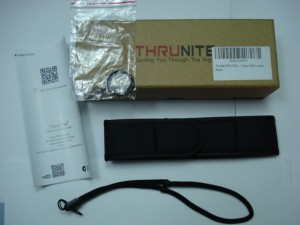 A FINE PACKAGE
Within its sturdy, concealed cardboard box, you'll find the TN12 cradled in a bed of foam. Along with it — spare O rings, a user manual, a lanyard, and a sturdy holster.
A NICE DESIGN
At 5½" long, the TN12 with its sturdy pocket clip, will fit nicely in most places with about 1″ (the tail cap) of protrusion.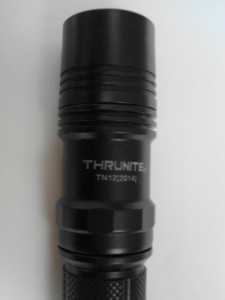 The light is of a simple, yet very functional design. Its ample knurling provides a good grip, and its cooling fins on the bezel allow for adequate heat dispersion. This is not to imply that the light won't get warm when on its highest setting, but the fins aid in keeping it as cool as possible. The manufacturer recommends not keeping it in 'turbo mode' for more than ten minutes at a time. Doing so, will prolong the life of the electronics.
SIMPLE OPERATION
The tail cap is used the same here as with most LED lights today. Press it lightly for tactical use, press and click for constant operation.
One of the updated features on the 2014 edition of the TN12 is the mode-changing side switch. So, once the light has been clicked at the cap, you'll press the switch here to change modes. The texture of the button makes it easy to locate in the dark and switching can be as fast as your finger can press it! This where you can choose between;
Firefly @ 0.3 lumens for 1,585 continuous hours
Low @ 20 lumens for 74 hours
Medium @ 280 lumens for 5 hours
High @ 800 lumens for 1½ hours
Turbo @ 1050 lumens…for roughly 90 minutes…(but not to exceed 10 minutes at a time)  For strobe mode; simply press and hold the switch (in any mode), then another quick press will return you to the previous mode.
THE BEAM-SHOT GALLERY! (click on each pic for a full-size image)
SPECIFICATIONS

The ThruNight TN12 features a CREE XM-L2 U2 LED
The maximum output is 1,050 lumens
Working voltage ranges from 2.7 to 9 volts
Features reverse polarity protection from improperly inserted batteries
Features an aircraft-grade aluminum body, with a premium type III hard-anodized anti-abrasive finish
The lens is toughened ultra-clear glass with an anti-reflective coating
The reflector is smooth, to enhance the beam throw
Impact resistant to 1.5 meters
Waterproof to 2 meters
Accepts (1) 18650 rechargeable lithium battery – OR – **(2) disposable CR123 batteries – OR – **(2) rechargeable 16340 (RCR123) batteries – OR – (2) rechargeable 18350 batteries
If necessary, see HERE for a primer on lithium batteries
** Battery Advisory! Although the use of the batteries noted above is quite safe, it's recommended that if you intend to use TWO cells in the light…(i.e. CR123 or 16340) that you DO NOT run the light in "turbo mode" when doing so. The chemical composition of these cells can be adversely affected by the high discharge rate the light imposes on them.  Here's what will happen; The CR123's will probably cause a sudden voltage drop after a short time. Meanwhile, the 16340's, will probably cause the light to SHUT OFF after only a few minutes. All other modes are fine with these batteries. All other batteries noted are safe to use on ALL modes.
MISCELLANEOUS OBSERVATIONS
I like the TN12 and can recommend it for any and all uses that a flashlight would be necessary for. On the high modes the light blazes! I purposely omitted the mid-range outdoor photos, since through the eyes of the camera they tend not to look much different from each other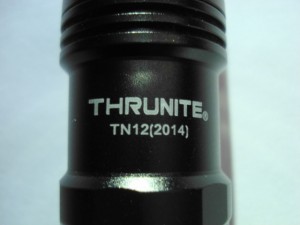 . The differences are more noticeable to the human eye. I also had no problem using flat-top 18650 batteries either. I don't own many of them because a lot of lights cannot accept them. But the ones I DO have, worked without issue in the TN12. What I noticed when using two batteries, is that they might tend to rattle a bit inside the tube. This isn't an awful thing, but some people may find it annoying. I suppose if you're hunting game in the dark of the night…perhaps on a cold winter's night, and started to get a chill, and maybe if your hand began to shake… and the rattle of the batteries scared off your prey… then this COULD be an issue! To be completely rattle-free… just use (1) 18650, and you'll have no extra noises.
THE SUM OF THE MATTER
The MSRP of the TN12 2014 is just $46! Believe me, for a 18650 light of this quality, this is very reasonable. I know there are consumers everywhere who feel they're getting an amazing value when they purchase an "off-brand" light with similar features for $10 or less. But in all honesty, I can't emphasize enough that there IS a difference is reliability and overall quality. This article points out some of the disadvantages to those lower-cost copycats.
If you'd like to know what other users have to say about the ThruNite TN12, here's the *Amazon page.
*this link will actually take you to a "new" version of the TN12!
Meanwhile, have you any thoughts about this review? You can reach me with questions or comments by using the spaces below.
Please follow Lightsngear and like us: