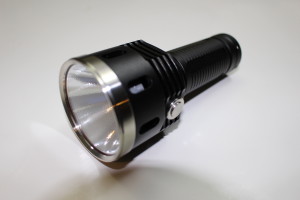 And now for something completely different! The Shadow JM35 with its GIANT MT-G2 LED is going to sock it to ya, with up to 1800 lumens!
Big Box of Light
So here's what I got in the mail… a very large unobtrusive brown box, with a very large LED flashlight inside!
As you can perhaps make out in the accompanying photo, the JM35 is what I would classify as a "big boy flashlight". Length-wise, it's just 5.1″ long. But its head is just over 2″ wide! The large MT-G2 LED requires a 'big head'! This info sheet on the G2 explains the technical info quite well. Basically it's been around since 2013, and can supply up to 1,987 lumens in cool white.
Also in the photo are the accessories, which included a lanyard, a spare o-ring, AND a spare glass lens! Oh, I should also mention that a user manual is included – except the one I got is entirely in Chinese! (now's the time I wish I spoke it!)
Stats

of The Shadow
Operates on (1) 3.7 volt 26650 rechargeable lithium battery
Weight, 200 grams (or 7 oz.) without a battery
Voltage range – up to 6
Body Material is Aerospace Grade aluminum alloy
Impact resistant to 1.5 meters
LED "throw" to 200 meters
Waterproof (IPX-8)
Operationally Speaking
Just one button switch on the head, does all the switching for the Shadow JM35.
The modes are; low – medium – high – and turbo. Since I cannot find definitive information online about this…except in Chinese…all I can say about the output is that turbo is referenced at 1800 lumens, which keeps the light going for 30 minutes. Obviously this would depend on the mAh capacity of the battery you were using. In my estimation, low is probably close to 80 lumens. Medium would have to be around 300. High is about 1000.
The JM35's output is nothing short of impressive. The LED produces a HUGE beam which is more neutral/warm than cool! The spill is massive, with a good size hot spot.
There's no memory on the JM35, or "flashing" (disco) modes of any type.
From off, each press activates the next level, until you get to high. To access turbo (only from high) a double-click is required. The jump from high to turbo is only moderately noticeable to the naked eye. If you click the beam shot images below and look closely, you should be able to see the difference between the two modes.
To turn the JM35 off, a holding press of the button is required…in any mode.
There are two large springs; in the head and the tail cap. My 26650 batteries are flat-tops and work just fine. I imagine the springs allow for button-top, flat-top, or batteries with protection circuits as well.
Operational Observations
When the light is first switched on after the battery is first inserted, and occasionally during mode changing, there's a bright "pre-flash" that's quite noticeable. In pitch darkness this could be slightly jarring.
When double-clicking from high to turbo, the light effectively shuts-off for a split second. This makes the jump in output less noticeable to the eyeballs.
I also notice a slight battery rattle. A tad annoying…but not terrible.
As impressive as the JM35's cooling apertures are, I found the light got VERY hot after a short while on high mode. I guess this is somewhat expected… but while it was left tail-standing in a warm room for 10-15 minutes…it was literally TOO HOT to pick up! Again, this was on high, not ultra-high. A temperature reading of the bezel after I shut it off, exceeded an incredible 1000°F!! I double-checked that reading twice.
Beam Shot Images
Click on each to see full size —
Closing Murmurs
I can think of a number of occasions where the Shadow JM35 would be useful.
The lack of a belt sheath means waste-carry is limited to the included lanyard. It's a tad on the heavy side, so perhaps in a bag makes more sense.
The brightness and sheer size of the light makes it not so useable around the house. But out in the wilderness… or on a boat… or on a mountain climb or a hike… the JM35 would be the perfect illumination tool. If only it had a signalling mode for emergencies, then it would be a no-brainer.
Click Here to inspect the JM35 further, and consider making it part of your own collection.
Your questions and/or comments on this review are welcome.
Please follow Lightsngear and like us: