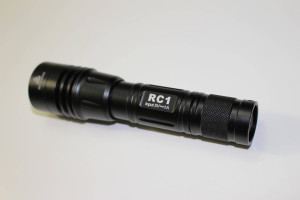 XTAR in addition to making excellent chargers, also makes pretty good flashlights! So here is my review of the new XTAR RC1 "Darkwalker" Rechargeable LED flashlight.
The Package Deal!
So, from the image, you can see that included along with the RC1 flashlight, is a small packet containing a lanyard and a spare o-ring. Then there's the instruction manual, a USB cable AND one (1) XTAR 18650 rechargeable lithium battery! The only item not included here, which you'll find in most flashlight packages, is a pocket clip.
Is The XTAR RC1 Different From Other Flashlights?
Only in one way…but it's a major difference. It's "rechargeable". What this means is that the included USB cable will connect to any device with a corresponding port, or to a USB enabled AC wall adapter, and charge the battery while still installed in the light.
To access the USB port, twist open its cover, located below the bezel and cooling fins. Once the USB is connected, a small LED near the port will glow. It will be green, until you click the tail switch…effectively turning the flashlight on. The light WON'T be on, but the little LED will have turned RED. It will remain red until the battery voltage has risen close to 4.20. It will then turn green, signalling that you can switch the light off, and remove the plug.
Due to XTAR's reputation for excellent battery chargers, the charging ability of the RC1 is just as good as an external charger. Here are their charging measurements;
3.5 hours to fully charge the included 2200mAh battery
4.5 hours to fully charge a 3100mAh 18650 battery
The battery charges at a swift (1000) 1A  current
Stats & Features
Made from aircraft grade aluminum-alloy, and just shy of 6″ long/tall (143.5mm) the RC1 will snuggle itself into most places. A pocket clip would make it easier to carry on the rim of a bag. But since XTAR has chosen not to make room for one, the included lanyard will suffice. Here are some other RC1 notables;
Beautiful white beam courtesy of a CREE XP-G2 S2 LED
Weight (without battery) 126g
Ability to tail stand
Beam throw; 235 meters
Waterproof; IPX-8
Impact resistant to 1.5 meters
Dual-spring design accommodates even flat-top batteries
Battery, Output, and Runtime 
Your XTAR RC1 "Darkwalker" operates on one (1) 18650 or one (1) 18700 rechargeable battery. You can use the supplied battery, or a different 18650 of your choice.
The working voltage of the RC1 is slightly limited. The range is 2.75-4.2 volts. Most flashlights that accept 18650 batteries, also operate on either disposable CR123's or rechargeable 16340's. But NOT in this case! Using two of the other batteries would supply too much voltage to the light, and cause immediate burn-out of the driver and LED.
There are only two output levels on the RC1. Low and high. Low as measured by XTAR is 60 lumens. High is at 450. The XP-G2 S2 LED provides a very narrow, focused beam. This is what allows the beam distance to carry as far as it does.
The RC1 has NO flashing or blinking modes (strobe/SOS/beacon etc.)
XTAR estimates the runtime as follows;
15 hours on low – with the supplied battery
1.8 hours on high – with the supplied battery
20 hours on low – with a 3100mAh battery
2.8 hours on high – with a 3100mAh battery
** Obviously runtime will increase with battery capacity. A 3600mAh battery will provide additional hours above what I've already noted.
Please keep in mind that ANY 18650 batteries you see for sale on the internet that have advertised capacities above 3600mAh is a COMPLETE LIE!! 
A Simple User-Interface
To use tactically, just lightly press the tail switch…then release.
For constant on, press and click the tail switch. Low is always the first mode. To access high, lightly press the switch twice. When you see high mode, don't release the button, just give it a firm 'click' — and you'll be locked on high until you switch it off. Simple huh?
Beam Shot Gallery
User Notes
With many functions available on a lot of flashlights these days, XTAR's RC1 seems like a trip down memory lane! Some users prefer not to have too many options or too many modes. And some users feel that the flashing modes aren't too useful. Even though I, personally, am not a member of that choir, I can see the RC1 as serving a purpose in its own right. No two flashlights are 100% identical. So even if you end up owning several, you'll find each one to be uniquely useable under different circumstances.
The RC1 flashlight was provided for review by XTAR.
Questions or comments? By all means fire away!
To test drive an XTAR RC1 in your own environment and save a bundle on the price Click Here!
Please follow Lightsngear and like us: