So you just got the brilliant idea that a relative or friend might enjoy having a new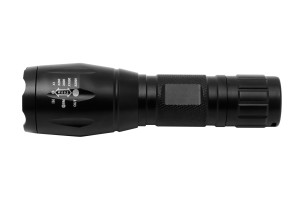 flashlight. Well here are 5 questions to answer BEFORE buying a flashlight as a gift, because you need to make sure it's the RIGHT flashlight for the RIGHT person.
The Questions
1. What Do You Think They'll Use it For?
Most households have a junk drawer, somewhere. If they (or you) are like me, this drawer will house just about anything that will fit into a drawer, for which you have no particular place for. Is THIS where you envision the new flashlight will be kept? If so, forget my recommendations and pick them up something in the Wal-Mart checkout lane for $2. If you think they'll actually USE it for something… then keep reading!
2. Are They Handy Around the House?

Are these people DIY'ers? Do they enjoy fixing things around the house? Do they do their own plumbing, or installations? Are they landlords who may get calls from tenants needing things repaired at all hours of the day or night?
These types of folks could definitely use a reliable flashlight that fits comfortably into a pocket or tool case.
3. Are They Outdoor Enthusiasts? 
Do they enjoy camping, hiking, fishing, hunting, or biking? If so, there's a plethora of lights to choose from to suit any enthusiasts needs.
…and finally,
4. Do They "Go Green"?

This answer may play a part in deciding whether the person would be more comfortable using rechargeable batteries in their flashlight. And what about being able to charge the battery via a USB connection?
5. Are They Responsible?
Huh? What do you mean, responsible? Are you saying I have irresponsible friends?
Let me explain.
With regards to battery type, and the #4 question, you need to determine if regularly having to re-charge the batteries is a responsibility they're willing to accept.
The Answers
Okay. Now that I've furnished you with the questions, let's determine the answers!
The Do-it-Yourself'er. They would probably appreciate a very compact flashlight. We're talking 5″ or less. The spaces they might be using it in could be challenging. It should have a good pocket clip, and an easily accessible on/off switch. Seeing that they might also be using it at close range, could mean that they don't need the brightest light on the block. But in this case, it should more than high and low mode so they can choose the amount of light that suits them best.
The Outdoor Guy or Gal. Their favorite activity may help to determine what they'd find most useful. For obvious reasons if they're hiking or hunting, they'd need something very bright… with the added convenience of going very low. Some lights will feature colored beams, which are helpful in emergency situations. Standard SOS is common on 90% of all LED flashlights.
The Responsible Owner vs. the Non-Responsible Owner. Okay, this is a bit tricky. BUT, I consider it to be VERY important. If the person for whom I'm giving a flashlight to, is someone who can't be bothered with small details, then I might NOT consider them a candidate for rechargeable batteries.
Again, this is hard to convey, but the care and use of rechargeable batteries is important. Some people just find it easier to use something once, and throw it away. Our disposable world has become a natural habit. Does that make sense?
So if your flashlight recipient is someone who tends to put things off or not be attentive to things of this nature, then they're probably better off with a AA/AAA light, using only AA or AAA batteries.
For more detailed information on the responsibilities required when using rechargeable lithium batteries, make this article the next one you read. With THIS knowledge, you'll be better equipped to know if your recipient is right for this type of battery.
The Rechargeable Option
The fact of the matter is, ANY flashlight can use rechargeable batteries. A "AA" light can use NiMH batteries in addition to standard alkaline. On the other hand, a lithium-ion based light can only use lithium, and lithium-equivalent batteries. Lithium disposable batteries are known as "CR123". Any other type of lithium (or equivalent) battery regardless of size, is made only in a rechargeable form.
Also keep in mind, if you believe rechargeable batteries are the way to go, then a good quality battery charger is also required. Or, if they like all things rechargeable, but dealing with an external charging source is a bit much, perhaps they'd like the convenience of a USB rechargeable light! I have many of those within my reviews.
Basically speaking; a "AA" flashlight is:
Longer in length (when using 2 batteries)
Shorter in length (when using just ONE battery)
Not quite as bright
Two battery light required to attain maximum brightness
The light dims as the battery dies (only w/alkaline battery)
Often less expensive to buy and operate
On the other hand, a lithium-type flashlight is:
Shorter (more compact) in length
Allows for the maximum brightness the LED can deliver
A 'single battery' light is sufficient for reaching maximum brightness
The brightness of the light remains constant until the battery dies (except when using disposable CR123 batteries)
Sometimes a bit more expensive to buy
Additional Reading (to make the decision easier)
As far as becoming familiar with some of the features that many of today's flashlights offer, see this post.
As far as familiarizing yourself with the differences between a AA flashlight and the more powerful lithium battery type, read this post.
Match `em Up
I'm sure whatever you decide, will be the right decision for the right person. Buying a flashlight as a gift is almost like buying a car. Their preferences can easily be at either ends of the spectrum, but their needs will determine what is best suited for them.
Checking out some great flashlights is as simple as visiting my Product Reviews page!
I'd love to know if you've found this article helpful. If I can be of further assistance, let me know.
Please follow Lightsngear and like us: