Today's review is something of a different nature. The Astrolux MF02, is primarily a hand-held searchlight, but also an LED flashlight of the highest degree.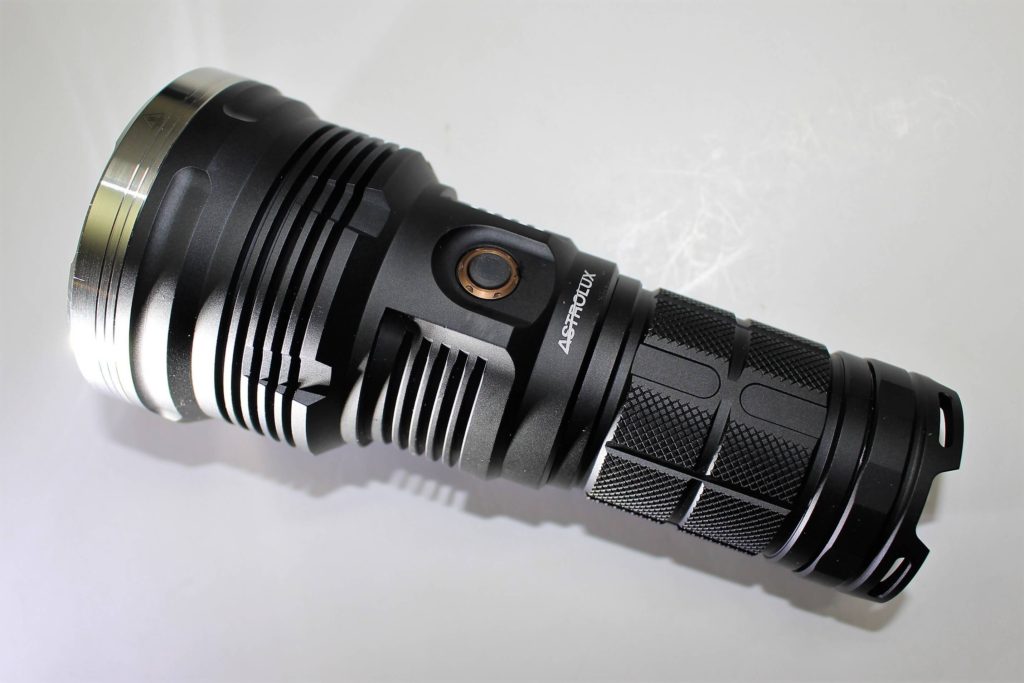 This is One BIG Package!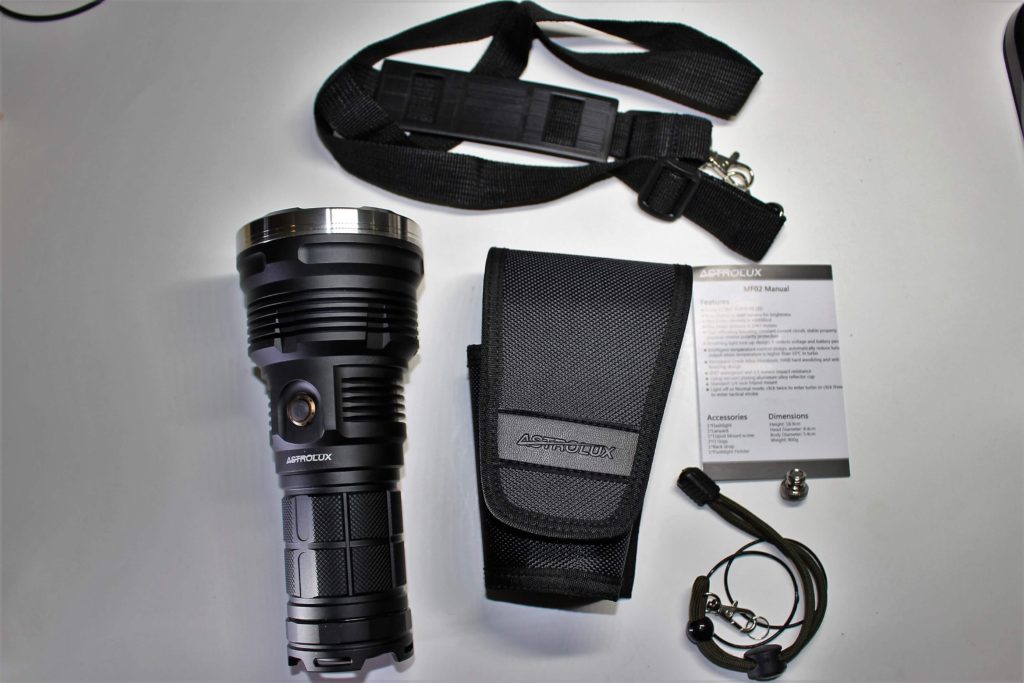 For a huge flashlight, you need a huge box, of which contains the MF02, a lanyard, a tripod mounting screw, two humongous o-rings, one back strap, and an enormous belt holster.
Weights and Measures
Length; 7.25″
Width (across base) 2.1″ (center tube) 2.3″ (lower head) 2.9″ (upper head) 3.3″
Weight; 2lb 3.6oz! (994.5 grams) including all 4 batteries
Stats and Features 
LED
The LED is a very intense CREE XHP35 HI. This, along with a VERY deep (and wide) smooth reflector, produces an incredible beam distance of 1,587 meters, or 5,206 ft, or 1,735 yards! The intense center spot is extremely tight and one of the brightest I've seen to date. There's a sizable amount of side-spill as well, which is quite useful depending on what you're illuminating.
Other Notables
Maximum output is *3000 lumens
Maximum beam intensity is 630,000 candlepower!
High-efficiency constant current circuit
A "breathing" light (on the switch) indicates battery power
Mode memory recalls the last mode used.
Intelligent temperature control reduces output when the light reaches 55°C in turbo mode
Body material is Aerospace Grade Aluminum-alloy and HAIII hard-anodized
Waterproof to IPX-7
Impact resistant to 1.5 meters
Batteries, Modes and Output
The Astrolux MF02 requires FOUR high-drain 18650
batteries (NOT included) to operate sufficiently. No other battery types are accepted.
As for the modes;
Moonlight; 15 lumens for 300 hours
Medium; 350 lumens for 25 hours
High; 1700 lumens for 3.5 hours
Turbo; 3000 lumens for 2.5 hours*
There are also THREE emergency modes; tactical strobe – SOS – location beacon.
*Chances are if it's left on in turbo for an extended period, the temperature monitoring system will lower it to "high" at some point. 
How to Operate Your Astrolux MF02
Insert four 18650's into the battery "cage" supplied with the light. By the way in which the springs are positioned, it'll make sense which way the batteries go. It makes no difference which way the cage is put into the tube.
If everything has been done right, once the cap is tightened, the switch will "breathe" in green! From here, a quick press turns the light on. Each click advances the modes. The sequence is moonlight>medium>high>turbo…>repeat. To turn it OFF, you need to HOLD the switch. From OFF, you can activate turbo instantly by "double-clicking". The emergency modes are sequenced as noted above, and are always accessible by clicking THREE times, either from OFF, or while already on.
Check Out That Beam!
The "Breathing" Switch
Unless you turn it off… the (green) breathing is always on. It "breathes" while the light is off, and remains solid while it's on. As the batteries  lose voltage, the green turns RED (when the light is on). If it should start "flashing" red, you're advised to charge the batteries soon. The light CAN be "locked-out" thus turning the breathing light off as well! This is done by simply pressing and HOLDING the switch for two seconds when the light is off. Engaging it again, it to do the reverse.
General Thoughts & Comments 
Intense is the word that describes the Astrolux MF02. Given its beam distance, it rivals other "throwers" in its category, and is among the brightest (of that group) that I've tested thus far.
Obviously it's not your average flashlight, which in reality, is a handheld SEARCHLIGHT. I'll also admit, that because of its size (and beam pattern) it's more of a specialty-use type of light.
Operationally speaking… it's a cinch. Changing and selecting modes can be done quickly, and the range of flashing modes is easy to activate as well.
*Finally; the stated output on Turbo, is a liiiiiiittle bit exaggerated. If you check my LED comparison article, you'll see that XHP35 LED's, even those that are "high-intensity" cannot produce quite that much light. Independent testing has verified Turbo output to be closer to 2170 lumens, followed by a gradual decrease in output, over a period of several minutes.
Recommendation
So what's the verdict? The Astrolux MF02 definitely has its place within the competitive arena of high-powered LED torches. But realistically… it's more of a specialty light.
My Astrolux MF02 was supplied for test and review by Banggood. Want one for yourself? Then visit their site and check out the price 🙂  Want a LOWER price than listed? Then enter coupon code; acf385 at checkout!
Please follow Lightsngear and like us: