So just how much DOES a flashlight cost? Good question… and this post will answer it.
First Things First
What do you want to do with your flashlight?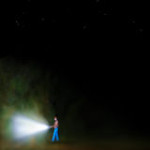 Do you enjoy buying something new and showing it off to friends?
Do you hike, camp, hunt, fish or work nights?
Do you spend countless hours grovelling in dark places or underneath things?
Do you live in an urban area and walk a lot after dark?
Do you live in a rural area and walk a lot after dark?
The answers to these questions will say a great deal about the type of flashlight that's right for you, and therefore determine its cost.
The Simplest Answer
If you can't be bothered with those questions and are still asking… just how much does a flashlight cost?… here's the quick answer…ANY AMOUNT YOU WANT! However these days you can even get "swindled" into buying a less than reliable product and pay as much as $60 for it! How to know the difference between what's REALLY worth $60 and what isn't, takes a bit of research.
How `bout THAT for a good answer huh?!
No seriously, but up to $100, you can spend ANY amount of money you want on an LED flashlight. However… (and you might be tired of hearing this) but it's still a case of you get what you pay for!
Quality… By The Numbers
Up to $10
Your average $5, $6, $7, or $8 flashlight might be sufficient if your power goes out at home, but it may lack the durability required for daily, heavy duty use. The components will be cheaply made, and if ordered online, will probably arrive without a user manual. This article illustrates what I mean in more detail.
Here's an example of an under $10 flashlight.
Ranging From $10 to $20
In this range, quality goes up. But only slightly.
This is a popular dollar range for flashlights with large retailers such as Walmart. Online, Amazon has several pages of lights within this range. Usually these sell in "kits" which throws a REALLY cheap battery into the package, as well as a REALLY cheap battery charger. Most people assume they're getting a fabulous deal on all this bundled equipment…NOT! Even at $20, the seller is raking in the profits!
Kit Problems
The flashlight itself is cheaply made…even though it "appears" to be of quality-build. The output (lumens) they claim is usually vastly exaggerated! 900 lumen flashlights typically don't don't put out more than 300 lumens. This is often largely due to "non genuine" Cree LED's. In addition, the anodizing scratches off. The components are cheap. The LED (often not Cree) is old technology. It has no regulation circuit to monitor voltage and it's not impact resistant or waterproof.
The battery is usually about half of whatever capacity the label claims, and even though it "says" it has a protection circuit…it doesn't.
The charger is generic, and uses a very low current to charge with. This means it will take two to four times LONGER to charge the average battery than a quality charger will. Plus, it has no safety net for identifying a "dead" battery, which is usually the result of damage due to OVER-discharge…because it had no protection circuit when it said it did!!
You see how this goes round and round and all connects together?
Big Box Choices
Those available on the mass merchant level will most likely be made by companies you're familiar with. The lights will be simple, and sometimes standard batteries are included. Maximum output might be in the 200-400 lumen range (more-so the lower end).  These are fine for around the house and occasional "light" use.
Many lesser-known brands will be sold without user manuals or product warranties.
More Online 
The online selection will vary widely in quality, and most of the manufacturers will be unfamiliar to most consumers. In the $20 range they're not brand-name flashlights either. The big difference though will be that they'll run on standard and rechargeable lithium batteries. The output on the online selection could be as high as 1000 lumens. Whether these claims (or lights) deliver as promised, is something you cannot know ahead of time. Most of the time, as described above, they fall short.
A few famous brand lights can sometimes be found in this range…although they're output is usually on the lower end and are often key chain lights.
The $25 to $40 Flashlight
We're getting more serious now.
Within this range (by shopping online) is where you'll begin to see some of the "famous brands". These can include Fenix, Sunwayman, Jetbeam and the economical, but well-made Convoy brand.
Jetbeam also has a good AA light in this range which you can read about here.
The hiker, hunter and sportsman will surely be able to find a functionally affordable flashlight in this price range.
$40 to $50
Now, more than ever, big manufacturers have lowered their prices on new products. Nitecore is one of the more recognizable names in flashlights these days. Within this range, you'll often find great products whose "suggested price" is often in excess of $50.
A light within this range will be a technically savvy product with many of the most popular "bells & whistles".
Durability is front and center, along with your choice of battery configuration. Output-wise, your choices are many and varied. Within this range, lights that advertise 1000 lumens, are far more likely to BE 1000 lumens than those in the $20 and under range.
Just about anyone's flashlight needs can be met within this range. This includes the requirements of law enforcement and military personnel.
Just about ALL major brands have lights in this range. The hard part is trying to decide from all the choices!
From $50 to $75
Now you're getting serious!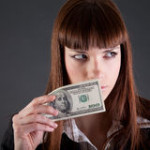 Pretty much whatever you desire in a new flashlight, is available in this range. Many lights I've reviewed here at Lightsngear are among this group.
Here are a few highlights;
Every major manufacturer has models in this range
Lumen outputs are among the highest.
Most every product comes with a warranty
Many lights are suitable for weapon mounting
Many lights are suitable to use for self-defense
$75 and Beyond!
Okay… I know you saw this coming… and I'm sure you would expect that if you're willing to pay THIS MUCH for a flashlight, that it would have to be something unique. But as obvious as it is, for this price, you ARE getting the "BMW" of flashlights!
Within this category you'll find Surefire, an American brand which prides itself on making the finest flashlights money can buy. Surefire stands behind their products with the best warranty in the industry. Their lights are low on features but high on quality and durability.
Of course other brands also have products in the high-end range. Basically any light over $100 will provide you with quality and versatility. All are suitable for professional use.
So That Pretty Much Sums it Up
A flashlight for every budgetary tier!
You can spend a little or spend a lot, but at least when asking "how much does a flashlight cost"– you'll know it has a fair amount to do with quality and features.
Questions and comments to this post are welcomed!
Please follow Lightsngear and like us: