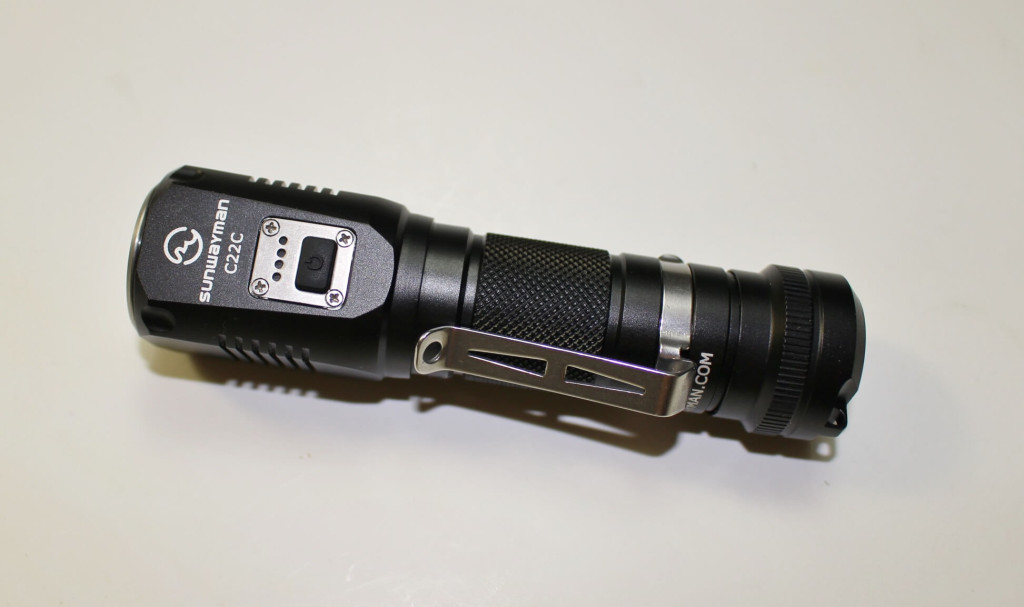 I finally got the chance to try out the Sunwayman C22C. This is the one that has two LED's! One of them is cool white and the other is neutral white. So, I know what you're thinking… are two LED's better than one? I'll get to that in a bit.
The Flaunt-able Features
A tungsten spike on the tail cap can be used for emergencies
Effective lighting range of 208 meters
Constant current circuit – constant output
Working voltage of 2.8 to 8.4
Weight; 88 grams without batteries
Size; 4.25″ long (110mm) 3/4″ head diameter
High quality metal smooth reflector for great throw
Waterproof to IPX-8 standards
Made with Aerospace-grade aluminum alloy
Military specification Type III-hard anodized body
Ultra clear tempered glass lens resists scratches and impacts
The Standard Sunwayman Box 
So, along with the light come some standard accessories.
Instruction manual
Warranty card
3 spare o-rings
1 lanyard
pocket clip
Stick`em Up!
So I don't forget to mention this later, the base of the C22C is a strong magnet. Therefore whatever position you need the light to be in… and as long as you're in reach of a magnetic surface, you can have light from the LED of your choice… or, both on together!
Click on each of the images below for a full-size view
Two, Fully Functional LED's!
This is what makes our C22C a very unique handheld flashlight.
The "main" LED is a CREE XM-L2 U2 emitter. This can produce up to 1000 lumens. The output levels are as follows;
Turbo — 1000 lumens (for 3 minutes continuously)
High — 580 lumens
Medium — 130 lumens
Low — 35 lumens
plus — strobe and SOS (hidden until you need them)
The secondary (neutral white) "side" LED, uses a CREE XP-G2 R5 emitter. It's output levels are;
High — 130 lumens
Medium — 46 lumens
Low — 16 lumens
plus — strobe and SOS (hidden until you need them)
The way I've chronicled the outputs, is the way they're presented on the light. In sequence, it's, turbo – high – medium – low for the main LED, and high – medium – low for the secondary LED. Strobe and SOS are only accessed by double-clicking within ANY lighting mode while using either of the LED's.
BOTH LED's can actually be activated at once! But the caveat here (which I'm not crazy about), is the fact that they can only be on at once….in high mode. Once they're bot lit, switching to a different mode is not possible. The only function it will serve is to turn it off.
Standard Operating Procedure
Your Sunwayman C22C, like many of its competitors today, operates via a single side-mounted soft-switch.
Memory mode remembers the last mode you used, (except for flashing modes). But here's something else to know about the memory function. If you change LED's during your lighting session, the next time you switch it on, it'll default to HIGH mode…for BOTH LED's. Only if you use just one of the LED's, then switch it off, will it come on the next time in the last mode you were in. Does that make sense?
So for general lighting, give the button a quick press to switch on the MAIN LED. In many instances, including right after a new battery has been inserted, it will activate in Turbo mode. A holding press of the button, or continued presses, will cycle through the other modes.
To access the secondary LED (from off) press and HOLD the button. The light will activate in High mode. Again, operate the button in the same way as for the main LED, to cycle through the neutral-white modes.
Strobe and SOS are reached from ANY lighting mode with either LED. Just give the button a double-click, and Strobe will be activated. A second double-click will activate SOS.
To have both LED's on at the same time*… double-click into strobe mode…but KEEP HOLDING THE BUTTON until both LED's are on. If you don't hold the button following the double-click, you'll just be in Strobe.
*See the images above depicting the two LED's activated simultaneously. 
The ONLY function you can perform once the two LED's are on at once, is to turn the C22C off. A holding press during this mode will accomplish nothing! Both LED's will be in High mode continually until you shut it off. Be warned of course, that not only will the light begin to get noticeably warm, but using this function repeatedly will drain the battery much quicker.
Beware of Falling Voltages
If from the various images of the C22C on this page, you happen to notice those four little "holes" just above the power switch… and wondered what they're for… this is it!
As battery voltage drops beyond a certain point, those little "holes" will light up in red! This is your cue to switch out the cell. If you're not in a position to do so immediately, you may continue to use the light. Eventually it will give you a final warning that the battery voltage can no longer keep the LED lit… when the little display begins "flashing".
After a few "flashing" sessions, it'll simply shut off.
Batteries for the Sunwayman C22C 
So here are your battery options for running your C22C.
(1) rechargeable 3.7 volt lithium-ion 18650
(2) disposable 3.0 volt lithium CR123's
(2) rechargeable 3.7 volt lithium 16340's
(2) rechargeable 3.7 volt lithium 18350's
Pros and Cons
I'm generally pleased with the C22C. It's a good size, and although the head is square and larger than many lights in this class, it still fits well into a pocket. The clip is very strong.
Speaking of strong… the addition of the tail cap magnet is brilliant! To utilize that along with the neutral-white LED is what sets this flashlight apart from most of its competition.
The main con, would be that the modes don't go all that low. In general instances, this isn't TOO big of an issue. BUT… in the middle of the night for instance, if you're groggy and need to use the light… BOTH LED's (even on low) are a tad bright. Thank goodness for the warm tint on the secondary LED, which makes that a bit easier to bear. Plus the fact that it's not as bright as the main LED either.
So, I WOULD say that in this case… TWO LED's are better than one! Especially when they each have a different tint.
The Image Gallery
Click on each image to view full-size
To add a Sunwayman C22C to your personal collection, click here!
If any questions or comments are dancing around in your head, I'd love to answer them!
Please follow Lightsngear and like us: