Wuben makes high quality flashlights. Today, I'm reviewing something a little different however. It's the Wuben Gecko E61, a multifunctional, multi-LED penlight flashlight.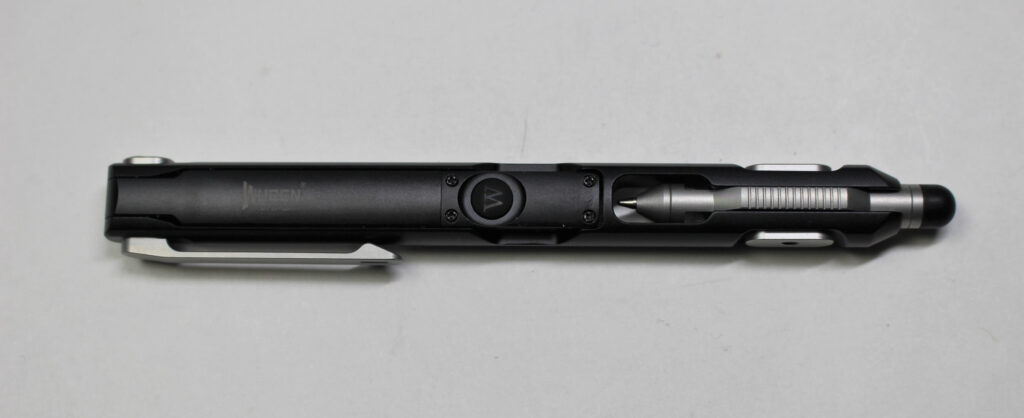 Everything You'll Need
The size of the box is not presentative of the product it contains. Given the accessories, it's justified.
Inside is the Wuben Gecko, a package containing a standard USB charging cable, another package with extra ink refills, and three interchangeable heads. Last but not least, a user manual.
Specifications
Length; 5.63″
Width; 0.7″
Weight; 1.9 oz
Body; aircraft-grade aluminum
Battery; internal lithium-ion
Max output; 130 lumens
Max runtime; 15 hours
Waterproof; IP66
Impact Resistant; 1 meter
Battery Capacity; 120 mAh
Main Wuben Gecko Features
Combination LED flashlight/pen
Interchangeable (pen) tip-heads, incl., stylus and zirconium glass breaker
Magnetic body
USB charging
5 LED's; 3 constant white, 2 red & blue flashing
Mode Memory
Power indicator switch/breathing light
Multi-position (fold out) handle [270° rotatable]
Electronic lockout
LED Output and Runtime
There are three (white LED) modes; Low, Medium, High.
Low output is 3 lumens, for 15 hours
Medium is 30 lumens, for 2.5 hours
High is 130 lumens (which lowers to 40 for 45 mins)
Wuben Gecko E61 (flashlight) Operation
In the very center of the pen is the soft, rubbery-feel power switch.
When you first open the package, you'll need to click the switch four times to activate the light. After that, one click turns it on, another click turns it off. Once on, press and hold to advance the mode. Low, medium and high will sequence continually until you release the switch.
Among the five LED's on the E61, are two, which emit a "flashing" RED & BLUE sequence. I can only assume this is intended for emergency or signaling use. It flashes back and forth like a police light. To activate it, you need to "double-click" and it works whether it's OFF, or already ON in one of the standard modes. Mode memory actually remembers the red/blue setting. A holding press while flashing, returns to the white LED's.
Electronic Lock Out
To prevent the switch from clicking accidentally in a pocket (buy I can't see how it would) give it FOUR fast clicks while it's OFF. It'll be locked at that point, and won't turn on. Click four times again to unlock.
The Part That Works Like a Pen
Unless you've forgotten by now…the Wuben Gecko E61 is ACTUALLY a pen!
The pen portion has TWO ends, and by pushing the ribbed section up (until it clicks) releases it so one end can be swapped for the other. When both ends are as you want them, push DOWN on the ribbed section…again, until it clicks into position
The Interchangeable Tips
So you get the tip which is a standard (fine point) pen (black ink) and FOUR spare, mini cartridges. In addition, there's a rubber-tip stylus (for phones, tablets, etc) a "forever (INKLESS) pen" tip, which comes to a sharp point, and writes almost like a lead pencil. AND a zirconium bead-head, which they claim can be used to break glass!
Standard USB Charging
The flashlight portion is USB rechargeable. Pull up the center extender portion of the barrel to expose the USB port on the end. Once connected to a charging source, the "W" within the switch, will illuminate in RED. Constant BLUE illumination indicates a full charge.
Battery Strength Indicator
Each time the E61 is switched on, the "W" shows the approximate battery strength.
If it's a solid BLUE, the battery is at 90% or better
If it BLINKS BLUE, it's between 40 & 90%
If it's a constant RED, it's between 15 & 40%
If it BLINKS RED — charge it!
The Gecko's Beam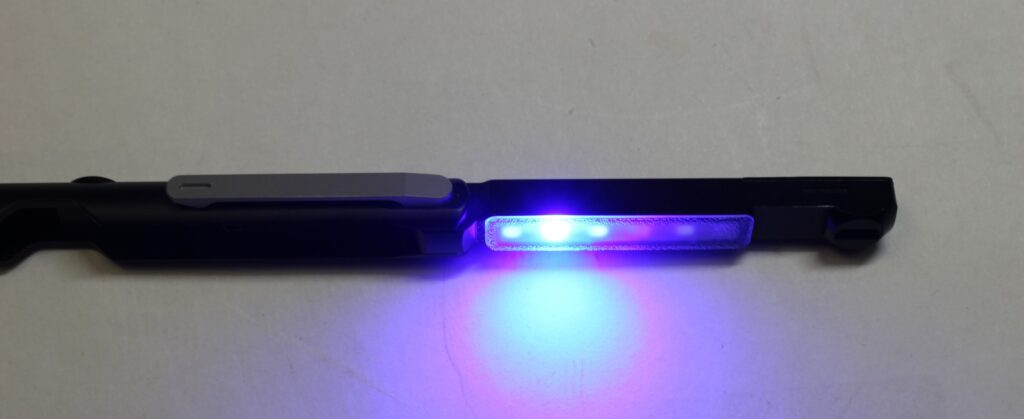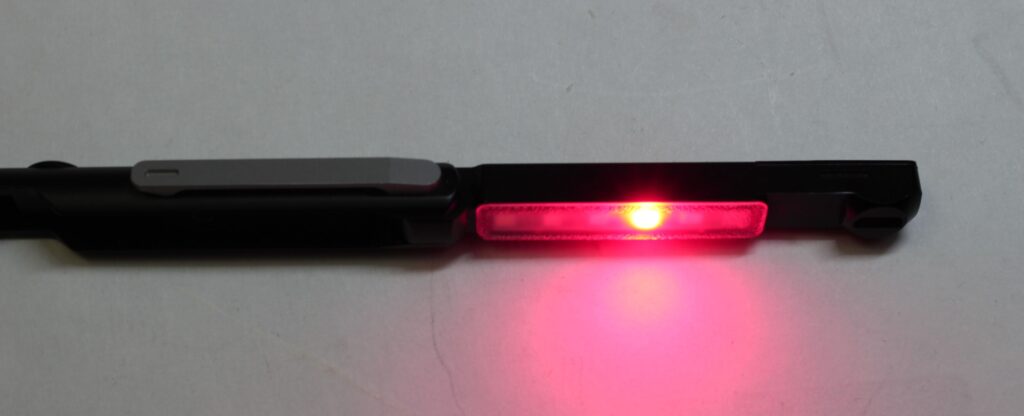 To Summarize the Wuben Gecko E61
This is cool! For the most part.
As a Flashlight
The E61 is convenient, but no LESS convenient than a keychain light which is more than twice as bright. What might set it apart from some others is the dual red/blue flash. Of course that won't be enough to sell every possible customer. Admittedly the only possible use for it could be in case of an emergency. For everyday use, a single colored LED would've made more sense. The capacity of the internal battery is low, so you won't get the full output for too long after it dips below 75%.
As a Pen
For a ballpoint pen, it writes like any fine point does. The ink supply in the tiny refills isn't much, and I have no idea how long they'll last. It's the alternate tips that sets it aside from all the rest. I actually like the stylus tip the best. Now, if you've always wanted a pen that could break glass, then the zirconium bead tip is just for you! The third tip is the "forever pen". It comes to a sharp point and writes on standard paper. There's no ink used, and the result is almost like a led pencil. Using it to write is a bit toug    h, because it's the opposite of a ballpoint. It's "rough" not smooth and you get better results when you go really slow.
Overall
It's the same length as the average "click" pen…unless the middle joint is pulled out. The magnet is handy if using it as a work light. But I would suggest running it on "medium" in that case. For up close tasks, that should be sufficient.
The pocket clip is useful and very tight.
Charging is convenient and it doesn't take long to complete.
Recommendation
For a chance to put the Wuben Gecko E61 in your OWN pocket… click here for Amazon Prime!
Please follow Lightsngear and like us: