The Sunwayman T25C LED flashlight with its zooming convex lens, is one of the latest additions in the popular "zooming-head flashlight" marketplace.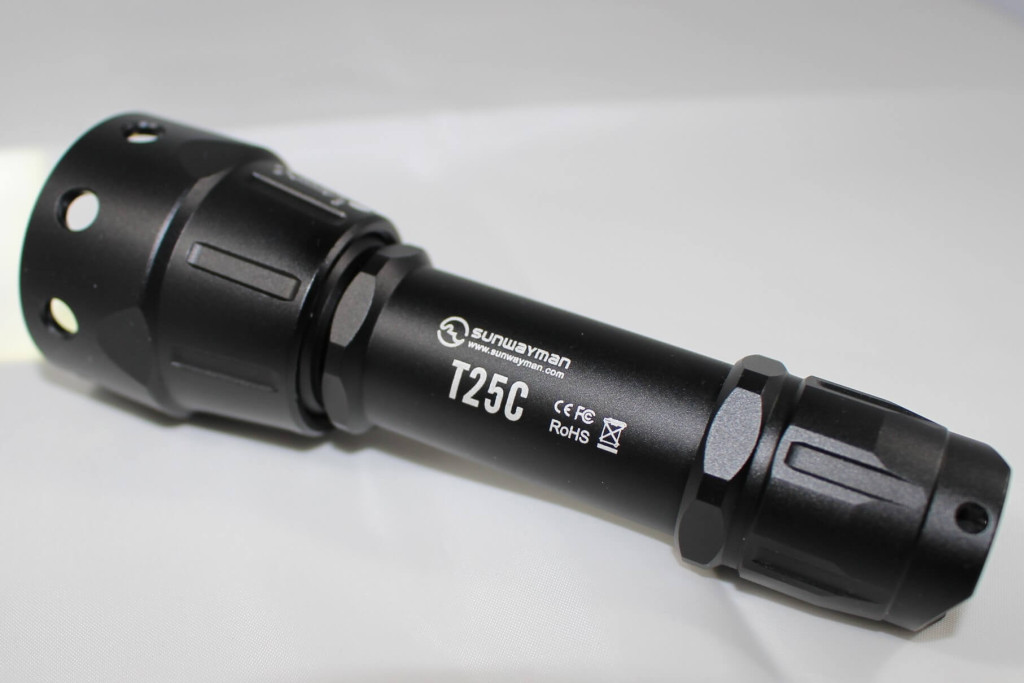 It's All There!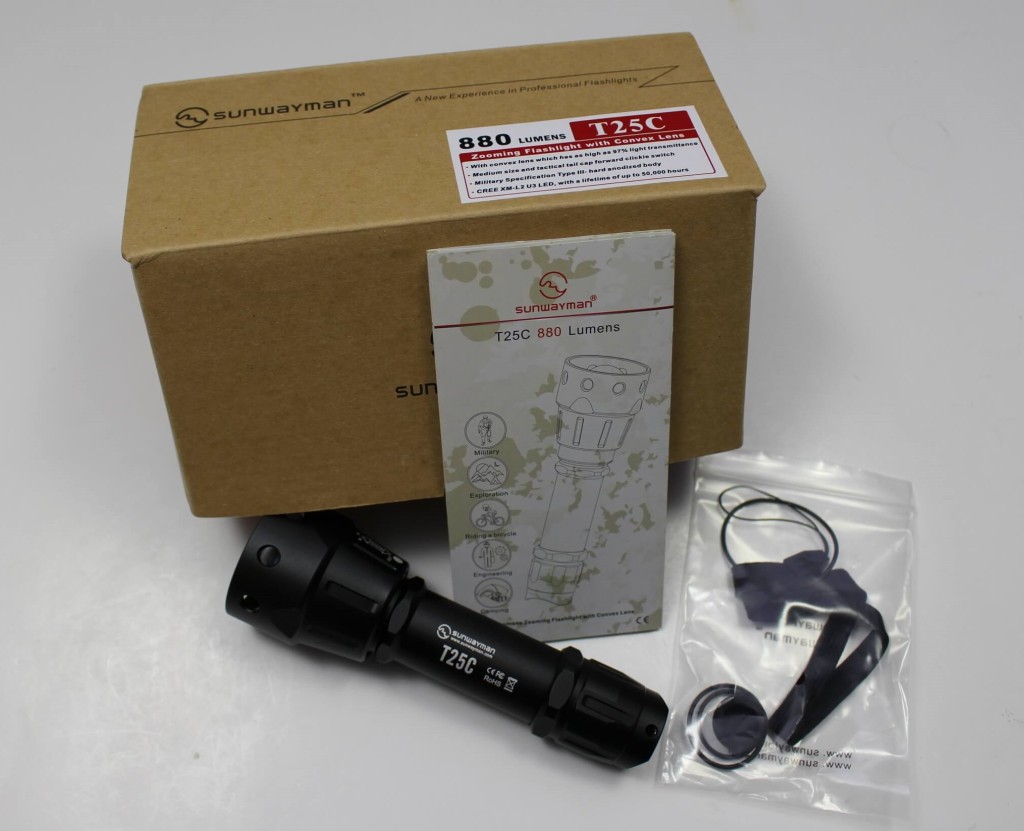 Within the package you'll be receiving, in addition to the T25C, is a lanyard, a spare switch-button cover, an instruction manual, and a few extra o-rings.
The Proof Is In the Specs 
The T25C (including a battery) weighs in the neighborhood of 214 grams. Length is 5.5″. Width, at the widest point of the head, is 1.7″.
It utilizes a CREE XM-L2 U3 LED, and has a convex lens with 97% light transmittance.
Its body is coated with military specification Type-III hard anodizing, and made from aerospace grade aluminum alloy.
It features a constant current circuit which allows for constant output.
It's impact resistant to two meters and waterproof to IPX-8 standards (the highest rating). This means it's completely submersible for depths exceeding one meter.
Batteries, Output and Such
There are four constant lighting modes. Low, Medium, High and Turbo.
As stated by Sunwayman;
Low — 17 lumens
Medium — 200 lumens
High — 480 lumens
Turbo — *880 lumens
plus — strobe, SOS and location beacon
The standard battery which the light operates on, is a single 3.7v rechargeable 18650. The working voltage of the light extends to 8.4, which makes it possible to use other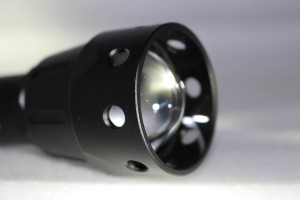 configurations as well. These include, (2) disposable CR123's, or (2) rechargeable 16340's or (2) rechargeable 18350's.
The manual states that an automatic step-down kicks in when the light is on turbo mode. It is said that after 3 minutes, it lowers to "high".
*I put an asterisk next to turbo, not because of the step-down, but because of the battery configuration that's needed in order to see turbo mode.
So here's what I eventually realized. With an 18650 battery, there's literally NO difference in output between high and turbo. Virtually none. BUT…when I switched to TWO batteries at 3.7v each… I immediately noticed the difference! So, if you want the turbo mode experience with the T25C, you WILL need to use the alternate sizes. As two CR123's can be costly (although they provide longer run-times) I recommend 18350 batteries. I only have one brand of 16340 cells, and each time I tried to use those, the light shut off after a few minutes! I switched to the other ones, and all went according to plan.
Sunwayman says the light will run continuously for sixty hours on low. Two hours, is the expected run-time on high.
Let's Flip the Switch!
So to get light from the T25C, press the button half way. If it's the mode you want, press it completely. If not, continue to half-press the button to advance to the next level. Alternatively, you can give each level a firm click. Each quick click will also advance to the next level. The sequence is also low to turbo.
Although the manual doesn't say so, the light has mode memory. Each time I've switched it off, it's always come back on in the last mode I used…even through a battery change!
To "zoom" the head, simply twist it. For me, it takes five twists to completely adjust the head from wide to zoom… or in reverse.
The flashing modes, strobe>SOS>location beacon are accessed by double-clicking the button either from off or in a mode. Either select the mode or continue to the next one.
Sunwayman T25C Beam Pictures
Thoughts and Observations
For the most part, I like the T25C. It's much better than MOST focusing flashlights available. It's not the greatest for pocket-carry, but it's not too big to be considered cumbersome either. It would certainly be welcome on a camping or hiking expedition.
If I had a complaint, it would be that twisting the focusing head is a more tedious process than on similar flashlights that use a push-pull mechanism. I recently reviewed a Solarforce light that utilizes THAT type of head. The Sunwayman requires several turns to zoom completely, and cannot be accomplished with one hand. On the positive side, the width of the zoomed out beam is not as wide as other similar lights. So, it COULD be, that combined with the generous output and the beam width, that LESS focusing is actually required.
Is the Sunwayman T25C the Right Light for You?
If you really like focusing (or zooming) head flashlights, then yes. If you already own a focusing flashlight that more than likely is a budget brand (Ultrafire, Outlite, Refun, etc) then absolutely yes! Compared to those, the T25C is a noticeable step upward, both in terms of LED output and overall quality.
The only possible advantage to those other lights, is that most of them also accept AAA batteries in a pinch. However, with the T25C, you can also have disposable CR123's on hand, which is the same as having AAA's available for the other lights. The lithium's last longer in the light than the AAA's, they have a 10 year shelf-life, AND the light will be two to three times BRIGHTER than the budget lights with AAA's as the power source. It's a win-win!!
If I've tweaked your interest in the Sunwayman T25C, you have only to click this link to be transformed to a page where you may purchase one if you wish you.
Questions or comments? Please let me know 🙂
Please follow Lightsngear and like us: