Like it or not, digital TV is here to stay. The government has mandated that local broadcasting stations must transmit an all-digital signal. The enforcement of this technology has its pros and cons. So let's examine what they are, and provide some tips on how to get the best digital TV reception possible.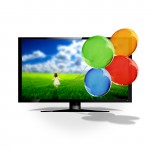 The biggest positive of HDTV reception is picture clarity. Those days of seeing TV images fraught with snow, ghosting and electrical interference are long gone. The current replacement for those sometimes hard to see images, is now a blank screen. The corresponding message, "no signal", is very blunt. You'll either receive the station or you won't.
Getting decent digital TV reception shouldn't be a hassle. Just like before, it all depends on your antenna, and your distance to the TV transmitters. But now, it's just a little trickier than before.
ANTENNA RECEPTION RANGE
It shouldn't be difficult determining how far you are from your local stations, in order to get good reception. If you're unsure about this however, there are several websites, including "TV Fool" that have tracking tools as a means for providing this information. You'll also need to know which direction the towers are in as well. With that information in hand it's advised to shop for an antenna that matches your distance. Most are designed for predetermined ranges. Those rated for a reception range up to 25 miles will be on the smaller side, and are often marketed for indoor use. More on that coming up. With a range of up to 50 miles the unit will be slightly larger. Then you'll see the top of the line units, either at 50 or 75 miles and over.
ANTENNA PLACEMENT — IN OR OUT?
Where are you placing your antenna? For good digital reception this is vital. For obvious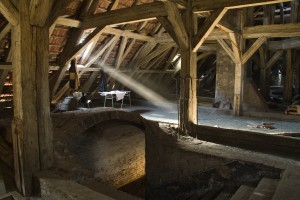 reasons, outside is better. But again this depends on where you are. If you're within ten miles of most of the towers, an indoor or attic installation may work just fine. Any farther away than that and an indoor setup will require an antenna with DOUBLE the reception range. An antenna placed indoors will effectively lose as much as 30% of the incoming signal. So unless you're REALLY close to your local towers, this option isn't recommended.
YOUR LOCAL CHANNELS
My recommendation is to double-check your available channels. This exercise will make sure you not only know how many channels you're in line to receive, but also the band they're on — VHF (2-13), UHF (14-59), or both.
DID SOME MOVE — BUT NOT BOTHER TO TELL YOU?
The majority of available channels these days are on UHF. In many cases, the UHF band has also become home to some of the country's largest VHF stations…(but only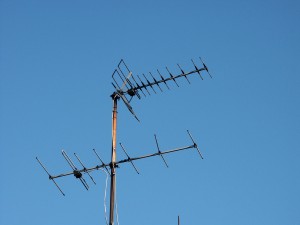 technically). Since the digital switch, many broadcasters have realized that digital signals reach their intended audience better, if they broadcast a UHF signal. To keep it simple for the viewer, the VHF station in question hasn't visually changed. But technically it has.
THE BOTTOM LINE
Here's the deal. If you live within a metro area, or are within 25 miles from the majority of TV transmitters, a UHF antenna with a 35 mile range should suffice. If your distance is greater than 25 miles, and /or you're in a rural area, it would be best to have a 50+ mile combination antenna. This will ensure better pickup from any possible VHF stations, and add increased range for those on the UHF band as well.
The digital switch has given stations the option, regardless of their band, to either continue to transmit their signal on their original band, or move it to the "other band" if they wish. To clarify, this has resulted moving many VHF signals to UHF. However it's even allowed some UHF stations to move to VHF! I'm in New York State, and can name several situations where that has occurred.
IN CONCLUSION
For great digital TV reception, do as much research on your local stations as possible. Know what they are, and whether they use VHF or UHF. Also take into account that each of these stations may have one or more sub-channels. If they do, that's icing on your cake! This knowledge will help you decide if you need a combination antenna, or one dedicated to either UHF or VHF.
Questions or comments? I'd happy to assist you if you'd like to fill out the fields below!
Shopping for a digital antenna online doesn't need to be confusing, just click here.
Please follow Lightsngear and like us: